LAS VEGAS — The lines were hundreds deep, snaking out of blood donation centers across the state on Monday and serving as a powerful symbol in the aftermath of the deadliest shooting in American history.
The mayor of Las Vegas, the governor of Nevada and the Clark County Sheriff all urged people to give blood, while the Las Vegas police department directed them to three locations, two in Las Vegas and one in Henderson.
And it was clear that blood was being donated — by the bucket load — across the state.
On Twitter, celebrities, state officials and regular people all shared information about how and where to donate blood, and Nevada residents responded in force, braving wait times reportedly as high as five to six hours.
At one donation center in Las Vegas, a man who identified himself only as Mike said that while the massacre wasn't as catastrophic as Sept. 11, 2001, he felt that he needed to assist when so many people were suffering.
It "just kind of really hit local — okay, it's there, it's right on the corner, it's in town," he said on MSNBC, adding: "It's really nice to have everybody come together and help out like this."
At United Blood Services, the first donors showed up at around 2 a.m. (5 a.m. ET), staff said — just a few hours after the 10 p.m. Sunday shooting. By 4 in the afternoon the lines stretched out of the facility, around the front of the building and far back into the parking lot. A small army of volunteers gave out burritos, rice and beans, water and bananas.
Joe Silvestro, 63, who moved to Las Vegas from Boston around a month ago, got there at 6 a.m. and was still preparing to give blood shortly after 4 p.m. His only regret was that he forgot a book.
"I just thought it was the least I can do," the longtime blood donor said.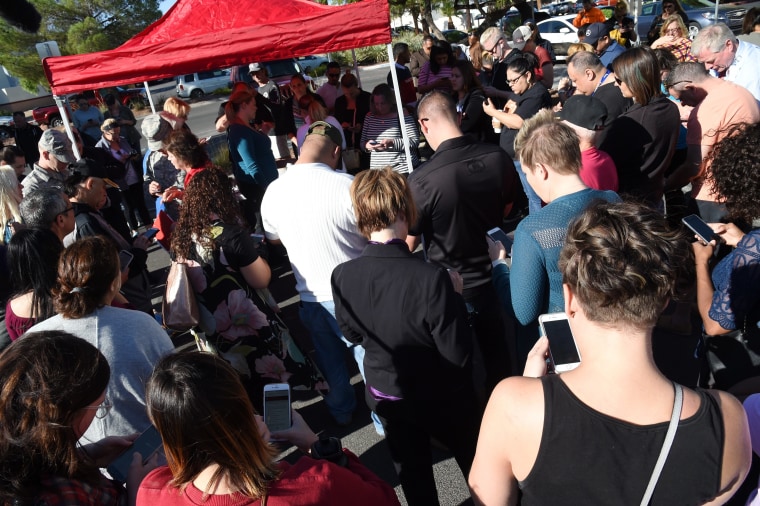 Nate Lund, 33, who lives in Las Vegas but was working in California, drove home Monday morning to check on his family and showed up at the blood center that afternoon. His wife, an ICU nurse, had been working since 2 a.m.
"You really just don't realize the importance of it until something like this happens," Lund said. "We've got to keep these places stocked up."
Peter Paquette, 53, lives in Minnesota but was in town for business. "Feel kind of helpless sitting here when there's a need," he said. "I have blood, they need it."
A few miles north of the Mandalay Bay Resort, where the gunman fired from a 32nd-floor suite, a University Medical Center spokeswoman said that at least a few hundred people had already donated blood and that there were many more still waiting outside.
The spokeswoman, Danita Cohen, wasn't able to immediately provide official statistics for Monday's donations.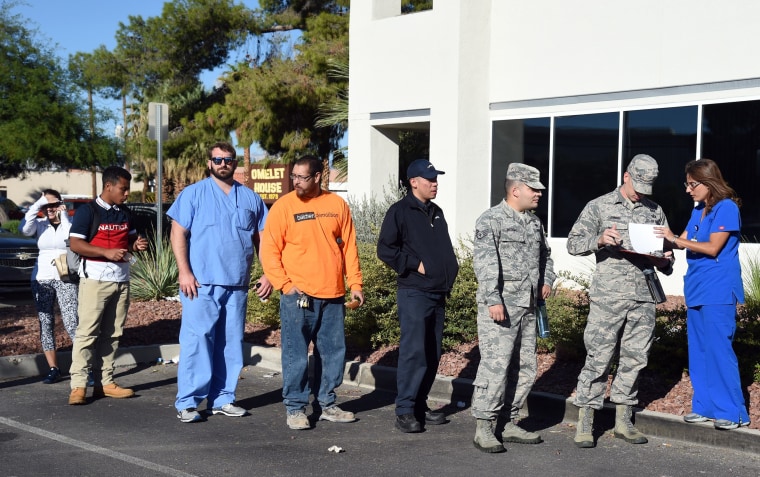 Donations are generally available for hospitals in 24 to 36 hours, and United Blood Services encouraged donors to make appointments throughout the coming days and weeks.
As recently as mid-July, Nevada experienced a shortage of blood that officials called 'dangerously low.' A message posted before the shooting on the website of the Las Vegas and Southern Nevada branch of United Blood Services noted that donations had been declining for several weeks and that inventory levels had dwindled.
"Please don't wait for the next tragedy or crisis to donate," the message said. "A continuous supply of blood is needed and a slow down like this is so difficult.
Phil Helsel reported from Las Vegas and Jackson Hudgins reported from New York City.