ISIS's widely discounted claim of responsibility for the Las Vegas massacre is indicative of the terror group's increasing desperation as it loses strongholds in Syria and Iraq, according to terrorism-watchers.
By making apparent false-claims of responsibility, ISIS is becoming "somewhat of a joke among the rank-and-file of the international terrorist elite," said Peter Vincent, a former official at the Department of Homeland Security and a counterterrorism expert.
ISIS claimed Monday that Stephen Craig Paddock — who Las Vegas police say killed 58 people, in addition to himself, and injured at least 500 others — was a "soldier of the Islamic State" but gave no evidence to back up its claim.
Citing a "security source," the group's media arm, Amaq, said Paddock, a 64-year-old retiree from Mesquite, Nevada, carried out the attack "in response to calls to target coalition countries." Unusually, ISIS doubled down on the claim, releasing a second statement claiming Paddock had recently converted to Islam and identified him as "Abu Abd El Bar."
The FBI quickly dismissed ISIS's claims, saying at this stage there was no evidence Paddock had connection to any international terrorist group.
Paddock — who opened fire from the 32nd floor of a Las Vegas hotel late Sunday on crowds attending an outdoor country music festival below — is believed to have acted alone. It was the deadliest mass shooting in modern American history, and Paddock was "solely responsible for this heinous act," Assistant Clark County Sheriff Todd Fasulo told reporters Monday night.
"In a sense it doesn't matter if ISIS lies about this"
While experts cautioned that new evidence could still be uncovered linking Paddock to ISIS, the Las Vegas shooting appeared to fit with a wider trend of the group claiming responsibility for more attacks in the last 18 months — including some they couldn't reasonably claim.
In June ISIS claimed an attack at a casino in the Philippine capital, Manila, but authorities dismissed the claim saying the suspect, who left dozens dead, was an indebted gambler.
"It's a sign of their sheer desperation," said Vincent, who added that the claims were indicative of a "fractured and damaged" ISIS, and especially of the decline of Amaq, its once sophisticated media arm.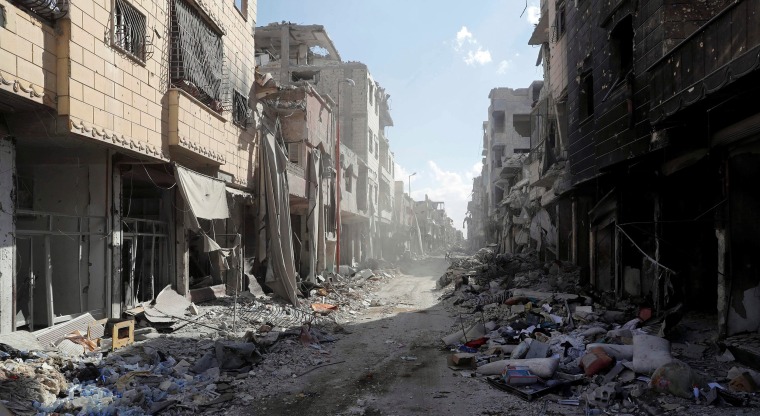 In July Iraqi security forces drove ISIS out of Mosul, and in recent weeks U.S.-backed forces have closed in on the Syrian city of Raqqa — the so-called capital of the group's self-declared caliphate.
As ISIS forces retreat in Syria and Iraq, they also lose oil reserves, a key source of income for the group. "They're losing their ability to self-fund, which made them unique," Vincent said.
Duncan Gardham, NBC News security analyst, agreed that the group's spike in claims of responsibility over the past year was indicative of its "increasing desperation."
"They're losing the caliphate … but they still want to appear strong," he said, adding that ISIS was concentrating on its image in the West rather than developments in Iraq and Syria.
"The story there is not good," he said, adding, "They always used attacks in the West as a tactic, but it may now be their only tactic."
Related: Why Nevada is Nation's Flashpoint on Politics and Guns
But by publishing these apparent false-claims of responsibility, ISIS is unknowingly undermining its credibility in the West, Gardham said.
"They don't really understand that they are devaluing the claims they make because people don't take them seriously anymore," Gardham said. "It's a deeply flawed strategy."
Vincent agreed. "They're becoming a laughing stock when they make these sort of outrageous claims," he said. "It greatly harms their international reputation."
But Shiraz Maher, deputy director of the International Centre for the Study of Radicalisation and Political Violence at King's College London, questioned whether the claims were indicative of a weakening ISIS.
Maher said the group was seeking to capitalize on the attack by publishing disinformation, spreading more panic and possibly hindering the investigation — as well as making a bid to inspire troops.
"In a sense it doesn't matter if ISIS lies about this — their supporters will see it as a victory," he said, adding that some followers would never believe what the FBI had to say.
"It's a form of psychological warfare," he added.