LAS VEGAS — They streamed in in droves, arriving any way they could: via ambulance, crammed into the backs of trucks, even on foot. Many were in desperate need of care, their bodies punctured by high-velocity gunshots more frequently seen on the battlefield than on the Las Vegas Strip.
After the worst mass shooting in modern U.S. history, victims shot at a music festival on the Strip on Sunday night quickly filled Las Vegas' hospitals on a scale that many medical personnel said they had never before witnessed — in both the sheer number of patients and the extent of their injuries.
But thanks to regularly held mass casualty training sessions at their hospitals, attending to the victims went as smoothly as possible, they said.
"I can't describe it," said Dr. Scott Scherr, an emergency medicine doctor at Sunrise Hospital & Medical Center, a few miles from the Strip. "We prepare for it. We were ready for it here at Sunrise, but it's something I haven't seen."
Sunday night's massacre by a gunman who unleashed a rapid-fire barrage of bullets from the 32nd floor killed at least 58 people and injured almost 500 others, pushing hospitals to the brinks of their capacity.
"It's the art of triage in mass casualty to find the sickest patient and to treat that patient first and get to the less acute patient a little later."
At Sunrise, which treated 214 patients, "probably a hundred percent" had gunshot wounds, Scherr said. A lot had bone fractures and injuries to their extremities, he said. Others were in more dire condition.
"It's the art of triage in mass casualty to find the sickest patient and to treat that patient first and get to the less acute patient a little later," Scherr said.
The sickest arrived first, in ambulances, he said. Then other patients started coming in in makeshift emergency vehicles: trucks and cars driven by ordinary people.
Related: After Gunman's Deadly Spree, Questions Linger on a Motive
"And it was wave after wave after wave, probably for about three hours or so," Scherr said.
Meanwhile, 4 miles away at University Medical Center of Southern Nevada, Toni Mullan had just finished her shift as a clinical nursing supervisor in the trauma resuscitation department a half-hour before when she got a call that there was a mass casualty.
On her frantic drive back to work, Mullan called and activated as many nurses as she could reach. Then she started thinking about how to maximize the hospital's resources.
"We put gurneys outside. We put wheelchairs outside waiting for the people to be brought in. And we had doctors, physician assistants, nurses outside, triaging the minute they got there," she said.
All of the assistance was needed: Patients were arriving by the truckload. Mullan said her daughter, who also works for the hospital, pulled patients out of trucks that had "eight people in the back of them."
Las Vegas Shooting: Photos Capture Chaos of Concert Massacre
As a Level I trauma center, the hospital is accustomed to treating multiple victims, Mullan said.
"This is what we do, on a higher level. And what we do is you need to think about who needs the immediate care," she said.
For those not in emergency medicine, the scene may have looked disorganized, she added. But every administrator was there, and the hospital had about 100 volunteers in the trauma center to keep things running smoothly, she said.
"There are no words for someone who is an outsider to understand what it looks like when you have people all over the place, wanting pain medications, needing to be intubated, needing to have chest tubes, finding their loved ones — they're not IDed — trying to make sure we're putting them in the right place," Mullan said.
Mass casualty training happens regularly at medical facilities across the country, said Ian Weston, executive director of the American Trauma Society, which represents and lobbies for advanced trauma programs. While training varies from facility to facility, it usually offers models and response guidelines for every type of scenario.
"In cases like Las Vegas, they were able to call in additional staffing, ranging from your clinician all the way down to the folks that help turn rooms around for cleaning, custodial staff, so they're able to operate at quite a high capacity," Weston said. "They're able to accommodate 100-plus patients at once and turn rooms around and get people into surgery as quickly as possible."
Facilities prepare for both external emergencies and internal ones, such as an active shooter inside the hospital, which would force staff to move their operations outside the building, Weston said.
Dr. John Fildes, medical director of the trauma department at University Medical Center, said the facility conducts two mass casualty drills a year, as well as drills for two internal mass casualty incidents two more times a year. Sunday's shooting incorporated many of the training lessons, he said.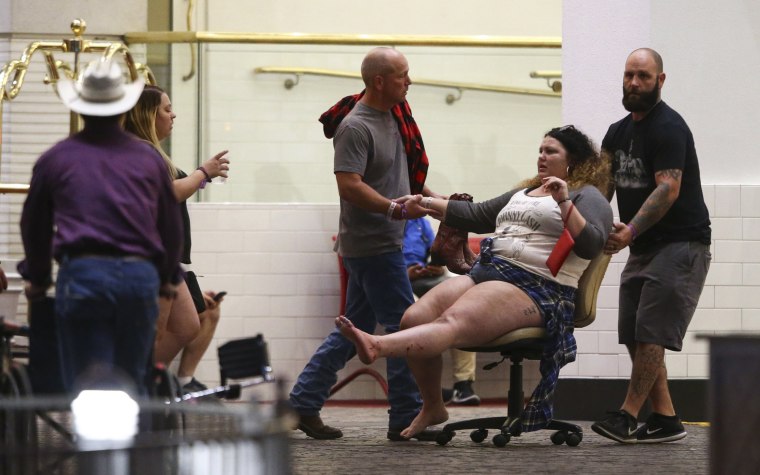 "The majority of these were high-velocity gunshot wounds, but there were a lot of people who were fleeing the scene, so we even had people who were hit by cars or people who fell and were injured, so there's a variety of things going on," Fildes said.
But there's one thing experience and training never quite prepare medical staff for, Mullan said: the heartbreak of a patient dying.
"I'm alive," she said. "There are people who aren't going to have their loved ones tonight."
Miguel Almaguer reported from Las Vegas. Elizabeth Chuck reported from New York.