The girlfriend of Las Vegas gunman Stephen Paddock returned to the United States and said through her attorney Wednesday that Paddock gave no hint that he was planning the largest mass murder in the nation's modern history.
The woman, Marilou Danley, 62, landed at Los Angeles International Airport late Tuesday on a flight from her native Philippines and was quickly hustled off in a wheelchair by FBI agents.
Matthew Lombard, Danley's attorney, told reporters that Danley returned voluntarily and was cooperating fully with investigators.
"I am devastated by the deaths and injuries that have occurred," Danley said in a brief statement read by Lombard. "I knew Stephen Paddock as a kind, caring, quiet man. I loved him and hoped to have a quiet future with him. ...
"He never said anything to me or took any action that I was aware of that I understood as a warning that something horrible like this was going to happen," he quoted her as saying.
They are trying to pin down Paddock's movements before Sunday, when he smashed holes in the windows of his room on the 32nd floor of the Mandalay Bay hotel and rained bullets down on a crowd of country music fans gathered for a concert on the famed Las Vegas Strip. He killed 58 people, in addition to himself, and injured 489 more, Clark County Sheriff Joe Lombardo said Wednesday afternoon, clarifying that higher reported injury totals included people who had been counted twice or who had been injured in other ways.
He said 317 of the injured had been released from hospitals.
According to sources, investigators hope Danley, who lived with Paddock, can shed light on the following:
Whether Paddock, as some news organizations have reported, made a "dry run" the previous weekend when he rented rooms in a high-rise Las Vegas condo building overlooking the venue of another outdoor concert called the "Life is Beautiful" festival.
The suspect's mass purchases of high-powered weapons in Utah, Nevada, Texas and California.
His finances and whether he was having money troubles.
His travels, especially the cruises he took. NBC News reported earlier that Princess Cruises and Holland America Line have already been contacted by law enforcement and are cooperating.
His gambling. Paddock was a high roller who gambled with at least $160,000 in recent weeks at several Las Vegas casinos.
Investigators have mostly finished searching Paddock's two Nevada homes and haven't yet found any manifesto or video statement that could yield a possible motive, according to federal officials. And they are continuing to scour through his electronic devices for clues.
Also troubling, investigators found ammonium nitrate, a fertilizer, in the trunk of the car Paddock had parked at Mandalay Bay, officials said. But neither of his homes has a lawn, and the chemical can be used to make explosives.
Danley traveled to Hong Kong on Sept. 25 and was in her homeland when Paddock unleashed hell on unsuspecting fans while Jason Aldean performed. Nevertheless, Clark County Sheriff Joe Lombardo has confirmed, she is a "person of interest," a phrase with no formal legal meaning that indicates that investigators wanted to talk to her.
Related: Dramatic Police Body Camera Video Shows Chaos, Terror of Shooting
Several senior law enforcement officials said Paddock wired $100,000 to an account in the Philippines in the week before the shooting.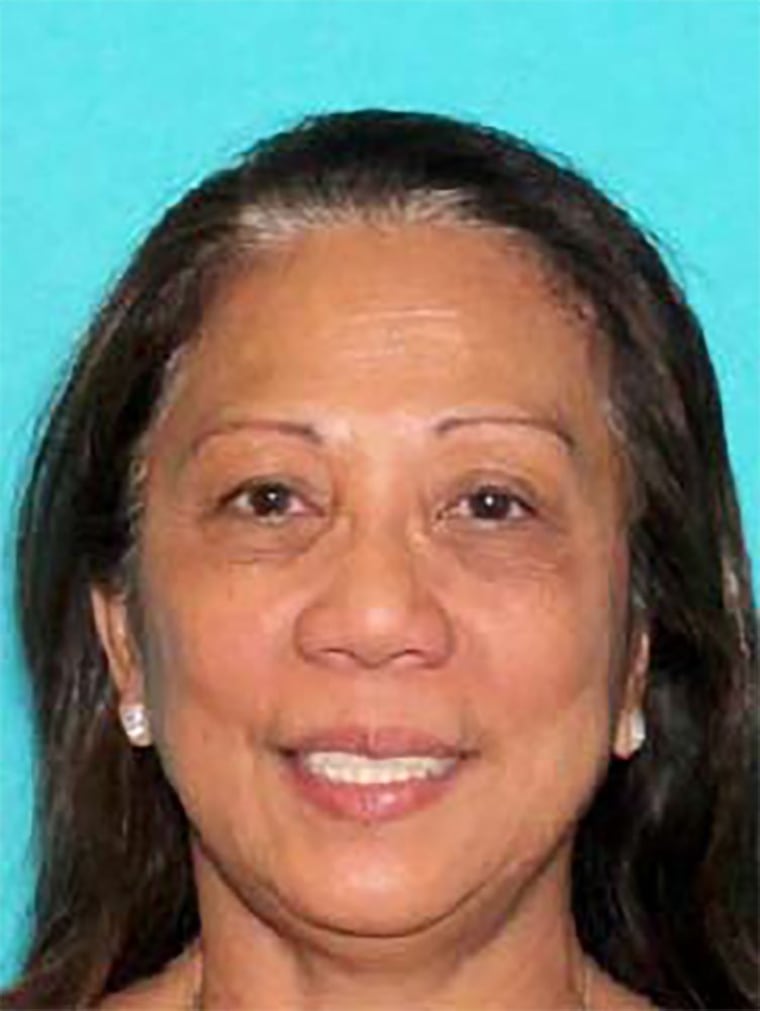 They haven't said whether the money was for Danley or her family or for another purpose, but Lombard quoted Danley as saying Paddock did wire an unspecified payment to her "for me and my family to buy a house."
She said she feared the payment could have been Paddock's way of breaking up with her.
Investigators said Paddock had some of Danley's identification on him when he ended the carnage by killing himself with a bullet to the head as police were closing in on him.
Meanwhile, President Donald Trump arrived in Las Vegas, where he met with investigators and survivors.
"Not yet," Trump said when asked by reporters if police have come up with a motive. "Very sick man, demented person, we haven't seen that yet but you will know very soon if we find something."