LAS VEGAS — Country music megastar Jason Aldean was chugging through his set and the crowd at the Route 91 Harvest festival was grooving to the music when the shooting started.
Suddenly what had been a rollicking good time was transformed into a surreal horror show on the Vegas Strip directed by a lone gunman spraying the crowd with a barrage of bullets from the 32nd floor of the nearby Mandalay Bay hotel.
Aldean's Army, as the singer's devoted fans call themselves, was 22,000 strong and packed shoulder-to-shoulder in a penned-in area on Las Vegas' best known boulevard. And they were sitting ducks.
It was just past 10 p.m. on a Sunday night in one of the world's most exuberant cities, and 59 people were about to die — and at least 527 people would be injured — in the largest mass shooting in modern American history.
Witnesses described a brief pause before panic set in as trapped fans tuned their disbelieving ears on a "popping sound," one that all too often is described by the survivors of mass killings as "firecrackers."
"Get down! Get down!," desperate fans could be heard yelling as the bullets whizzed amid the screaming in dramatic footage obtained by NBC News. "What is it?" others yelled in the confusion.
"There was this onslaught of shots," concertgoer Brian Claypool told MSNBC. "It felt like World War III. It felt like it would never end."
Claypool said he found himself literally pulling people to the ground "because a lot of people were still frozen in the moment."
But it was a quick thaw.
"Everybody starts running, everyone's on the ground, everybody's yelling, everyone's confused," survivor Sara Hass told NBC News. "No one knows what's really going on. Everyone thought it might have been fireworks, but it was ... you know."
Hass's friend, Sydney Sievers, said it took just seconds for the awful reality to set in. And she immediately began looking for her mom as terrified fans all around her raced for the exits, some clambering over the crowd barriers to get away.
"He passed away there, in my arms, as we were on the curbside"
"I honestly thought we were done," said Sievers. "I was just really confused, and everybody was just panicked and running and screaming and I was just more scared than anything."
One witness, Alex Rasmussen, told MSNBC that he and his wife took cover behind the bleachers and a row of garbage cans.
"The next thing you know, there was another round and then the music stopped," Rasmussen said. "I looked up and he was being rushed off stage, Jason Aldean and his band. And in that moment I looked at my wife and said, 'We gotta get out of here.'"
Rasmussen said at that point they were just 50 feet from the stage and he could hear the shooting and it was "round after round after round."
"So we had a good point to be able to take off towards an exit," he said. "It was a stampede style atmosphere once people realized there was gunfire and that we needed to get out of there quickly."
They had plenty of company by the time they reached the bleachers.
"There were piles of people lying there," he said. "It was absolute chaos."
Singer Jake Owens told "TODAY" he was onstage and about 50 feet from Aldean when the shots rang out — and at first he didn't believe what he was hearing.
"It was kind of the thing where like, 'Is that gunfire?'" he said. "And it got faster and faster. … It sounded like it was an automatic rifle. You could hear it ringing off the tops of the rafters on the stage. That's when you saw people fleeing, and at that point everyone on stage just started running everywhere possible, and it was pretty chaotic for sure."
When he looked out at the scattering crowd, Owen said, "there was blood on people and you could see a couple folks on the street that had, that looked, like they'd been shot, lying there."
Another singer, Luke Combs, said he, too, was onstage and at first thought the gunfire was "pyrotechnics."
"And so, nobody on the stage really even batted an eye at the first four shots cause it seemed like it was kind of part of the show," he told NBC News.
Amid the chaos, there were scenes of remarkable bravery as people used their bodies to shield loved ones from the flying bullets and while others tried desperately to save wounded concertgoers.
Mike Cronk, a retired teacher, told NBC News's Lester Holt that his friend was shot three times, and he and several others immediately started providing first aid.
"Yeah, we kept him conscious," he said. "He actually, you know, had his finger in one of the holes and we like, 'OK, keep your finger in there.' Then we got off shirts and stuff to try and keep it compressed."
Cronk said they carried him to a pickup truck where other wounded fans were waiting and then helped transfer the injured to an ambulance. For one of them, help came too late.
"He passed away there, in my arms, as we were on the curbside," he said.
Jolene Bennett described how she drove a gunshot victim to safety.
"It was a stampede style atmosphere once people realized when there was gunfire and that we were needed to get out of there quickly."
"As we are driving, people are running, screaming, wanting in the car," she told MSNBC. "We opened up the door, three people jumped in the back. And then as we were trying to take off we see a lady who had been shot and I open the front seat and she climbed in my lap. She was bleeding. Just pouring blood out of her arm."
Forbes Riley told NBC News he was in his room 16 floors above that of the shooter — who was identified by police as Stephen Craig Paddock, 64, of Mesquite, Nevada. And Riley said he watched the horror unfold from his balcony.
"Right below us is where the concert was," he said. "We were on the balcony last night taking photos, and like everyone's reported, we thought we were all hearing fireworks. None of us were really noticing cause it got kind of weird and loud."
Riley said that when they looked down "there were people strewn everywhere and we thought, 'Oh, that just can't be real.'"
It only took a couple of minutes, he said, to figure out which window the shots were coming from.
"I see smoke come out of there and thought, oh s---," he said. "We all ran inside."
Las Vegas law enforcement quickly zeroed-in on Paddock's room.
Related: Las Vegas Shooter's Position in Mandalay Bay Room Amplified Massacre
One hour and 12 minutes after the first 911 call, police blew the door off Paddock's room, NBC News' Pete Williams reported.
But when they got inside, they found the suspect dead of a self-inflicted gunshot wound, Clark County Sheriff Joe Lombardo said. Authorities said they later found 23 firearms in his room and 19 more at his home.
A short time later, his girlfriend, Marilou Danley, was located and police were questioning her to determine what made the reclusive retiree who loved to gamble suddenly go on a killing spree. His brother Eric said he was blindsided by the tragedy.
"We just don't understand," Eric Paddock told NBC News. "An asteroid just fell out of the sky. And we have no reason, rhyme, rationale, excuse. There's just nothing. There's nothing."
The stunned brother said Paddock had no "criminal affiliations" or criminal record. "Find out who sold him the machine gun," he said.
Within hours came the bizarre revelation that Paddock was the son of a bank robber named Patrick Benjamin Paddock, who used the alias Benjamin Hoskins Paddock and had once been on the FBI's Most Wanted list.
As has been its habit of late, ISIS claimed credit for the latest explosion of U.S. domestic terrorism. But the FBI quickly dismissed that.
"We have determined to this point no connection to any international terrorist group," said FBI Special Agent Aaron Rouse.
Nor was Paddock on law enforcement's radar.
"We've checked all the federal data bases and local data bases and state databases and we had no knowledge of this individual," said Lombardo.
Meanwhile, the emergency rooms of the major Las Vegas hospitals were packed with the more than 500 people who were wounded or hurt during the shooting. Dozens were reportedly in critical condition, and Lombardo warned the death toll could rise.
At least one off-duty Las Vegas police officer was among those shot, Lombardo said. Several other off-duty police officers are believed to be among the dead and injured, he said.
The Sunrise Hospital and Medical Center, which is the closest trauma center to the Strip, reported treating 180 patients, 14 of whom had died of their injuries. "This has been an unprecedented response to an unprecedented tragedy," hospital CEO Todd Sklamberg said in a statement.
"He's not going to make it," a distraught Loren Schwanbeck said of his wounded brother Brett, who was at the hospital. He said he had been shot in the head and won't be the same even if he survives.
"I hope that son of a bitch burns in hell for eternity," Schwanbeck said of the shooter.
Patients emerging from the ER said the doctors are working nonstop and described an air of desperation.
"You can feel the weight of emotion, everything that's happened," said Allan Mendoza, 26, of Las Vegas, who was being treated for an ailment unrelated to the shooting. "Everybody's helping everybody out."
Mayra Martinez, 32, who had accompanied Mendoza to the ER, said, "The staff is overwhelmed and tired and barely keeping up."
"I give them a lot of credit," she said.
In Washington, President Donald Trump stayed on somber message, calling the carnage "an act of pure evil" and promising to head to Las Vegas on Wednesday to meet with the first responders and comfort the victims' families.
Trump ordered that U.S. flags on all federal buildings be lowered to half-staff. State officials across the country followed suit.
At the Vatican, Pope Francis offered condolences and prayers for the victims. So did Israeli Prime Minister Benjamin Netanyahu and other heads of state.
In the wake of the latest mass shootings, there were renewed calls for curbs on the high-powered guns that have been used to kill so many Americans.
Former Rep. Gabrielle Giffords, who became an anti-gun activist after she barely survived as assassination attempt six years ago, called the Las Vegas massacre "a grave tragedy for our nation."
"I know this feeling of heartbreak and horror all too well," she said.
Manhattan District Attorney Cyrus Vance said "the events in Las Vegas are beyond tragic or reason."
"In the aftermath of yet another mass killing, pressing questions are confronting our country: Will we continue to allow the sale and proliferation of automatic, military-style weapons capable of shooting a fusillade of bullets into a crowd in seconds?" he asked in a statement.
Las Vegas also got shout-outs of support from some of the biggest names in show business, including Jennifer Lopez, who paused from her efforts to bring help to hurricane-ravaged Puerto Rico.
Prominent Las Vegas residents like Hall of Fame pitcher Greg Maddux weighed-in with condolences for the victims and praise for the first responders.
And locals answered the call for help by donating blood and there were long lines of people waiting for their chance to contribute.
Back at what is now a crime scene, investigators searching for bullets and other evidence picked through grounds littered with what the escapees of the carnage left behind in a hurry — discarded bottles, food wrappers, even a pair of discarded star-spangled cowboy boots abandoned at a curb.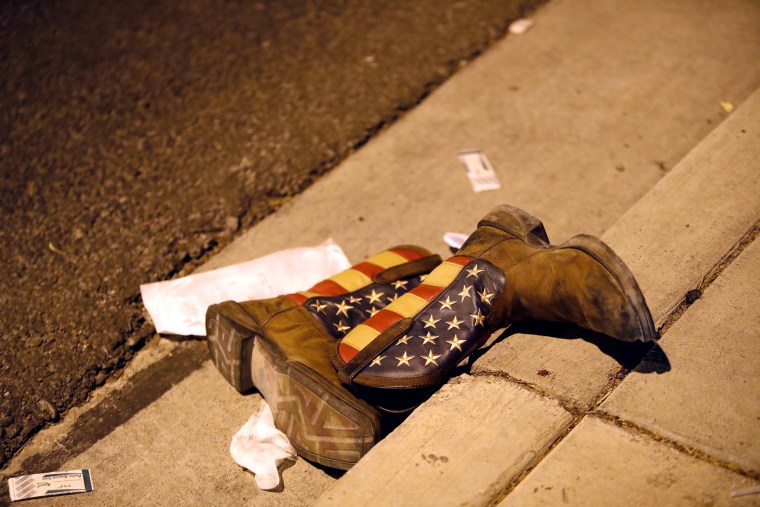 Phil Helsel reported from Las Vegas, Andrew Blankstein from Los Angeles and Tracy Connor and Siemaszko from New York City.