WASHINGTON — President Donald Trump on Monday called the shooting on the Las Vegas strip that killed more than 50 people an "act of pure evil."
In a somber address to the nation from the Diplomatic Room at the White House, Trump said Americans are joined in "sadness, shock and grief" at the attack — the country's deadliest mass shooting in modern history.
"It was an act of pure evil," Trump said.
"I want to thank the Las Vegas Metropolitan Police Department and all of the first responders for their courageous efforts," Trump said, praising them "for helping to save the lives of so many" and for quickly locating the shooter. "The speed with which they acted is miraculous and prevented further loss of life."
The president said he will go to Las Vegas on Wednesday and will meet with Nevada's governor, Brian Sandoval, and the city's mayor, Carolyn Goodman, and Sheriff Joseph Lombardo, among others. He called it a "very sad moment for me, for everybody. ... This is a very sad day." The president did not respond to a question about gun control.
A previously announced trip by the president and first lady Melania Trump to survey storm damage in Puerto Rico on Tuesday will go on as scheduled, the White House told NBC News.
"I know we are searching for some kind of meaning in the chaos, some kind of light in the darkness," Trump said during his brief remarks. "The answers do not come easy."
Trump did not make any mention of possible motives for the shooting.
To families and friends of the victims, the president said "we cannot fathom their pain" or imagine their loss, but asked that God and prayer help get them through this "dark period."
He directed flags be flown at half staff and held a moment of silence at the White House.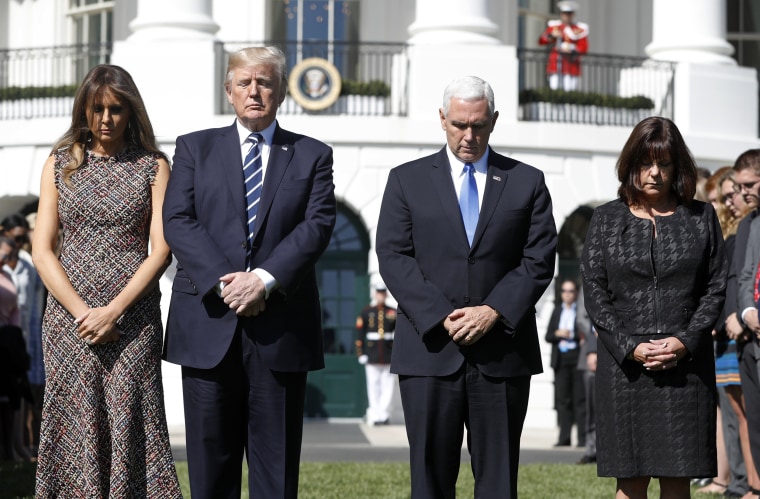 Chief of Staff John Kelly briefed the president, the Homeland Security and counterterrorism adviser Tom Bossert told NBC News, calling the law-enforcement response to the shooting at the Mandalay Bay Resort and Casino "extremely fast."
Prior to his remarks, Trump tweeted his "warmest condolences" to the victims of the shooting.
Vice President Mike Pence also tweeted about the "senseless violence in Las Vegas," praising first responders and sending love and sympathy to victims.
Melania Trump also shared prayers for "victims, families & loved ones" Monday morning.