The inspiration for a popular but controversial accessory that allows semi-automatic rifles to fire like machine guns began with an itch.
Jeremiah Cottle had just recovered from a brain injury that cut short his Air Force career and was out shooting with a friend near his hometown in central Texas.
"We weren't able to fire as fast as we wanted," Cottle recalled in a 2011 interview with a local newspaper, The Albany News in Texas. "We couldn't afford what we wanted ─ a fully automatic rifle ─ so I started to think about how I could make something that would work and be affordable."
After some tinkering, and praying, Cottle and his wife sunk their savings into creating a prototype that became Slide Fire, a line of "bump-fire stocks" that use the force of a rifle's recoil to quickly re-engage the trigger mechanism, simulating automatic fire.
Related: Las Vegas Gunman Meticulously Planned Shooting, Sheriff Says
After Cottle told the Bureau of Alcohol, Tobacco, Firearms and Explosives (ATF) that his invention was intended for people with limited use of their hands, the bureau approved the device, saying it did not turn rifles into machine guns, which are rare, highly regulated and can cost $20,000.
Cottle started selling his new product in December 2010, touting it as an improvement on "bump firing," an improvised technique that can be dangerous and difficult to control.
"The Slide Fire simply allows you to shoot as fast as you want to," Cottle told Guns America.
It's safe to say that Cottle, 40, has sold many thousands of Slide Fire devices since then (as a private business, the company does not have to make its financial data public, and Cottle did not return requests for an interview).
In a 2012 video for Guns & Ammo, Cottle fired a gun outfitted with one of his bump-fire stocks and explained that it allowed shooters to "achieve an incredible rate of fire and have a lot of good fun at the range."
His stocks, which sell for $150 to $300, are by far the most popular and well-known such devices on the weapons-accessory market, and he has fought to keep it that way, suing copycats out of business. He has just one main competitor, Fostech Outdoors, which sells a bump stock based on a concept first devised by a Florida marksman and has traded patent-infringement accusations with Slide Fire. Both companies eventually dropped their lawsuits.
But Cottle is now the target of a growing backlash against bump-fire stocks, especially this week after they were found on 12 rifles recovered from the Las Vegas hotel room where Stephen Paddock fired on a country music festival on Sunday, killing 58 people. The ATF has not said if Paddock used any of the 12 rifles.
Some in Congress want to ban the devices, even though they are not commonly used in crimes and are marketed primarily as gun-range gadgets that give shooters the thrill of obliterating targets.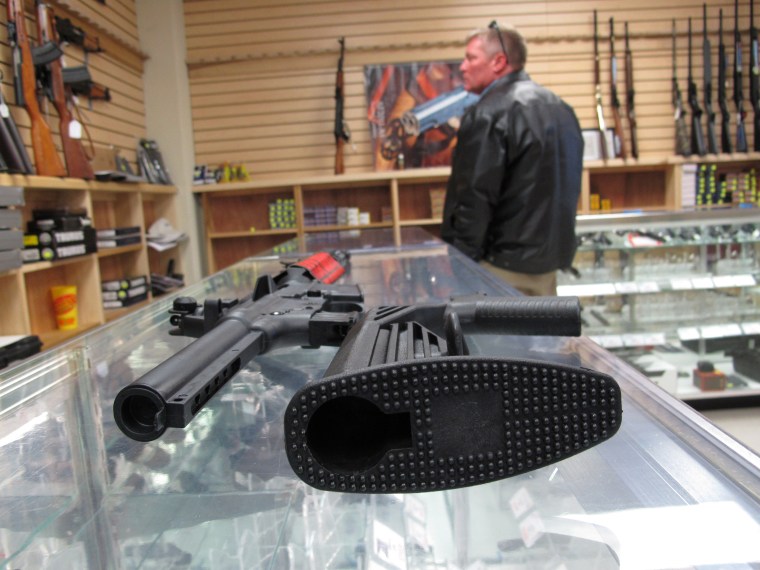 "It's a gimmick, and there's no practical use for it," said Nick Leghorn, senior editor at The Truth About Guns, a firearms blog. "It's what we consider a range toy."
Democratic lawmakers are leading the push to make bump-fire stocks illegal, but a number of Republicans ─including House Speaker Paul Ryan ─ have also expressed a willingness to discuss how to deal with modifications that allow guns to simulate automatic fire.
One Republican in the Senate, Ron Johnson of Wisconsin, said Wednesday that he had never heard of bump stocks until the Las Vegas shooting, but would now support a ban.
"Automatic weapons are illegal," Johnson said, adding that "to me that's part of that same type of process, so I have no problem in banning those."
Related: Democrats Seek Ban on Devices That Boost Gun Rate of Fire
The backlash doesn't appear to be hurting business ─ at least for the moment. Since the massacre Sunday, there has been an apparent run on the sale of bump-fire stocks, making them hard to obtain at online and brick-and-mortar gun shops. Cottle's company has stopped taking new orders online.
"Any time there's a mass shooting, and the media talks about the type of firearms and what was used, that product becomes the product that everyone wants," said Michael Cargill, owner of Central Texas Gun Works in Austin, Texas.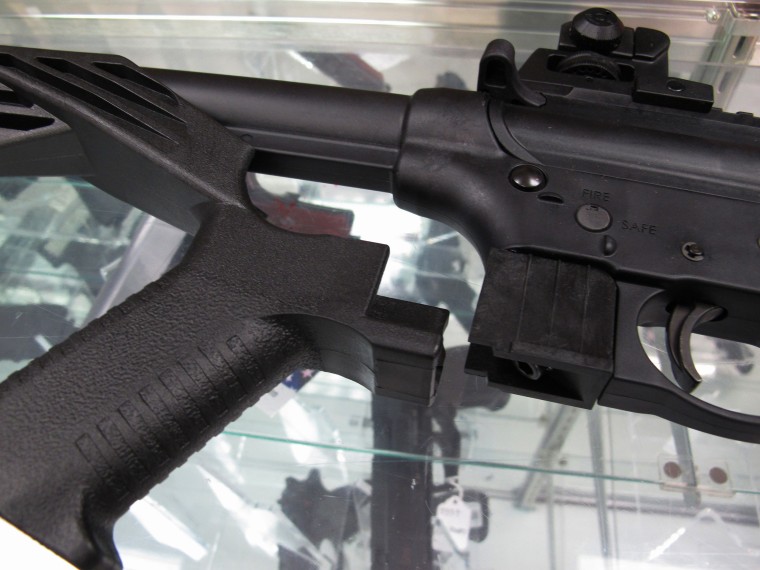 Cargill said he has sold out of bump-fire stocks, his distributors' inventories are bare and he suspects that is the case around the country.
"Whenever you mention the word 'ban' and mix it with the infatuation, people are going to want to get these things, and get them now," he said.
On YouTube, there are dozens of videos dedicated to shooting rifles outfitted with bump-fire stocks, made by Cottle and others. Reactions range from exuberant to skeptical.
"This thing is awesome," declares one user before shooting off dozens of rounds on an AR-15-style rifle outfitted with a Slide Fire stock. The video has been viewed more than 7 million times. He adds, "For 375 bucks you can have a lot of fun."
In another video, with nearly 2 million views, a woman says of her Slide Fire stock: "It turns my semi-automatic rifle into, like, a fully automatic rifle. So we're fixing to have some f-in fun, alright?"
But other reviewers are far more cautious.
"Only a total jackass would use one of these," one man says of a version made by Bump Fire, which went out of business as a result of a Slide Fire lawsuit.
Cottle doesn't seem the type to shy from controversy (the company advertised billboards in 2014 that featured pictures of a rifle, a baseball mitt and an apple pie and the words "Pure American"). In a 2016 interview with Ammoland, he said: "Really, all I did was create a way an individual can shoot a firearm differently. I simply changed the way they pull the trigger."
He hasn't offered any public remarks on Paddock's attack or any other mass shooting in recent years. William Akins, who developed a patent on which Fostech's bump stocks are based, declined to comment other than to express sorrow for the Las Vegas massacre.
But if Cottle's company is rushing to keep up with backorders, Cargill, the Austin gunshop owner, is among those waiting.
He said he was "absolutely" trying to get Slide Fire stocks for his customers.
"I'll have some within a week," Cargill said.