A Georgia mom is helping to lead the charge to expand the state's limited medical marijuana law, which she says unfairly excludes many patients with severe medical conditions — including her 5-year-old autistic daughter — who could benefit from the plant's medicinal properties.
"There are some pretty tenacious parents who are fighting," said Jennifer Conforti, whose daughter, Abby, isn't covered by the current law. "... Why wouldn't you do that as a legislator? What is in it for you to make you not want to help families in the state?"
Second of two parts
Georgia is one of 17 conservative states in the Midwest and South that have passed so-called "CBD-only" medical marijuana laws since 2014. The laws allow patients with certain medical conditions to legally use products derived from the marijuana plant that are high in cannabidiol (CBD) but low in tetrahydrocannabinol (THC), which produces the "high" associated with consumption of the plant.
The messiness of medical marijuana lawmaking -- amid conflicting medical opinions and increasing public demand for access -- is amply illustrated by the situation in Georgia, where a civil disobedience campaign is underway to try to force legislators to expand the state's CBD-only law.
Georgia's law, approved with overwhelming support last year in the state Legislature and enthusiastically embraced by the state's conservative Republican Gov. Nathan Deal at the time, illustrates how quickly the political winds have shifted since the adoption of a rash of CBD-only laws began two years ago.
State Rep. Allen Peake, a Republican from Macon, earned the honorific of "godfather" of Georgia's medical marijuana movement by proposing a bill in early 2014 to legalize so-called "CBD-only" products derived from pot.
The bill would have allowed residents with glaucoma, cancer and seizure disorders to legally use products containing CBD, as long as they contained no more than 0.3 percent of THC.
That bill failed, but Peake returned last year with HB 1, which expanded the list of treatable conditions to eight — seizure disorders; Crohn's disease; mitochondrial disease; severe or end-stage ALS; multiple sclerosis; Parkinson's disease; sickle cell disease; and cancer – and raised the allowable THC level in the CBD products to 5 percent.
'We're going to make a difference'
This time the bill won overwhelming approval in both houses of the Georgia Legislature. It was signed into law a year ago by Gov. Deal, who choked up at the signing ceremony, as dozens of children with debilitating conditions and their families looked on.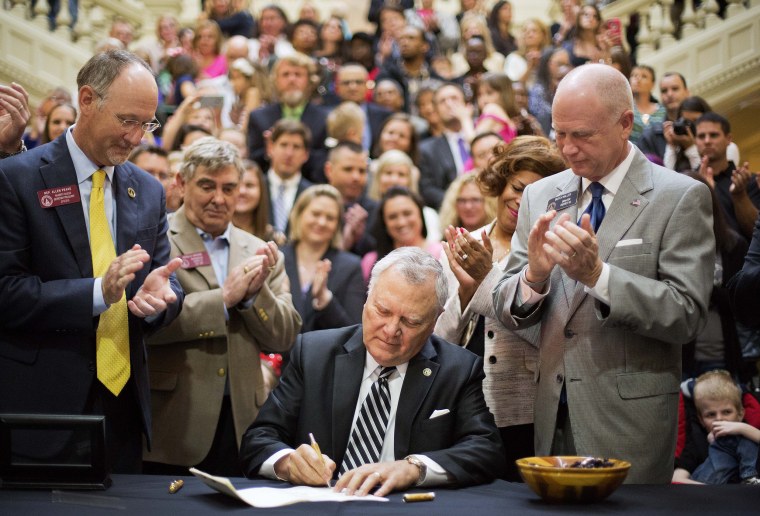 "This certainly has touched my heart," Deal said, his voice cracking. "And I'm pleased today we're going to make a difference."
But as in many other states with CBD-only laws, Georgia's law didn't establish a system for cultivation, processing or distribution, leaving patients with the choice of not using CBD products or violating state or federal law by traveling across state lines or using the mail to get them.
And like laws in other states, it quickly ran into opposition from residents who said it either unfairly excluded their medical condition or didn't provide any relief because of the low THC levels allowed.
"I was still worried that the Department of Family Services would take my daughter away. I was still worried the sheriff … would show up at my door and arrest me."
Conforti recalled that after an incident at school in which Abby had to be restrained by three teachers who carried her out to her car "like a battering ram," she decided to try a cannabis oil to treat her autism. After doing some research and making some phone calls, she was able to obtain some oil.
"I was still worried that the Department of Family Services would take my daughter away. I was still worried the sheriff ... would show up at my door and arrest me ... but after I saw her teachers walking her out like that, that was it. I didn't care anymore," she said.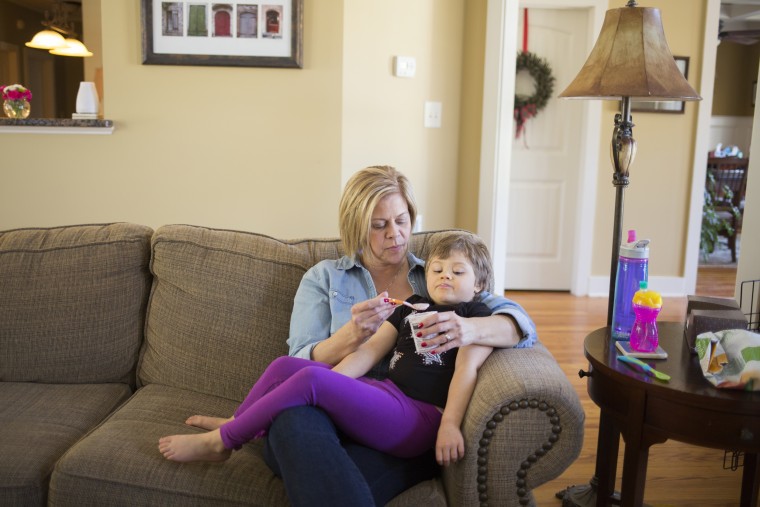 Conforti said the oil immediately controlled the violent "rages" and severe biting triggered by her daughter's autism.
"I ended up giving her her first dose and weaning her off her seizure meds, and I'm telling you the raging stopped, completely stopped," she said.
Conforti said that by experimenting with different products she eventually was able to zero in on the best dose for Abby's condition, which is far higher in THC than allowed by Georgia's law.
"For Abby, the best ratio or component mixture is at least 70 to 75 percent combination of THCa (tetrahydrocannabinolic acid) and THC," she said. "She has a neurological issue in her brain and the THCa and THC help to calm those nerve synapses so her brain can calm down and perform better."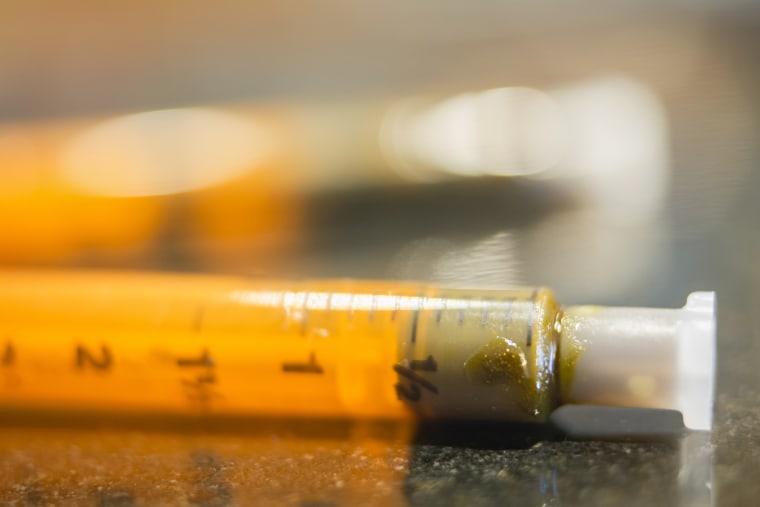 Rep. Peake led an effort this year to relax the THC limit, authorize in-state cultivation and distribution of CBD products and expand the list of treatable conditions to include HIV/AIDS, PTSD, autism, Tourette's syndrome and several others.
But this time the legislation received a much cooler reception.
First in-state cultivation was removed by a House committee. Then the state Senate's Health and Human Services Committee failed to vote on the measure and send it to the full Senate before the Legislature adjourned on March 24.
Gov. Deal also did not support the bill this time around, reportedly because of the in-state cultivation clause.
"There is no appetite to move any legislation, sign any legislation, or even gather additional information to write legislation on this issue," his chief of staff, Chris Riley, told Peake in a November 2015 email obtained by NBC affiliate WXIA.
What changed in Georgia in the year since Deal put his signature on HB 1?
Opponents of the legislation – including law enforcement and anti-drug abuse groups – regrouped after last year's defeat and mounted a campaign to undercut support for the law and "educate" legislators about the lack of hard science behind THC products.
Part 1: 'No-Buzz' Medical Pot Laws Prove Problematic for Patients, Lawmakers
That effort, conducted under the umbrella of the "Let's Be Clear Georgia" coalition and documented in a recent presentation titled "How Georgia Avoided Commercial Marijuana," included distribution of a list of "12 Myths of Medical Marijuana" to legislators.
Foes also noted that Peake's update would remove the law's THC limit and argued that would open the door for "legalized cultivation, processing and distribution of marijuana so that CBD could be extracted."
"(These laws) are poorly written by people who don't understand the process of approving a drug."
Sue Rusche, president and CEO of the Atlanta-based drug prevention organization National Families in Action, whose group was active in the coalition, said the overall message was that CBD-only medical marijuana laws like Georgia's "don't work for a whole lot of reasons" — including uncertain science and the possibility of contaminated products.
"They are poorly written by people who don't understand the process of approving a drug," she told NBC News.
Calls by NBC News seeking comment from Deal and state Sen. Renee Unterman, who declined to send the bill to the full Senate, were not returned.
Chuck Spahos, executive director of the Prosecuting Attorneys' Council of Georgia, who testified against Peake's bill, called it "the most inartfully written piece of legislation I have read in my time." He declined to elaborate in a brief phone conversation with NBC News, saying he was too busy to talk about "a bill that didn't pass."
But Peake said the opposition boiled down to a single concern: that by creating a cultivation and distribution system for patients, the state would be "heading down a slippery slope toward legalization, that we're going to be Colorado next."
Peake emphasizes that he does not favor legalization of recreational marijuana, but says the state needs to provide patients with a safe, regulated source of CBD products. And he believes the law should allow products with higher levels of THC for those who need them and be expanded to include additional medical conditions.
But that approach also is fraught with problems, patient advocates note, as legislators try to sort through which ailments should be covered.
"The biggest problem we veterans face is CBD alone usually doesn't help with PTSD and pain management."
Joshua Littrell, a spokesman for the advocacy group Veterans for Cannabis, noted for instance that Peake's effort to update Georgia's law this year would have left many veterans in the lurch even though it would have added PTSD to the list of treatable conditions.
"The biggest problem we veterans face is CBD alone usually doesn't help with PTSD and pain management," he said, though it does often help those with traumatic brain injuries. "It's absolutely asinine because those afflict more veterans."
Advocates turn to 'civil disobedience'
While conceding that legislatively addressing every medical situation is impossible, a loose-knit group of patient advocates has nonetheless mounted a "civil disobedience" campaign to pressure Georgia lawmakers to expand it to help more residents.
That usually means having participants visit their local sheriff's office to say they are violating the law by using CBD oil with higher-than-allowed THC levels or for a non-authorized condition and explain why, said Conforti. So far, no members of the group are known to have been cited or arrested.
Peake also is participating in a limited fashion, providing eligible Georgians with CBD oil if they are unable or unwilling to obtain it themselves.
"We make sure that families properly registered with the state get access to medical cannabis, including delivering it to them if that's the only way we can make that happen," he told NBC News.
Peake, who said he remains "passionate" about the cause, vows to continue efforts to expand the law to help more Georgians.
"We're trying to fix the problem of forcing people to either break the law or see their loved ones suffer," he said. "That's a terrible situation we're putting our citizens in, not just here in Georgia but across the country."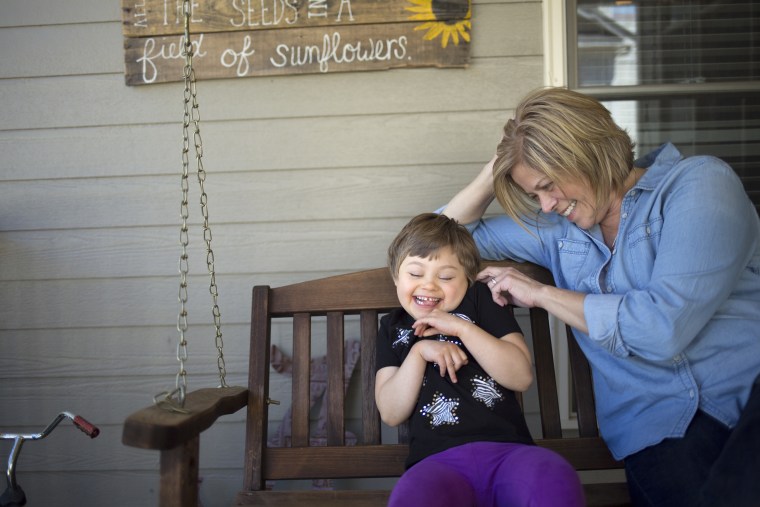 Conforti, who testified before the Legislature in support of Peake's legislation, said such efforts will continue until legislators realize they can't just walk away from the legal and ethical mess they have created.
"I'm not advocating for recreational use," she said. "It's for my daughter. She actually has a quality of life now. We've been doing it for a year-and-a-half now and we're not going to stop."