SQUAW VALLEY, Calif. — On one October morning in the foothills of the Sierra Mountains below Sequoia National Park, Fresno County Sheriff's Department Lt. Matt Alexander and the task force he leads prepared for a familiar operation.
Their targets were two illegal marijuana growing operations identified from the air by a helicopter the day before. It was not unusual in Fresno County, or throughout the Sierras. For years, one way to tell that it was fall in this part of California — along with college football — was when law enforcement started raiding giant marijuana grows.
"We find it everywhere. They get pretty creative at trying to hide it — like blending it in with other legitimate crops," said Alexander. "But we're pretty good at knowing what to look for. It stands out, and we have a trained eye for it."
If you hiked in, or flew in by helicopter on some these raids, you'd see hidden grows containing hundreds and often thousands of giant marijuana plants, sometimes with multiple pounds of bud per plant.
In some cases there are irrigation systems siphoning stream water, and campsites for the workers who have to spend months tending the plants, and sometimes long guns are seized. Sometimes you'd see a shrine to Jesus Malverde — often called "the patron saint of narco-trafficking."
When the state's voters passed Proposition 64, legalizing recreational marijuana in November of 2016, there was a general assumption that these raids would no longer be necessary: What had been an illegal enterprise was supposed to become a regulated, tax-paying industry.
But there is one problem. According to a study released by the California Department of Food and Agriculture at the beginning of this year, California produces 13.5 million pounds of marijuana annually — but Californians only consume 2.5 million pounds of it.
"The whole idea behind the recreational use law is, you can grow enough to use yourself, recreationally," Alexander said.
"You get a grow with 30,000 plants in it — Cheech and Chong couldn't smoke that much dope in their entire lives," he said, referring to the pot-smoking comedy duo.
"They grow it in bulk, and they export it for profit," Alexander said.
Given that the California produces more than five times as much marijuana as the state market uses, the assumption is that a lot of the excess goes out of state.
And under both federal and California law, there is nothing legal about exporting weed out of state. All the same, it's possible that California produces the majority of black market marijuana consumed in the rest of the United States.
This is not the first time that California has been, in effect, a source of drugs. In the 1990s, traffickers figured out that if you got a lot of ephedrine or its isomer, pseudoephedrine — both easily obtainable ingredients in over-the-counter medications at the time — and heated it with the right chemical, you'd get pure D-methamphetamine. California became known as "the meth manufacturing capital of the world."
But in the last decade, Congress restricted access to ephedrine and pseudoephedrine, and the United States persuaded manufacturing nations, like India and China, to restrict exports.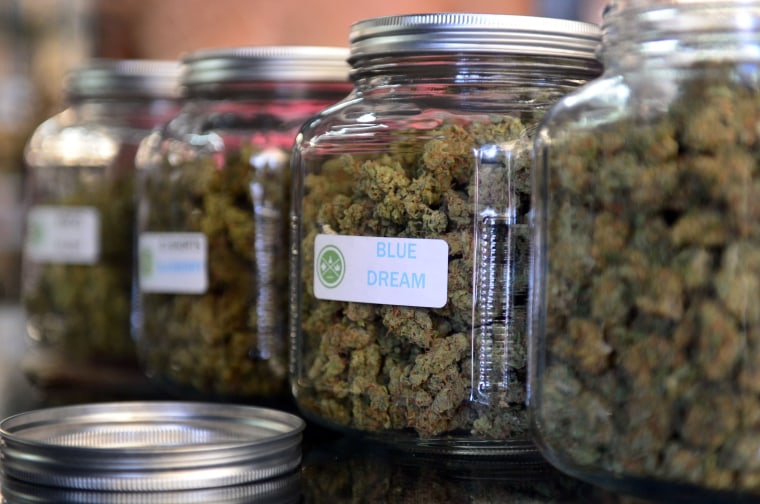 The meth business was driven out of California and went to Mexico. But in the way that laws can have unintended consequences, the supply of meth seems to have increased subsequently. The wholesale price of a pound of meth in California has dropped from around $8,000 a few years back to $2,300 or less recently, a Los Angeles Interagency Metropolitan Police Apprehension Crime Task Force official said in May of 2016.
In one of the October raids in Fresno County, law enforcement officers found a small number of marijuana plants in brush in a fenced property. They hacked the plants from the ground and hauled them away for disposal.
At a second location, marijuana plants around 8 feet tall were found, with a drip line was set up for irrigation. "These are pretty good-sized plants — this is what you would expect to find this late in the season," Alexander said.
Alexander said the department conducts raids of illegal pot grows about once or twice a week. Sometimes property owners find grows on their land and notify law enforcement, he said.
California's Prop 64 law allows individuals to grow six plants for personal recreational at a residence. Retail sales would be legal in January. Licenses are required for commercial sales. The grows targeted in the October raids were illegal.
"We're going to continue to enforce those laws, and we get a lot of complaints from the residents up here — it's impacting their quality of life," Alexander said. "We're going to be responsive of that, and enforce the laws that we can, and do what we can to impact the black market part of it."
The question remains what the consequences of Proposition 64 might be.
Will California's emerging legal recreational cannabis industry tempt the black market producers to give up their illegal activities for a shot at having a legal business — at the risk of having far too many more producers than the California market can support?
Or will the demands of black market cannabis consumers in the rest of the U.S., and their taste for California's finest, send the black market producers back into the hills next spring to plant next year's crop?