Some Californians raised "blunts," cut ribbons and endured long, early morning lines outside marijuana dispensaries to show their love for the state's recreational pot law, which went into effect at 12:01 a.m. on Monday.
At Berkeley Patients Group, which billed itself as the country's longest-running medical pot dispensary, the number of daily customers was expected to double on Monday from 600 to more than 1,000, NBC Bay Area reported.
The shop opened at 6 a.m., but a line had already formed a couple of hours before.
"It's the most exciting time in California history," one customer, Anthony Moraga, told the station. "We've been living in the shadows, in the black market. Now we can be proud to be part of a regular industry."
Another customer, Mike Barnes, was outfitted in a black suit patterned with green marijuana leaves and a hat to match.
"The biggest word [today] is freedom," he told the station. "People are allowed to be people. We're allowed to be responsible adults."
Berkeley Mayor Jesse Arreguin and state Sen. Nancy Skinner were on hand for a ribbon cutting at the dispensary, where the mayor said he'd "witnessed the tragic consequences of marijuana prohibition firsthand" and supported "legalization 100 percent," according to the local news site Berkeleyside.
Related: Recreational pot in California, family leave among 2018's new laws
In California's capital city, Sacramento, a couple dozen people gathered for a ribbon cutting at a medical marijuana dispensary, the Associated Press reported, while in Modesto, 29-year-old tattoo artist Johnny Hernandez celebrated with "Happy New Year blunts."
"This is something we've all been waiting for," he told the AP.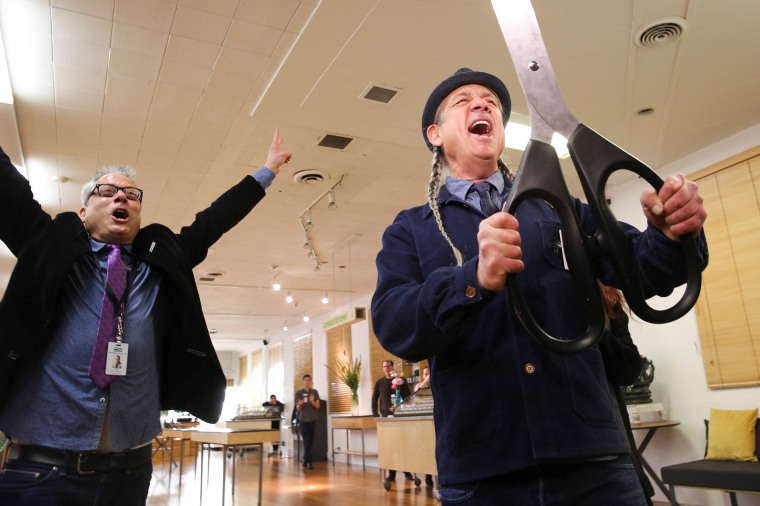 Not all of the state's cities and counties would agree. The state's new marijuana law allowed for local regulation, and in Kern County and Fresno, among other places, lawmakers banned recreational pot last year, NBC affiliates KGET and KSEE reported.
Other areas have not yet embraced the change. In Los Angeles County the cities of Long Beach and Los Angeles will allow commercial pot operations, though the county's newly established Office of Cannabis Management offered a warning on its website that "many areas" of the county have not chosen to permit commercial cannabis operations.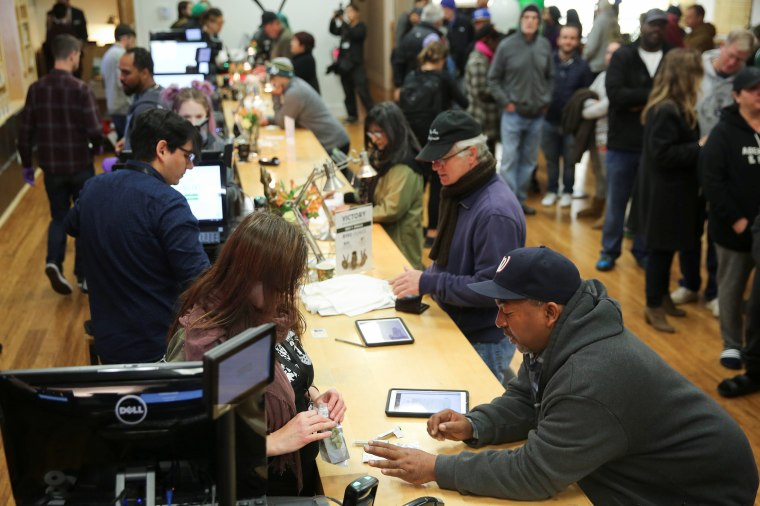 Meanwhile, on freeways across the state, officials used electronic billboards to remind everyone of another law: "Drive high, get a DUI." The Los Angeles Sheriff's Department issued a warning over the weekend that "drive baked, get booked."