This pot controversy went up in smoke.
A Washington state man who was the first person in Spokane to buy legal recreational marijuana this week, and then said he was fired over the resulting media coverage, got his job back Thursday and the company in question called the whole affair a misunderstanding.
Michael Boyer, 30, said he was ordered to take a drug test Tuesday by his part-time employer, temp agency TrueBlue Labor Ready, after he was seen on news reports being the first customer in the city to buy legal weed under the new law.
"We were not aware that he had taken the day off. He was scheduled to work, we saw him on TV that he was under the influence, and that caused us to start a process of screening," TrueBlue Vice President of Communications Stacey Burke told NBC News. "When we realized that he was not on assignment, we reinstated him. ... Pot is legal, and we know that."
Boyer's story went viral after the tie-dyed-shirt-wearing cannabis connoisseur posted his resume to Craigslist, claiming he was fired after being seen on TV buying pot — where he added that he was "still #1 tho!" referring to his status as the first recreational marijuana customer in Spokane.
TrueBlue Labor Ready doesn't test all its employees for drugs or alcohol, but it will test if there is a suspicion a worker is showing up to a job site intoxicated, Burke said.
After video aired of Boyer smoking legally bought marijuana, the company sent him a text message Tuesday ordering him to take a drug test within 24 hours, which he didn't take because he knew he wouldn't pass.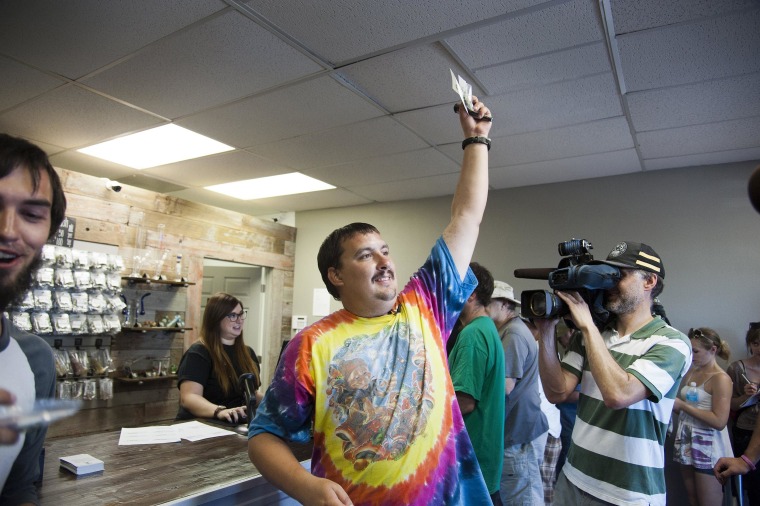 Boyer said he doesn't harbor any ill will toward the company. It was widely — and falsely — reported by other news outlets that he had also been fired from a second job, Kodiak Security Services, but that dealt with regulations getting a guard card and had nothing to do with legal pot sales, he said.
"When I started this adventure and said I wanted to be the first guy [to buy legal weed in Spokane] … I made my choice," Boyer said. "I don't blame anyone, and I don't regret it, either."
Boyer hopes his newfound fame can help him get into the marijuana grow business — his story was written up by High Times, after all — but in the meantime, everything is back to normal.
"I'm actually all right. It worked out," he said.