TEMPLE TERRACE, Fla. — It's a Tuesday around 5:30 p.m. and Florida's self-proclaimed "first professor of Cannabis," Carlos Hermida, is discussing the most prevalent cannabinoids found in marijuana. That's soon followed by the difference between lab techniques: gas chromatography vs. high performance liquid chromatography.
This lecture has gone to pot. They are discussing the intricacies of weed.
Outsiders might consider it a stoner's dream. But most of the 12 students crammed into this small classroom view it as a business opportunity.
Welcome to Medical Marijuana Tampa — or, as some are calling it, Cannabis U — complete with its own slick slogan: "Take Your Career To A Higher Level."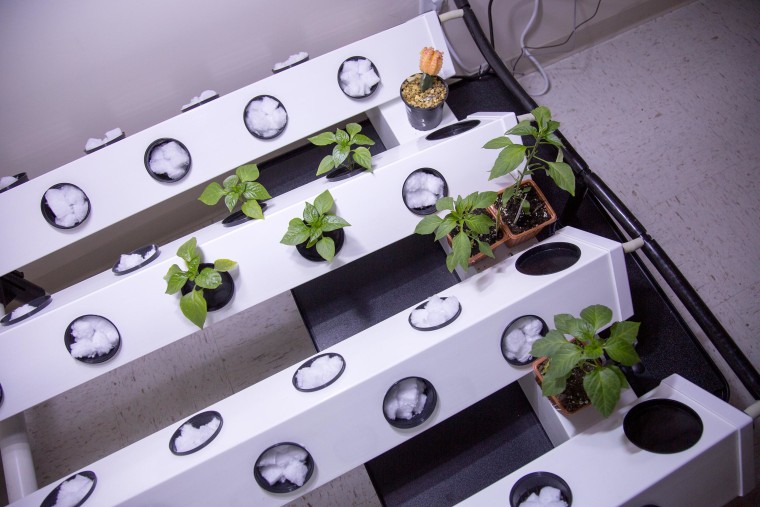 A Budding Business
In a nondescript building just outside Tampa, Jeremy Bufford, 33, is building an empire.
Or so he hopes.
He came up with the idea almost four years ago, he said, but didn't anticipate this quick of a rollout. Plans were sped up once organizers of the medical marijuana initiative in Florida got it on the November 2014 ballot instead of 2016.
"We want to approach cannabis from a historical, from a legal, from a botanical and from a pharmacological perspective."
This Tampa-area location is Bufford's first. He had planned to house the school in a former cigar factory – but his landlord kicked him out when he discovered what the business was. Bufford scrambled for a new lease.
There are no flashy banners at his new, modest location. At least not yet.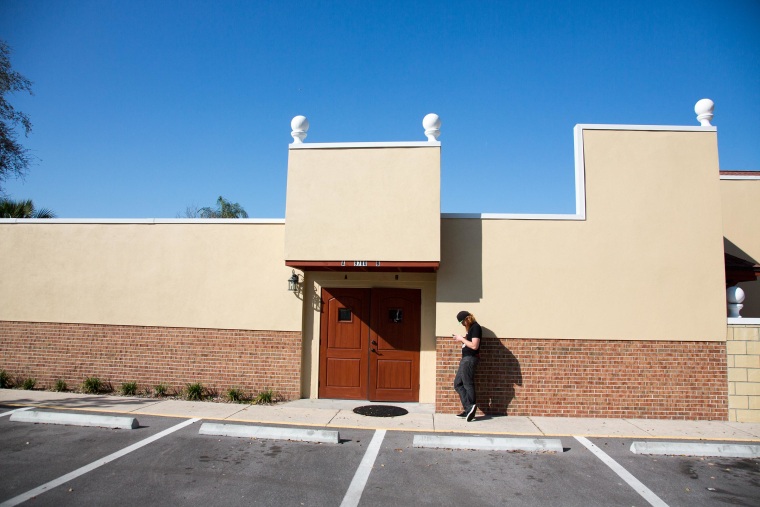 There's a classroom and three other rooms meant to simulate a cannabis "growing" environment. First, there's the seedling room. Then, there's one for the plants' vegetation phase. Finally, there's a room for the flowering or blooming stage.
Oh, and since pot is still illegal in Florida, tomato and pepper plants serve as substitutes.
The first course kicked off in February and costs $499. By April, Bufford plans to start month-long courses in Pinellas County, Orlando and Miami. By June, he hopes to open branches in Jacksonville, Naples and Sarasota. In all, he expects all seven locations this summer to enroll more than 500 students.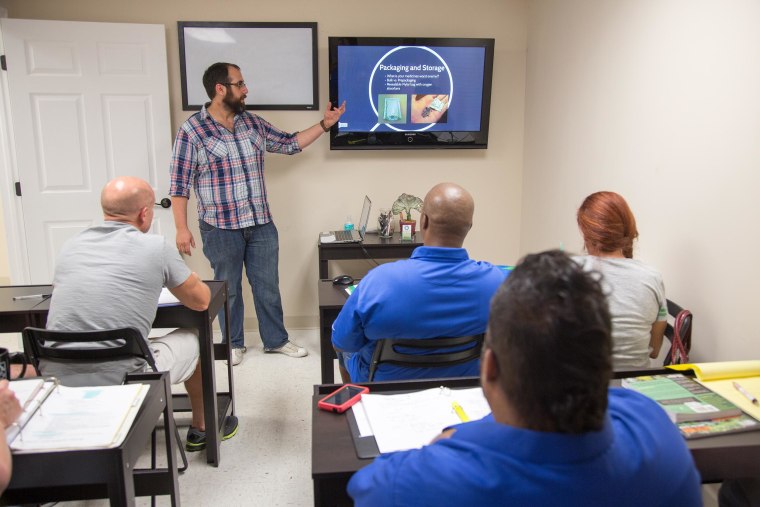 "We want to approach cannabis from a historical, from a legal, from a botanical and from a pharmacological perspective," Bufford said.
It's clear he's trying to perfect the role of pot pitchman. Suit – but no tie - he speaks in TV-friendly sound bites and there is a lot of talk about entrepreneurial spirit.
And he's betting big on what the federal government technically still considers a Schedule 1 controlled substance.
It's a considerable risk. The educational portion of his business is just one phase out of three. He's holding off on the other two – lab test facilities and treatment centers (or dispensaries, as they're called elsewhere) – because they're not yet legal in Florida.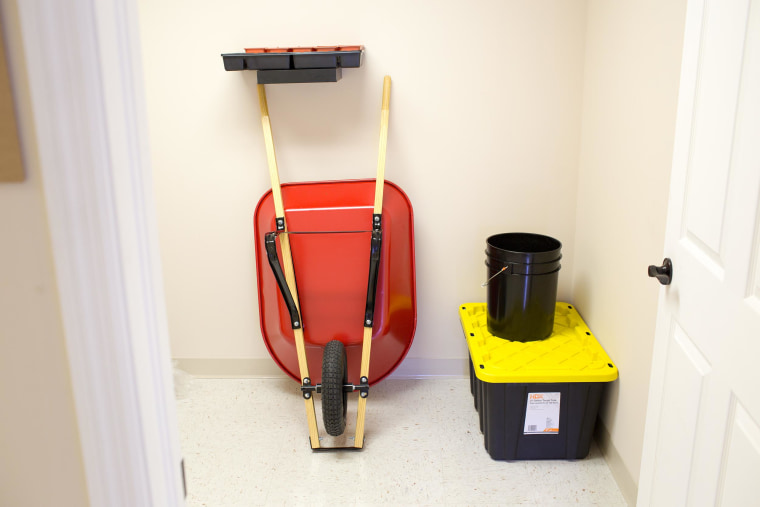 Bufford said he plans to hire researchers, botanists, cultivators, lab technicians and security officers. Indeed, some of his current students have already been offered positions within his company.
He said he's "100 percent confident" that Florida voters will green light the rest of his industry come November.
"It seems like the right thing to do at the right time," Bufford said. "It would be significant for Florida to pass it because obviously we are a swing state politically and we are a cornerstone of what's happening culturally throughout the Southeast."
High Hopes
So far, 20 states and Washington, D.C., have approved the use of medical marijuana. Only two – Colorado and Washington State – allow recreational use, although Washington is still working out its regulatory process before sales start later this year.
Colorado's recreational sales, which began Jan. 1, have emboldened weed supporters around the country.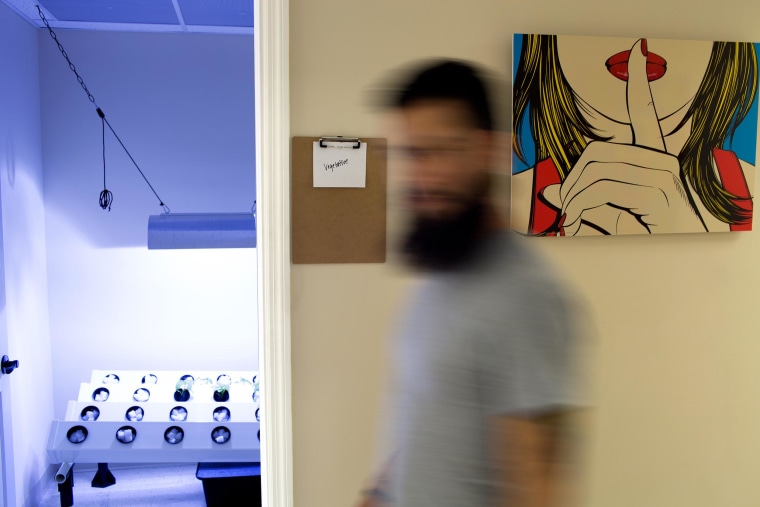 In Florida, activists collected enough signatures to get the medical marijuana initiative on the ballot this November. If 60 percent of voters pass it, Florida would become the first southern U.S. state to allow medical marijuana if a licensed doctor recommends it in writing.
Given the Sunshine State's population of approximately 19 million, "we could see a patient base that puts it immediately into the top two or three markets in the country," said Taylor West, a spokeswoman for the National Cannabis Industry Association.
A recent Quinnipiac University poll of registered Florida voters showed 82 percent of them supported the use of medical marijuana.
"They're using compassion as a smokescreen for a larger agenda."
'A Smokescreen'
Pot opponents, however, are mounting a fierce campaign to nip the industry in the bud.
"This is another example of how this industry is turning into big business," said Kevin Sabet, PhD., director of the Drug Policy Institute at the University of Florida. "[It's] today's version of big tobacco."
The consequences, Sabet said, will be dire and the social costs will far exceed the increased tax revenue.
He and other marijuana opponents have argued there will be more accidents on highways and heavy users will flood the healthcare system. Marijuana marketers are targeting young people, opponents say, and education will suffer. So will employers who'll have to deal with increased tardiness and absences.
And besides, opponents insist, marijuana is not medicine. Doctors can't control doses or possibly toxic side effects.
In Florida, Sabet argues that the push for medical marijuana isn't about helping the sick – but about profit.
"They're using compassion as a smokescreen for a larger agenda," he said.
The Green Rush
Dan Downing, 58, was just hired as an instructor at Medical Marijuana Tampa. He moved to Florida from California, where he had taught at the Cannabis Career Institute – and he considers himself part of Florida's "green rush."
A former construction worker, Downing said he hurt his vertebrae years ago and has used edible marijuana for the past six years to relieve the pain. He echoes a basic argument of many medical marijuana supporters: this isn't about getting high, it's about treating excruciating symptoms.
"I don't like breaking the law," he said. "But I do self-medicate. When my back is out, I'm incapacitated."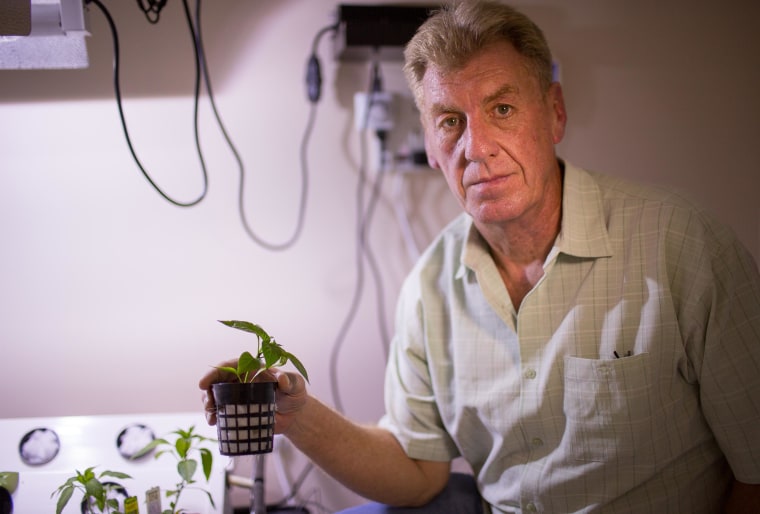 Hazael Dominguez, 24, commutes to Medical Marijuana Tampa from the Orlando area. He said he first heard about it on Reddit and eventually dropped out of the University of Central Florida, where he was studying computer science.
He calls himself a "serial entrepreneur."
"Even if the vote [in November] doesn't go our way, the industry will grow," he said.
School of Pot
Back in the Medical Marijuana Tampa classroom, students were preparing for their final exam, which was two days away.
John C., 41, who spoke on the condition of anonymity, said he gathered thousands of signatures to get the medical marijuana initiative on the ballot in Florida.
Unlike others in the group, he seemed to focus less on the entrepreneurial aspect of the industry and more on activism. He said that pot is misunderstood.
"It's truly a peaceful and happy way of life," he said. "Florida is going to be under the microscope."
So will Bufford, who plans to open 15 treatment centers in the Tampa area alone. Even if Florida voters allow medical pot use this November, regulations and licensing fees are expected to be especially high in this state, which is why he's busy courting possible investors.
At this stage, Bufford said, he's also recruiting potential growers – in the classroom.
"This is how I want to leave my dent in the universe."