America's marijuana industry, already threading a thicket of conflicting state and federal laws, entered a new era of uncertainty this week when the Justice Department scrapped a policy that allowed pot to flourish in states that legalized it.
In his memo Thursday, Attorney General Jeff Sessions didn't directly order a federal crackdown on pot enterprises. But it was vague enough to leave that possibility open.
So while growers, sellers and their financial backers aren't panicking, they know Sessions' move isn't good for business.
Sessions on Thursday rescinded an Obama-era guidance on federal intervention, essentially giving U.S. attorneys permission to aggressively enforce federal laws against marijuana.
The order may unnerve small banks that have begun to take on cannabis companies as clients, analysts said. Entrepreneurs and investors thinking of getting into the business may now back out. And if federal agents move to prosecute even one company that is otherwise complying with state laws, it could raise fears of raids, prison terms and seized property.
"It may spook enough of the support ecosystem around the cannabis business that will make it extremely hard for business to go forward," said Sean O'Connor, who runs the Cannabis Law and Policy Project at the University of Washington School of Law.
Federal law prohibits growing, buying and using marijuana. But a growing list of states have legalized marijuana in some form within their borders. Twenty-nine allow the use of marijuana for medical purposes, according to the National Conference of State Legislatures.
Eight states — Alaska, California, Colorado, Maine, Massachusetts, Nevada, Oregon and Washington — have approved laws allowing the sale of recreational marijuana, although recreational sales have not yet begun in all of those states.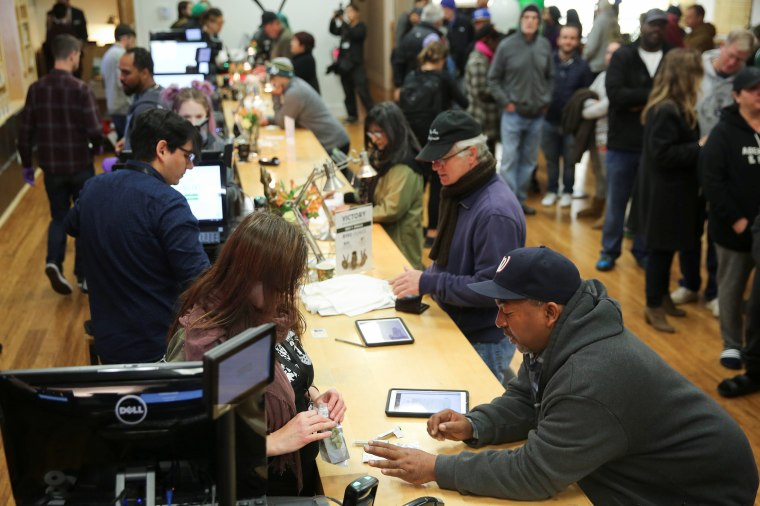 The Justice Department policy under the Obama administration sought to establish a balance between federal authority and states' rights. It instructed federal prosecutors to leave legal pot activity in states alone, except in cases that involved the sale of marijuana to children, across state lines, on federal land, or by gangs or organized crime. States saw the policy as a guide to keep the feds out of their business.
Critics, however, viewed the Obama-era policy as giving "safe harbor for the industry to operate," according to a senior Justice Department official.
Protections for medical marijuana remain in effect under a piece of the federal spending law that prevents federal authorities from trying to curtail that aspect of the industry. Sessions, a longtime outspoken opponent of marijuana, has asked Congress to remove it when it comes up for reauthorization this year.
State officials and industry leaders were defiant upon hearing the news of Sessions' new policy, saying it would have little long-term affect on the cannabis market, which they see as too big to fail.
"Never underestimate the power of hundreds of millions of people who want to buy cannabis," said Troy Dayton, CEO of the Arcview Group, an Oakland, California-based venture capital firm specializing in the marijuana market.
His firm estimates that legal cannabis spending on recreational and medical pot totaled $8.6 billion in 2017. "And never underestimate the power of states that don't want to give up their tax money," Dayton said.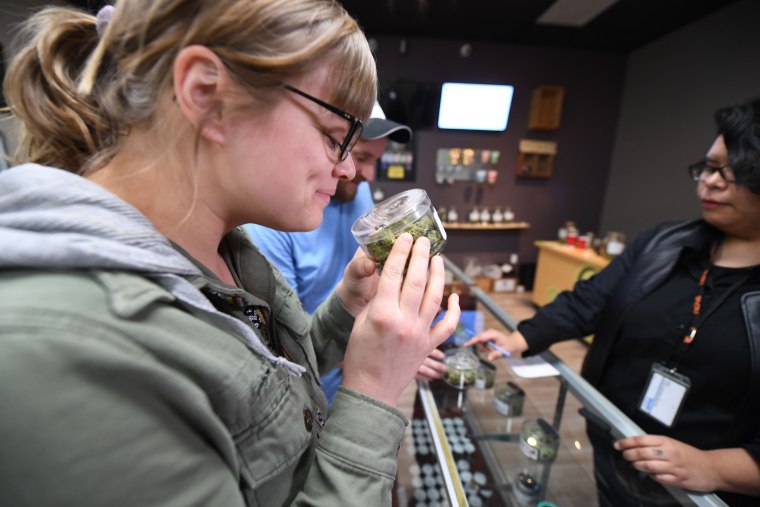 In Colorado, where the state pocketed more than $500 million in marijuana tax revenue last year, Gov. John Hickenlooper, a Democrat, said the Obama-era memo "was foundational in guiding states' efforts to regulate the production and distribution of marijuana."
In Oregon, which collected more than $60 million, Attorney General Ellen Rosenblum in a statement called Session's action an example of the administration's "overreach" and vowed to "do everything within my legal authority to protect" the state's pot industry.
Sessions seemed to be aware of the political and legal danger of pushing too hard against states where voters have approved the legal sale of pot, and where governments have built regulatory structures around the new industry, analysts said. Most of those states are largely Democratic, and some have fought prior Trump administration's policies on immigration and health care.
"The unique thing about the marijuana industry, and capitalists in general, is they are activists, people who are not going to go down without a fight," said John Hudak, who studies marijuana policy at the Brookings Institution. "A lot of them have too much to lose to shut down."
Glenn Ballman, CEO of düber, a technology platform that allows marijuana consumers and sellers to exchange information, said the cannabis market had been expecting such a move from the Justice Department since Sessions was appointed attorney general.
"Sessions could have been more aggressive," Ballman said, but added that without further guidance, "there is a lot of uncertainty right now" about whether small marijuana distributors will be allowed to thrive.
Robert Mikos, an expert in federalism and drug law who teaches at Vanderbilt Law School, said Sessions' order could cause financial headaches for the industry. Banks, which are regulated by the federal government, have relied on the good will of the Justice Department to not punish them for providing services to cannabis businesses, Mikos said. Those institutions, mostly small entities, may now decide that it's not worth the risk.
"The removal of these memos is going to make the banks even more skittish," Mikos said.
How skittish remains to be seen. One bank in the cannabis business, Salal Credit Union in Seattle, said in a statement that it was "waiting to discuss potential impacts until we have a fuller understanding of the situation." Another, Numerica Credit Union in Spokane Valley, Washington, said it was "currently reviewing what actions, if any, that need to be taken with our canna business accounts."
Aaron Smith, executive director of the National Cannabis Industry Association, said Sessions' order "doesn't instill a lot of confidence" among financial institutions, "but it's important to understand that nobody wants to see the cannabis industry operating outside of the banking system."