The first legal recreational marijuana sales in the city of Los Angeles began Friday, nearly three weeks after much of California launched the legal cannabis business.
The landmark came with less fanfare than the widely televised launch of pot sales on Jan. 1 in other California cities. But it was still a happy moment for Los Angeles cannabis sellers and their customers, who had been waiting for sales to begin in the city.
Los Angeles was slow to issue regulations for marijuana sales to any adult over age 21, though a 2016 ballot measure had cleared the way for the practice anywhere in California. The state's biggest city approved about two dozen business for legal "adult" sales on Jan. 13, but they still awaited a final stamp of approval from the state. That came through for at least three of the businesses Friday evening.
"It's super important for the state and for the city of Los Angeles to show that we have legal recreational sales," said Jerred Kiloh, owner of The Higher Path dispensary in the San Fernando Valley community of Sherman Oaks, one of the newly-licensed outlets. "It's what people voted for and it will really set apart those businesses that are operating legally and paying taxes."
Many Los Angeles dispensaries have been permitted to sell marijuana to medical patients who have clearances from their doctors. The state legalized medical marijuana via Proposition 215 in 1996.
Related: Why California won't necessarily grow (all) America's marijuana
But legal cannabis dispensary owners became frustrated that Los Angeles lagged behind neighbors like West Hollywood and Santa Ana in clearing the way for way for recreational use sales. The business people complained that the lack of government approval meant that customers were still going to the 700 or more shops in the city that don't have licenses and don't pay taxes.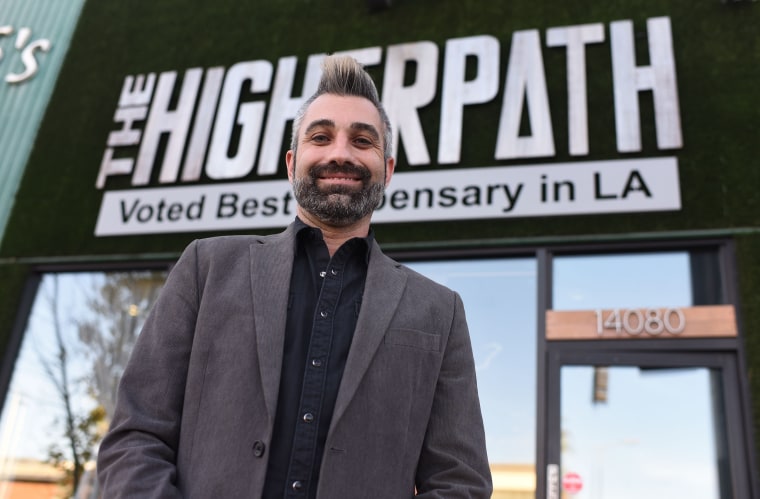 The permitting of the three Los Angeles dispensaries (including one downtown and another on Robertson Boulevard on the Westside) brought to 164 the number of businesses permitted statewide to sell marijuana for recreational use. Hundreds more are expected as the system, and demand, ramps up.
Kiloh heads a trade group of Los Angeles pot shop owners that has been pushing to get the approvals completed. He was so excited to get his permit Friday evening that he ran down Ventura Boulevard from the Higher Path to find a customer.
He found a woman outside a gastro pub and asked, "Do you want to be the first person in the city of Los Angeles to buy legal cannabis for recreational use?" Ten minutes later, the woman walked out of his store with a vape pen and edible gummies.
Related: Justice Department's policy shift may slow booming pot industry
On Friday morning, the Higher Path had a steady stream of customers, many of whom had been calling for several weeks to ask when 21-and-over sales would begin. An hour after opening, the Higher Path had seen nearly double its normal Saturday morning foot traffic, said one "budtender," one of the young people showing off a variety of products ranging from joints and unrolled "flower" to "mango cannabis quencher" drinks and marijuana-infused pop tarts.
"I don't know if it's a historic moment, but it feels like it's important, something that was supposed to happen for a long time," said Ryan, 31, who arrived shortly after 10 a.m. with his wife, Kelly. (Both asked to be identified only by their first names.)
"It's like this has always existed and people have been using it, and now the law is just catching up with reality," he said.
Analysts expect some level of black market sales of marijuana and related products to continue for some time, especially because legal cannabis carries an array of taxes that can add 30 percent or more to the price. But Los Angeles officials have said they intend to shut down unlicensed operators to ensure that customers are protected.
Vincent Diaz said he typically spent about $50 a week on weed products, but he said his total purchase now runs closer to $70, given new state and local taxes.
"That is the bummer side about all this," said Diaz, 22, an auto technician. "But there are some new people here for the [recreational] and I get to meet them. I'm a people person, so that's good."
The Los Angeles Department of Cannabis Regulation noted that new businesses are operating on temporary permits and that there are future regulatory approvals needed to obtain permanent legal status.
"We are making an unprecedented transition to legal adult use cannabis here in Los Angeles," Cat Packer, executive director of the new agency, said in a statement Saturday. Packer said the new era will bring safety, equity and consumer protection to the once-unregulated recreational pot market.
"I am pleased that we have taken this historic step forward," she said.