Colorado inhaled about $2 million in recreational marijuana taxes in January, the first full-month of revenue reported from the fledgling recreational pot industry, the state's Department of Revenue announced on Monday.
The tax total reported by the state Department of Revenue showed $14.02 million worth of recreational pot was sold with the state collecting roughly $2.01 million.
The taxes come from 12.9 percent sales taxes and 15 percent excise taxes on recreational marijuana.
"The first month of sales for recreational marijuana fell in line with expectations," Barbara Brohl, executive director of the department, said in a news release. "We expect clear revenue patterns will emerge by April and plan to incorporate this data into future forecasts."
Denver county alone accounted for about $1 million in recreational pot taxes for January, the Department of Revenue said.
Medical marijuana added another $1.5 million to state coffers.
Here is a breakdown on the weed money collected by Colorado in January: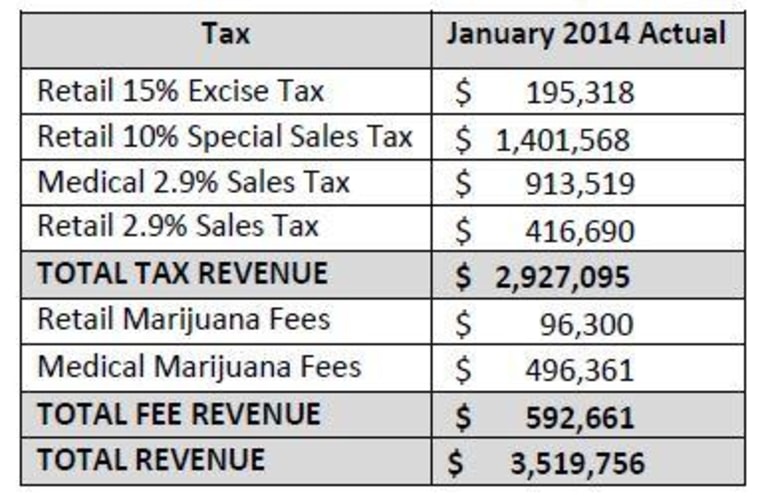 Colorado has about 160 state-licensed recreational marijuana stores, though local licensing kept some from opening in January. Local governments also have the ability to levy additional pot sales taxes if they wish.
According to the state, by the end of January, 59 pot business has filed state tax returns.
Initially the tax haul from marijuana was expected to add about $70 million to state coffers per this year.
According to Denver Post, lobbying has already grown intense at the Capitol for how the money would be spent.
Colorado Gov. John Hickenlooper sent an elaborate plan to last month that detailed $134 million in spending from combined medical and recreational pot taxes, the Denver Post reported.
Lawmakers will decide how the money is used beyond $40 million already earmarked for school construction.
State police chiefs have asked for more money, too.
"The whole world wants to belly up to this trough," said Sen. Pat Steadman, a Denver Democrat who serves on Colorado's Joint Budget Committee.
— Jeff Black, with The Associated Press