The future of marijuana hangs in the balance as voters go to the polls on Tuesday.
Residents of Oregon and Alaska will decide whether to follow Colorado and Washington, which in 2012 approved the world's only regulated markets in the drug. The vote could double the number of states where adults can buy, sell, and consume cannabis—which includes marijuana in all its forms—and set the table for 2016, when at least six more states are expected to decide whether to tax and regulate what President Nixon once called "the scourge of youth."
Most Americans support plans to legalize marijuana in theory, according to the most recent NBC News/Wall Street Journal poll. But Tuesday's pivotal trip to the ballot box is as much a decision about the specific initiatives in Oregon and Alaska as a referendum on the success of those unfolding experiments in Colorado and Washington.
With both ballot initiatives too close to call, according to polls, advocates are treating Tuesday as a dead sprint to the finish line, a final push to get out the vote and sway the undecided.
"I've slept like six hours in the last week and a half, man," said Mason Tvert, communications director for the Marijuana Policy Project, a national lobby based in Washington, D.C., and backed by millions of dollars from the late car insurance mogul Peter Lewis. This year MPP has poured more than $700,000—more than 80 percent of the total fundraising—into Alaska's Yes on Ballot Measure 2 campaign, the local effort to treat marijuana like alcohol.
Tvert has never been to Alaska, but he's emerged as the silver tongue of legalization there and everywhere. ("The Don Draper of Pot," in the considered opinion of Politico Magazine.) "If both the ballot initiatives fail," Tvert continued in a phone interview, sounding like he could use a lozenge, "it doesn't matter, because the public support is trending toward legalization."
He sees a parallel between a potential loss on pot and a loss on what reformers see as a similar fight for civil rights, the battle for same-sex marriage laws. "If one state passed a gay marriage ban this election," Tvert said, "no one would say, oh, the country has reversed itself on the issue. No, we would say, man that state is crazy. It's the same thing with marijuana."
In Oregon, another national lobby, the Drug Policy Alliance, has lead the push for legalization, known as Yes on Ballot Measure 91. Based in New York and backed by billionaire investor George Soros, DPA has given at least $780,000 to the initiative, according to state records. As with MPP's money in Alaska, this cash has helped pay for commercials, sidewalk chalk messages on college campuses, and painstaking get-out-the-vote efforts, the kind that leaves volunteers with sore feet and bruised dialing-fingers.
"I've slept like six hours in the last week and a half, man."
But the top brass at DPA are also playing it cool and confident this election day. The group's executive director, Ethan Nadelmann, is what amounts to world's prime minister of pot, a roving power whose organization has authored, aided, or helped fund every progressive pot law from California in 1996 to Uruguay earlier this year. Yet he shrugged at the potential for a setback in 2014.
"If we lose in Oregon, it will shift the national frame a little bit," Nadelmann said, speaking by phone from California, where the 2016 legalization push is already underway. "But it doesn't change the strategy and it doesn't change the tactics," he continued. "A generation from now people will still step back and look at the prohibition of marijuana and say, what the heck was that about?"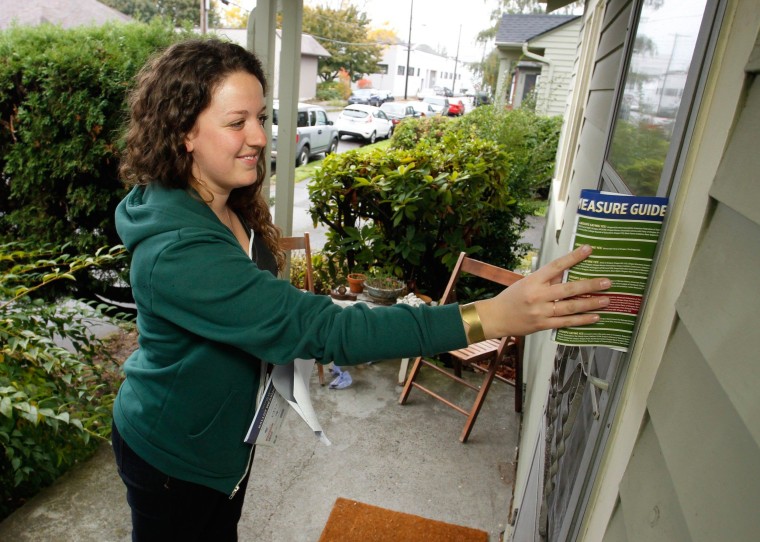 While marijuana remains illegal under federal law, the culture has shifted, and the argument for legalization has become as predictable as the dancing characters on a German clock. The case in Oregon and Alaska, like the case in Colorado and Washington before it, starts like this: Legalization is smart policy.
It would raise tax revenue, allow law enforcement to chase more serious crime, and undercut Mexico's violent drug cartels, advocates argue. It's also a humane policy, they say, a fix to a system that has filled our jails with users and small time drug offenders, most of them minorities, and made us fear a plant that they argue is far less harmful that alcohol, tobacco or even table sugar. But above all it's a common sense policy, they insist, a way to control marijuana by bringing it out of the shadows, ending the hated war on drugs in the process.
The opposition has sharply disputed all this, and the effort seems to be working. In the run-up to Tuesday's vote, they've been outspent by a factor of 10, but the polls have narrowed, not widened, and anti-pot organizers in both Oregon and Alaska are predicting success.
"Legalization in practice will always be the biggest enemy of legalization."
"We're going to win," said Deborah Williams, the deputy treasurer of Vote No on No. 2, the status quo campaign in Alaska. "It's been a true grass roots campaign, pun intended, a true bipartisan, door to door effort, and our own polls show us 10 points ahead."
"This is my first campaign and, wow, it is really nasty," added Mandi Puckett, a substance abuse counselor and mother of three. "But we're doing good," she continued. "Every day we're telling people that this not Woodstock weed; this is a manipulated drug that's created to be as potent as possible."
The anti-legalization side also has its national lobby, Smart Approaches to Marijuana, known as SAM. It was co-founded last year by former congressperson Patrick Kennedy and Kevin Sabet, a professor at the University of Florida. While Kennedy is a powerful asset, it's Sabet who has emerged as the best campaigner and nation's clear pick for Prohibitionist-in-Chief.
For the past year he has collected fan emails from former addicts and U.S. drug czars as he stumps across the country, trying to slow the rush of reform. He wasn't cowed by the results in Colorado or Washington; he was dared by them, convinced that such a profound policy shift deserved a two-sided debate.
And, yes, he says, despite the gin-clear failures of prohibition, there remains a prohibitionist case to be made—especially in the places where prohibition has already fallen.
"Legalization in practice will always be the biggest enemy of legalization," he said by phone, preparing for a trip to Mexico where, whatever the results in Oregon and Alaska, he will brief politicians on the risks of reform.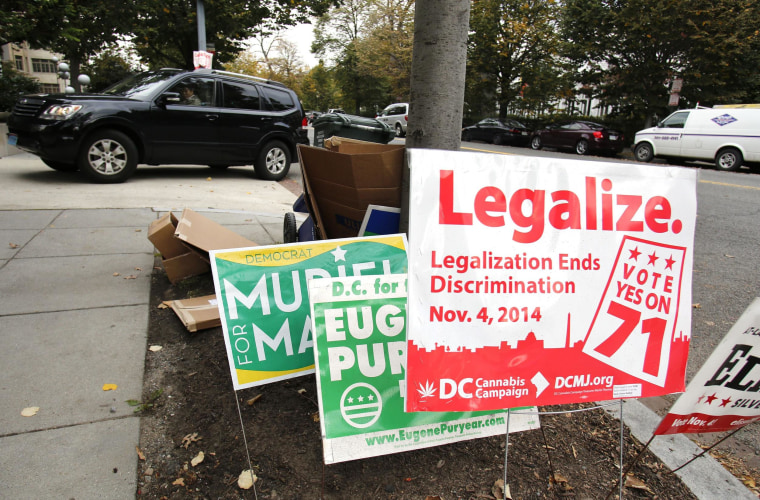 "We can point at their example," he continued, referring to Colorado and Washington. "We can ask the teacher in Portland if they want the same problems as the teachers in Denver, with kids bringing marijuana candy to school. We can ask the civil rights advocate in Anchorage whether they want to see marijuana stores as thick as liquor stores in minority neighborhoods."
Tuesday is also a big day for marijuana in the District of Columbia and Florida. Residents of the capital are expected to pass a measure that would allow adults 21 and over to possess up to two ounces of marijuana, and grow up to six plants in their homes. Floridians, meanwhile, are expected to vote down a measure that would legalize marijuana for medicinal purposes.
"A generation from now people will still step back and look at the prohibition of marijuana and say, what the heck was that about?"
Both efforts concern Sabet and his allies, but not as much as outright legalization. They fear it will warm millions of people to a dangerous drug, and lead inevitably to "Big Marijuana," a blood-sucking vice industry dependent on converting kids and selling to heavy users—same as the tobacco and alcohol industries. As a result, they've focused much of their ground effort on mothers, benefiting from almost unanimous support from people like Mandi Puckett, counselors and other people who work with substance abusers.
They're losing the youth vote by a mile, of course, with more than 60 percent of Millennials in firm support of legalization, locally and nationally, according to the Pew Research Center. Sabet, Puckett, Williams and others are optimistic nonetheless. They expect this generation to follow the same trajectory as the Boomers before them, growing older and more concerned about drugs, as people tend to do.
But they're afraid that Oregon and Alaska could be a point of no return. "This is about commercialization and industrialization," said Williams, the anti-pot activist in Alaska. "When you let that genie out of the bottle, you don't get it back in."