You're not being paranoid: Even in Washington and Colorado, smoking a legal joint after work could still get an employee fired.
The whirlwind firing-turned-rehiring of a tie-dye-bedecked marijuana buyer in Spokane last week - followed by an admission Friday by Seattle's City Attorney that he took pot to work - only clouded chronic confusion among many workers in the two pot-friendly states who ask if their legal-weed rights trump an employer's cannabis policies.
The answer, for now, remains utterly non-hazy: No.
Workers still can be booted –- or never hired in the first place –- for puffing cannabis if anti-pot rules exist in their employers' HR handbooks. So, if adults in Colorado and Washington legally consume weed after work, away from the job site or the office, they must remain mindful of the drug rules at the shops and offices where they ply their trades, according to labor-law experts in both states.
"Employers do hold all the cards. You're not guaranteed a job. If not using marijuana is in the contract, or in the terms of the job, you can get fired," said David Rheins, CEO of the Seattle-based Marijuana Business Association, considered the cannabis industry's chamber of commerce.
"A lot of employees still don't understand that, and they seem to think that the recreational or medical marijuana use gives them carte blanche to use on their own time," said Mike Parcheta, a staff attorney for the Mountain States Employers Council. The Denver-based group represents 3,500 companies. "Employers still get to enforce their drug and alcohol policies."
Clear? Sure. But at least two very public moments last week likely only muddied that reality.
On Tuesday, Michael Boyer, 30, became the first Spokane resident to buy recreational marijuana. His tie-dyed shirt and his celebratory high-fives made for memorable TV. His bosses saw it, too. That same day, TrueBlue Labor Ready, his employer, ordered Boyer to take a drug test. Knowing he would fail, he refused. He was terminated. But on Thursday, TrueBlue reinstated Boyer. A company representative explained that Boyers' supervisors didn't know he had taken Tuesday off and, thus, would not have been reporting to work impaired.
Also on Tuesday, journalists photographed Seattle City Attorney Pete Holmes buying legal cannabis at a local shop. That image of the city's top prosecutor openly purchasing weed in jacket and tie likely emboldened some Washington residents to partake without pausing to think about the job implications, observers said.
Late Friday, another complication emerged: Holmes acknowledged that he violated Seattle's "drug-free workplace" policy rules by then bringing "the unopened marijuana to city offices." He blamed that slip on his "trying to keep up with a busy schedule." He later took the pot to his home, leaving it there, still unopened, he said. After discussing the "violation" with the city's personnel chief, Holmes apologized and volunteered to donate $3,000 to the Downtown Emergency Shelter.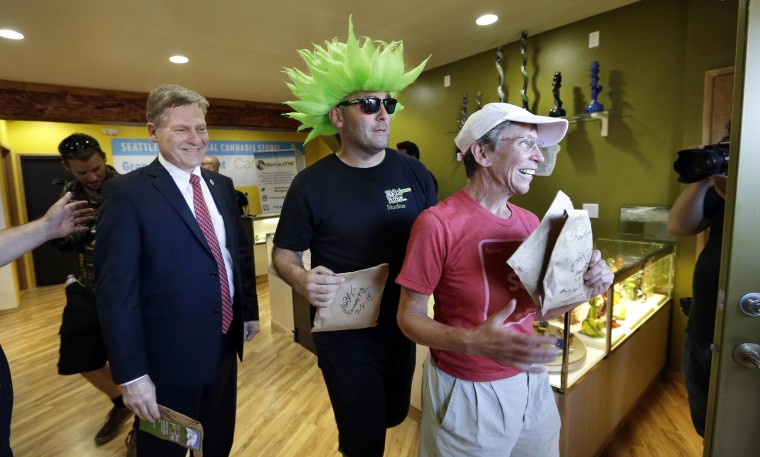 "Like every aspect of the marijuana industry, it's something that's in flux, and remains a big, raging debate," said Rheins, head of the Seattle-based Marijuana Business Association.
Simply put: Companies can bust an employee for testing positive for pot. But that decision often is guided by the industry in which a company operates –- and, more importantly, by the liability faced by certain safety-related businesses, experts say.
For example, if you work for an advertising agency, a media company, a technology company or as a waiter or busboy, anti-pot-use policies may exist on the job, but the odds are slim you'll ever get tested, Rheins said.
"Certain other industries like airline pilots and nuclear scientists, there is of course a need to make sure you're not intoxicated. It's really industry specific," he added.
Even the employers' lobbyists acknowledge, however, an undeniable difference exists between the HR testing policies for alcohol and marijuana. A night of cocktail guzzling may not be detected by a blood test when work opens the next day. In contrast, marijuana metabolites will stay in the body for many days –- but that doesn't mean the worker is impaired on the job.
"The employee population is sometimes arguing: 'Yes, I got high at a Fourth of July celebration last week. But that doesn't mean I'm still high today on July 11 when I tested positive.' There's often times a lag between consumption, its impairment and its detection," said Parcheta, of the employers council. "That is the ultimate problem in the whole scenario that we're discussing."
A case before the Colorado Supreme Court may offer more clarity to workers in that state. The argument involves Dish Network's firing of a quadriplegic medical-marijuana patient for a positive drug test, although there was no claim that the man was high at work. Dish has a zero-tolerance policy on marijuana.
As legal arguments and social debates bubble, however, some employers in the two legal-weed states are voluntarily opting to loosen their pot policies. At the top of that list: the Seattle Police Department.
After Washington legalized recreational marijuana for adults, Seattle's top cops altered their job qualifications for pot use. Before, recruits were barred if they had consumed weed within the past five years. Now, applicants are bounced if they ingested marijuana within the prior 12 months, said Seattle police spokesman Drew Fowler
"The belief," Fowler said, "was that our search for candidates needn't be limited by persons doing things deemed legal by our state law and its voters."