Vermont Gov. Phil Scott announced Wednesday that he plans to veto a bill that would legalize recreational marijuana use after it passed the state legislature earlier this month.
But the Republican governor signaled that he's still open to signing such a bill if lawmakers can hash out compromises.
Scott, citing his own "libertarian streak" during a news conference, clarified that while he supports adult use of marijuana behind closed doors, he does not believe the current legislation goes far enough to protect minors and ensure highway safety.
"I am not philosophically opposed to ending the prohibition on marijuana, and I recognize there is a clear societal shift in that direction," Scott told reporters. "However, I feel it is crucial that key questions and concerns involving public safety and health are addressed before moving forward."
Vermont had been poised to become the ninth state to legalize recreational marijuana and the first to do so through the legislature rather than by a public vote.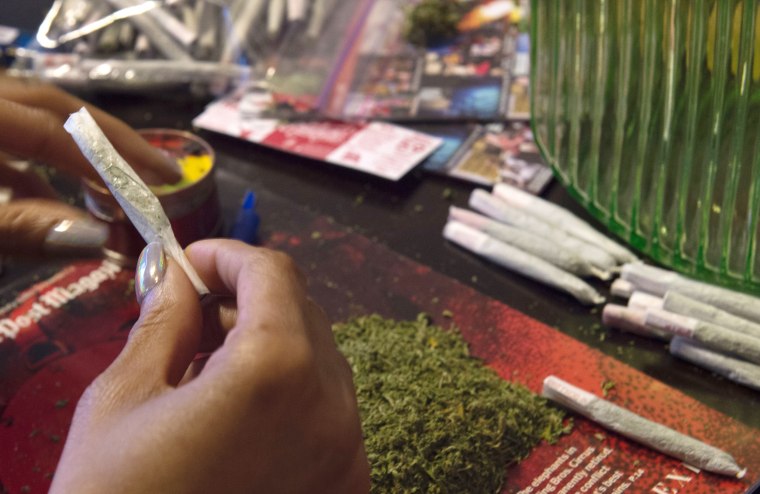 Adult recreational marijuana use is now legal in Colorado, Washington, Oregon, California, Alaska, Nevada, Massachusetts, Maine and Washington, D.C. But pot is only sold commercially in half of those states, while the other half are still regulating how to proceed after recent legalization votes.
Scott made it clear that he supports eventual legalization, but wants to see more thought put into regulation. He said Wednesday that he's returning the bill to the legislature with recommendations.
The policy changes suggested by Scott include tighter restrictions to keep pot out of the hands of minors, aggressive penalties for intoxicated drivers and expansions to the state's Marijuana Regulatory Commission to include representatives from the state departments of health, taxes and public safety, along with substance abuse and treatment professionals.
"Given the gravity of this policy change, I would like to see the Commission have at least a year before making final recommendations," Scott said.
Advocates for marijuana legalization expressed disappointment shortly after his announcement, with the advocacy group Marijuana Majority calling the governor's decision "shameful" in a tweet.
In a statement, NORML Political Director Justin Strekal accused the governor of "repeating the failures of the past" rather than looking ahead.
"It is disappointing that Gov. Scott would not only defy the will of of state legislators, but also the will of the majority of Vermont voters who support ending criminal penalties for those adults who consume cannabis responsibly," NORML Political Director Justin Strekal said. "Minor marijuana possession offenders should not be saddled with a criminal record and the lifelong penalties and stigma associated with it."
Polls conducted in 2016 by Vermont's public radio station and in 2015 by Castleton Polling Institute found that a majority of Vermonters support legalizing adult marijuana use.
If the state joins the nation's budding legal cannabis industry, it could rake in an additional $75 million in annual revenue, according to a 2015 study conducted by the RAND Corporation.
But Scott doesn't want to see the state leap before it looks.
"We'd be the first in the nation to legalize by legislation," Scott told reporters, "and we need to move a little bit slower."