The number of people sentenced to death or executed in 2017 was near historically low levels, according to the annual report of a group that tracks the death penalty.
States executed 23 prisoners, the second smallest total since 1991. By year's end, the number of new death sentences was expected to reach 39, which would be the second-lowest number in the modern era of capital punishment that began in the mid-1970's after the US Supreme Court banned then reauthorized it.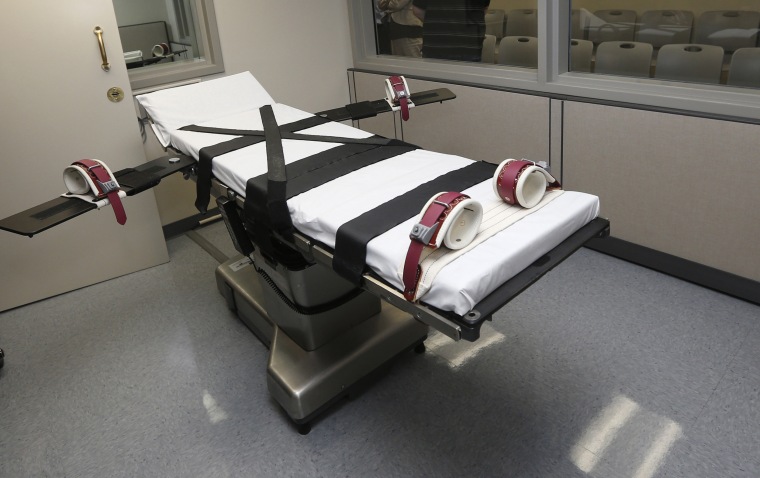 Only last year's totals were lower, according to the Death Penalty Information Center, a group that advocates for an end to the practice.
2017 also brought the lowest level of public approval for the death penalty in 45 year. The latest Gallup poll found 55 percent saying they support it. In 1994, at the height of public acceptance, approval was at 80 percent.
Related: Death Knell? Executions hit two-decade low
Of the 31 states with the death penalty on the books, just eight carried out executions, and new death sentences were imposed in 14. Harris County, Texas, which has put more prisoners to death than any other U.S. county, had no executions or new death sentences in 2017.
"Perhaps more than any place else, the changes in Harris County are symbolic of the long-term change in capital punishment," said Robert Dunham, the Death Penalty Information Center's executive director.
Among significant legal changes, Florida banned the imposition of the death penalty by a non-unanimous jury. And Alabama stopped permitting judges to impose a death sentence if a jury had voted instead for life imprisonment.
Death penalty states continued to face a shortage of the chemicals traditionally used to carry out lethal injection. And four people on death row were exonerated, bringing the total since 1973 to 160.
The Supreme Court virtually stopped executions in 1972, ruling that the death sentence was being imposed in a haphazard and unpredictable manner. States responded by requiring juries to evaluate whether certain factors, known as aggravating circumstances, were involved in the offense which would justify the death penalty.
The court eventually approved the new system, saying it would "minimize the risk of wholly arbitrary and capricious action."
Late in 2017, lawyers for an Arizona man, Abel Hidalgo, urged the high court to strike down that state's death penalty, arguing that it has loaded up so many factors on the list of qualifying factors that virtually everyone convicted of first-degree murder is eligible for the death penalty.
Hidalgo's lawyers also urged the court to end capital punishment nationwide. Two justices, Ruth Bader Ginsburg and Stephen Breyer, have said they would welcome a review of the practice.
The court is expected to say early next year whether it will take up Hidalgo's challenge.