LITTLE ROCK — Lawyers for the Arkansas attorney general's office worked feverishly on Saturday in an attempt to dismantle road blocks in the way of a historic spate of executions temporarily halted by court rulings.
Arkansas Gov. Asa Hutchinson had ordered the execution of eight men over 10 days because one of the state's lethal injection drugs was set to expire at the end of the month, but a series of court rulings Friday and early Saturday put that schedule in jeopardy.
Arkansas Attorney General Leslie Rutledge made it clear the state was unwilling to concede.
"We have worked round the clock for the last couple of weeks and particularly in the last couple of days, as judges have made decisions and court cases have been filed in these pieces of litigation, to ensure again that justice is carried out for these families of the victims," Rutledge told Little Rock NBC-affiliate KARK.
Arkansas faces mounting legal setbacks
Friday and early Saturday delivered blows to the state's unprecedented execution effort.
Death row inmate Bruce Ward's execution was stayed on Friday after his lawyer challenged his mental competence, bringing the total number of death sentences still to carry out down to six. Another inmate, Jason McGehee, had his death sentence stayed earlier this month.
Later Friday, a judge put a temporary restraining order on one of the lethal injection drugs after a pharmaceutical company — McKesson Medical-Surgical — claimed Arkansas's Department of Corrections misrepresented its need for the drug, a claim disputed by the state.
Finally, on Saturday morning, U.S. District Judge Kristine Baker placed a blanket temporary injunction on all of the executions after the inmates' lawyers argued that the controversial lethal injection drug — midazolam — had the potential to cause a cruel and unusual death.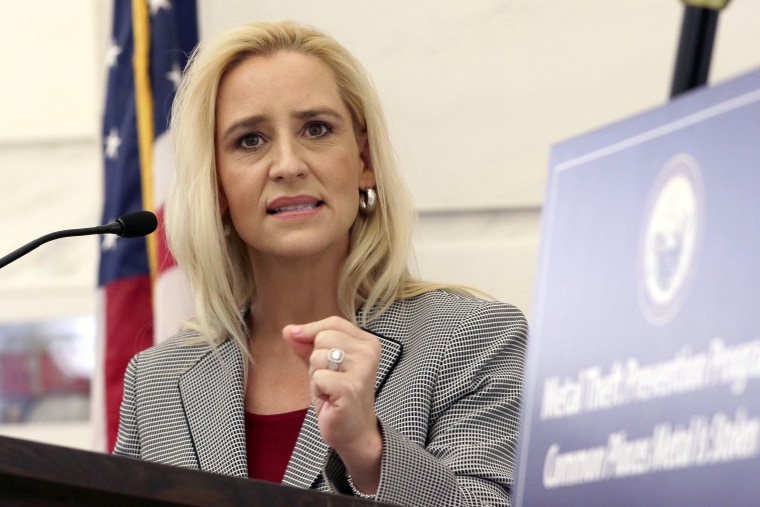 Arkansas fights to carry out 'just and lawful sentences'
But Rutledge and her staff of more than 70 attorneys worked all day Saturday to overturn those decisions and the state has filed an appeal for each one.
The state's effort to administer the flurry of executions was aided on Saturday when McKesson Medical-Surgical moved to dismiss its own lawsuit and vacate the restraining order against the drug. Lawyers for the company said that the blanket stay on executions issued by Saturday morning made the company's suit unnecessary.
Related: Arkansas Executions: Damien Echols, Ex-Death Row Inmate, Will Speak for Condemned
Attorney General Leslie Rutledge then filed two appeals within 90 minutes of each other on Saturday night. First, she filed an emergency motion with the Arkansas Supreme Court seeking reconsideration of a lower court's halt of inmate Bruce Ward's execution, which her office said was "without merit."
Later Saturday, Rutledge also asked the 8th U.S. Circuit Court of Appeals to reverse the blanket stay on executions ordered by Judge Baker, arguing that the case should have been dismissed because the challenge over midazolam had already been addressed in previous court cases.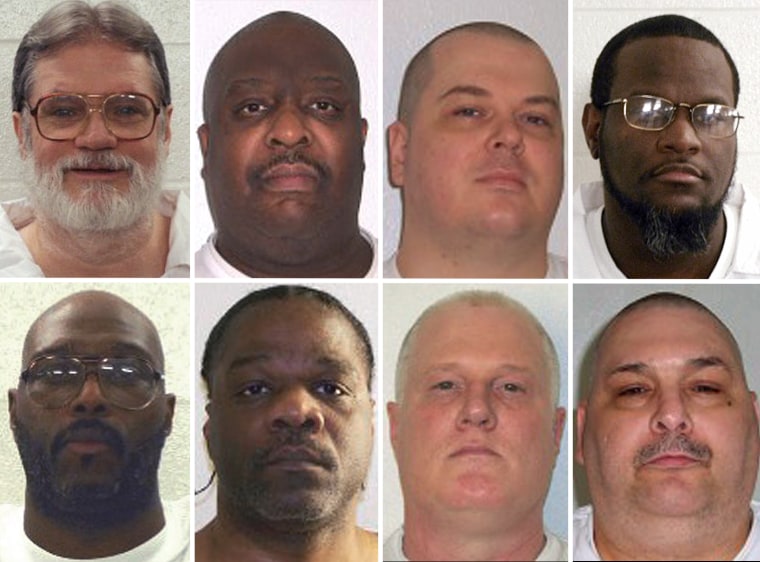 "It also disregarded the fact that delaying Appellees' executions by even a few days — until after Arkansas's supply of midazolam expires — will make it impossible for Arkansas to carry out Appellees' just and lawful sentences," the court filing stated, referring to the midazolam that is set to expire at the end of the month.
Despite the fluid legal landscape, Gov. Asa Hutchinson Arkansas ordered the state's Department of Corrections to continue plans to carry out two executions on Monday and five more before the end of the month.
"Certainly up to the judges and up to the Arkansas Supreme Court when they will hand down their decisions," Rutledge said, "but we anticipate that it will be soon and we continue to move forward with the plans and to carry out and to be successful in litigation as it arises."