CUMMINS UNIT, Ark. — The lawyer of a convicted killer who was put to death by lethal injection Thursday has demanded an investigation after his client repeatedly convulsed during the "horrifying" execution.
Media witnesses reported "coughing, convulsing, lurching, jerking" for a 10 to 20 second period during the execution of Kenneth Williams at the Cummins Unit, where the Arkansas death chamber is housed.
The allegations come amid questions around the use of the controversial lethal injection drug midazolam. The state's stock of the drug was due to expire at the end of the month and Arkansas has been racing to execute a record number of inmates — Williams was the fourth to be executed inside of a week — before April 30.
"This is the most I've seen an inmate move three or four minutes in," said Associated Press reporter Kelly Kissel, who witnessed his tenth execution Thursday night.
Kissel explained that Williams "lurched" 15 times in quick succession, followed by five slower lurches, three minutes after the sedative midazolam was introduced.
Kissel said two other witnesses from local media organizations, Donna Terrell of Fox 16 and Knowles Adkisson of the Pine Bluff Commercial, agreed with his assessment and also said that Williams could be heard after the microphone to the death chamber was turned off.
Williams' attorney called for an investigation and called the descriptions "horrifying."
"This is very disturbing, but not at all surprising, given the history of the risky sedative midazolam, which has been used in many botched executions," said Shawn Nolan, an attorney who had taken up Williams case two weeks prior to the execution.
"What's important right now is that all the information about tonight's execution must be meticulously documented and preserved so that we can discover exactly what happened in that execution chamber."
State officials pushed back against the allegations that the execution might have been "botched" and allegations it did not follow the protocol.
Arkansas Gov. Asa Hutchinson said Friday at a press conference that Department of Correction Director Wendy Kelly reported that Williams coughed without sound — in direct contradiction of media witness testimony.
Nevertheless, the governor said he remained confident in the state's protocol and said he did not think it was necessary for an independent review.
"The executions were carried out in accordance with those protocols in the four, there was not any indication of pain — which was an objective and concern that had been expressed by the defense lawyers."
"I see no reason for any investigation other than the routine that is done after every execution," he said.
The Department of Correction will typically provide a verbal review to the governor. There is no written report that is provided to the public.
Earlier, J.R. Davis, spokesman for Hutchinson, described the lurches as "involuntary muscular reaction to the midazolam." Though he had not witnessed the execution, he said the medical community supported the drug's safe use and that this reaction did not mean the procedure had been painful.
Nolan, called Davis' explanation "trying to whitewash the reality of what happened" and he called for a full investigation.
"We tried over and over again to get the state to comport with their own protocol to avoid torturing our client to death, and yet reports from the execution witnesses indicate that Mr. Williams suffered during this execution," Nolan said in a statement.
"Any amount of movement he might've had was far less than any of his victims," said Jodie Efird, one of the victim's daughters who attended the execution.
Williams had been serving a life sentence for the Dec. 1998 murder of a University of an Arkansas-Pine Bluff cheerleader. Then 20, the inmate escaped after only serving a month at the Cummins Unit in 1999 by hiding inside a 500-gallon barrel of pig slop that a garbage truck had removed from the prison grounds.
The former gang member then shot and killed Cecil Boren — a 57-year old former warden of the Cummins Unit, where Williams died on Thursday —stole his truck, led police on a high-speed pursuit and killed another man, Michael Greenwood, in a resulting car accident. A jury sentenced Williams to death for Boren's murder.
Williams in a statement apologized to the families of his victims.
"I was more than wrong. The crimes I perpetrated against you all was senseless, extremely hurtful and inexcusable. I humbly beg your forgiveness and pray you find the peace, healing and closure you all deserve," Williams said in the statement.
Arkansas Department of Correction Spokesman Solomon Graves said that the lethal injection was administered at 10:52 p.m. local time (11:52 p.m. ET) and Williams was declared dead at 11:05 p.m. Williams, 38, was scheduled to die at 7 p.m. local time (8 p.m. ET).
But Williams' execution was ultimately delayed more than three hours because of his lawyers appeals to a state court and the U.S. Supreme Court to stop it. Despite their efforts, shortly after 10 p.m. the U.S. Supreme Court declined to stop the execution.
For Williams' last meal, he asked for the sacrament of communion to be provided by his spiritual adviser.
Because of the atypical request, ADC also provided the same tray of food given to the other prisoners at the Cummins Unit. The meal consisted of two pieces of fried chicken, barbecue beans, sweet rice, whole kernel corn, stewed, seasoned tomatoes, two cinnamon rolls, two cookies, four slices of bread and fruit punch.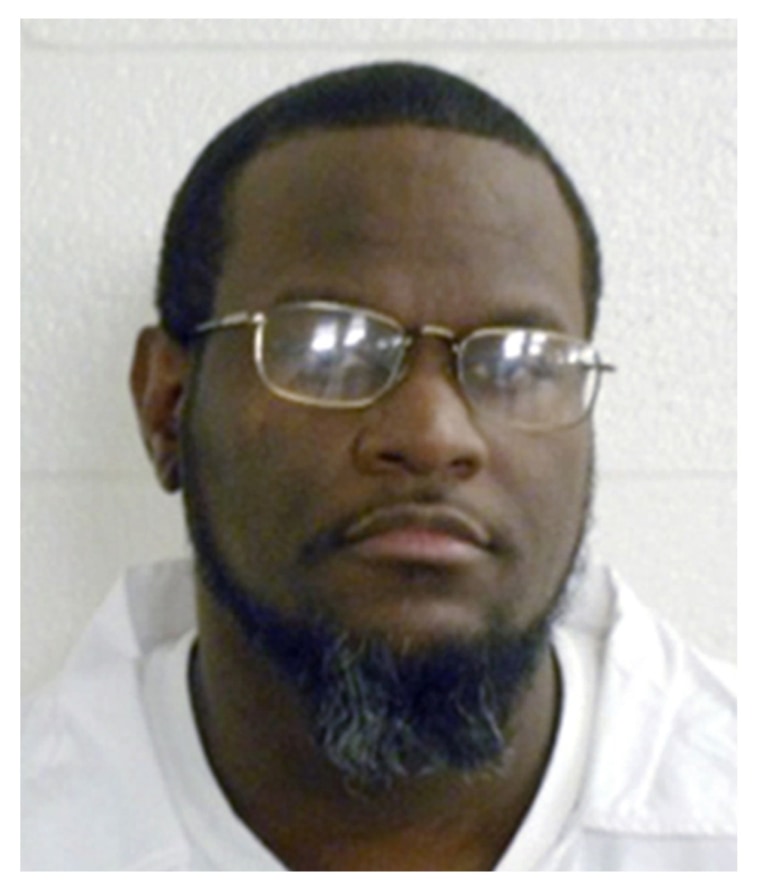 "Up to the neck in defiance, even after being given my first life without parole sentence, rebel to the core, I escaped Cummins Maximum Security prison Oct. 3, 1999 and before being apprehended 24 hours later in another state, I foolishly ended two more lives," Williams testified during his clemency hearing, which was denied earlier this month.
The family of Greenwood, Williams' final victim, had requested that he receive clemency from the governor, but they were not able to testify at his parole board hearing. They requested a meeting with Gov. Hutchinson.
"If we met, you would know our wishes are sincere," wrote Kayla Greenwood, the daughter of Williams' final victim. "If we sat and talked about loss and forgiveness from where we sit, you might also forgive Mr. Williams and spare his life."
The Greenwood family also brought Williams' daughter and granddaughter to the prison, so that they could meet him before his execution. Williams in his statement Thursday thanked the Greenwood family for what he called "acts of grace, forgiveness and mercy."
Hutchinson said in a statement earlier Thursday that while he noted the forgiving nature of the Greenwoods, he felt compelled by duty.
"Her letter certainly has an impact," he said, "however my responsibility is to look at the totality of the case including the view of all the victims and the interest of justice."
Other victim families do contend that this execution is the only way for their loss to be fully punctuated. The Boren family wanted the execution to be carried out.
Since entering prison, Williams has written two books: his autobiography and a book that warns against gang life. He also became an ordained Christian minister — calling himself the "Arkansas Death Row Preacher" — and said he has come to terms with the terms of his punishment and his crimes.
"I accept full responsibility and accountability for my crimes," Williams testified during his clemency hearing. "That would be Christ in me, enabling me to embrace justice — not fear it."