Damien Echols has nightmares about being back in Arkansas. As a member of the West Memphis Three, Echols spent nearly two decades on death row in Arkansas — accused of the 1993 murder of three eight-year-old boys — but was later released due to new DNA evidence.
Yet he is set to return to the state that nearly executed him on Friday in protest of the state government's decision to put seven men to death within 10 days because one of Arkansas' execution drugs is expiring.
The two nights he will spend in Arkansas will be his longest stay and only the second time he has returned since his release in 2011.
"Ever since the executions were announced, I've had tons and tons of people contacting me to, number one, would I help in some way? Number two, would I be willing to come back to Arkansas and speak out against this?" Echols told NBC News.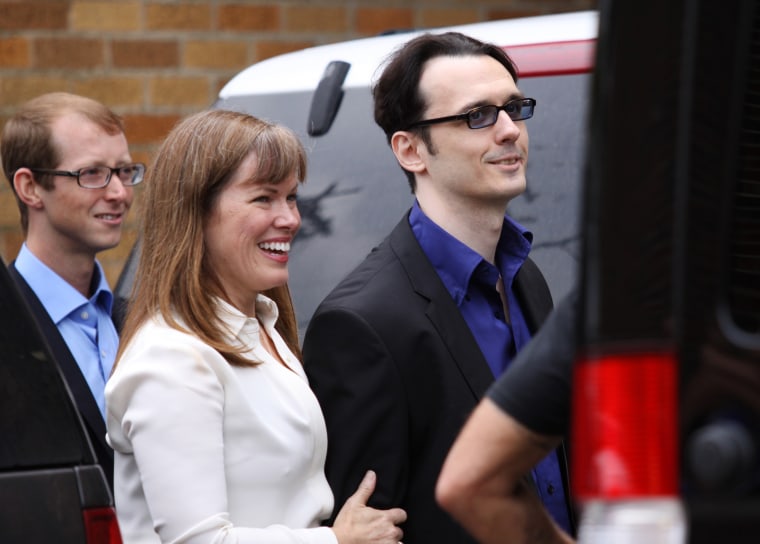 "It takes a lot for me to go back to Arkansas," he added. "It's a place that holds nothing but horror and despair for me. This whole situation is horrific and fills me with despair to the point that I wake up at night trying to scream."
Related: Arkansas Executions: Judge Blocks 1, Won't Stop 7 Others Set for 10-Day Span
Furonda Brasfield, executive director of the Arkansas Coalition to Abolish the Death Penalty, has organized a protest on the steps of the state capitol building at 1:30 p.m. on Good Friday — three days before the state plans to execute two of the seven condemned men.
Echols — who rose to national prominence in the early '90s because of a HBO documentary about the peculiarities that surrounded his case and caught the attention of celebrities like Eddie Vedder, Henry Rollins, Margaret Cho and Johnny Depp — will speak alongside faith leaders, local officials and a few noteworthy activists.
The former death row inmate's gaze has returned to Arkansas because he wants to shine a light on the men he lived alongside for a harrowing 18 years. He believes the historic pace of executions the Natural State has planned, what he calls "a conveyor belt of death," could be a tipping point in the way the death penalty is perceived in the United States and Arkansas, a state which broadly supports capital punishment.
A 2014 poll conducted by Opinion Research Associates found that 83 percent of Arkansans said that the perceived deterrence aspect of capital punishment was important to them and 67 percent supported the death penalty.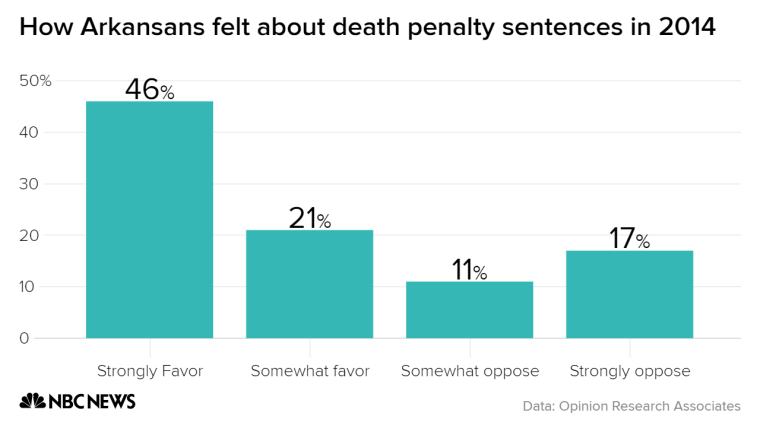 Echols, 42, doesn't quite understand the support, calling it willful ignorance, because he believes his case should have proven to Arkansans that innocent men can be put on death row. But, he said, Arkansas politicians have long used capital punishment as a tool to build support.
Patrick Crane, the sergeant in charge of Arkansas's death row in 2007, agreed and added that correctional officers are forced to deal with the emotional and psychological weight of death row while politicians win "tough-on-crime" points with their constituents.
"I'm a Republican — I've never voted for a Democrat in my life — but these politicians in Little Rock are going to benefit on the backs of honorable men with families to feed who are poor and who have to fulfill their job," he said.
Crane said he supported the death penalty when he went to work on death row, but eventually found the policy and environment distasteful. It was Echols's case, as well as many inmates' clear mental illness that made him rethink his position and leave the job he held.
"What if we killed Damien Echols?" he asked. "We now know that guy is innocent but we could have killed an innocent man."
Related: Arkansas Faces Another Hurdle in Upcoming 8 Executions — Finding Witnesses
Echols, considered the leader of the West Memphis Three (that includes Jason Baldwin and Jessie Misskelley), became a symbol of the potentially innocent man on death row. To be released, however, Arkansas did not admit Echols' innocence — the state has never exonerated any inmate. Instead, he was granted an Alford Plea, a technicality which allows him to maintain his innocence while pleading guilty.
He went through a dozen lawyers over 18 years to get to that point while turning the media's attention to the plight of the death row inmate.
Echols said he nearly was killed when he first entered prison. Then 19-years-old, the correctional officers at the time decided to "welcome me to the neighborhood." He said they kept him isolated and beat and starved him for more than two weeks — long enough that Echols thought he would die there.
His fellow inmates smuggled him food and appealed to a deacon who visited death row to get him out. Don Davis — the man the state plans to execute first — stood out as a savior in that instance and went on to watch his back for 18 years, Echols said.
Davis, believed to have an IQ between 69 and 77 — according to an investigation by Harvard Law School's Fair Punishment Project — murdered a 62-year-old woman while he burglarized her home in 1990. According to Echols, Davis, who has been on death row for more than 25 years and admitted his guilt, is tormented by the murder.
"One day we were sitting down and talking about it and he started crying so hard," Echols said, starting to cry himself. "It was like watching someone's soul break open. He was telling me how it had tortured him every single day that he did what he did — that he wishes that he could be as evil as the politicians in Arkansas all said he was, so that it wouldn't bother him anymore."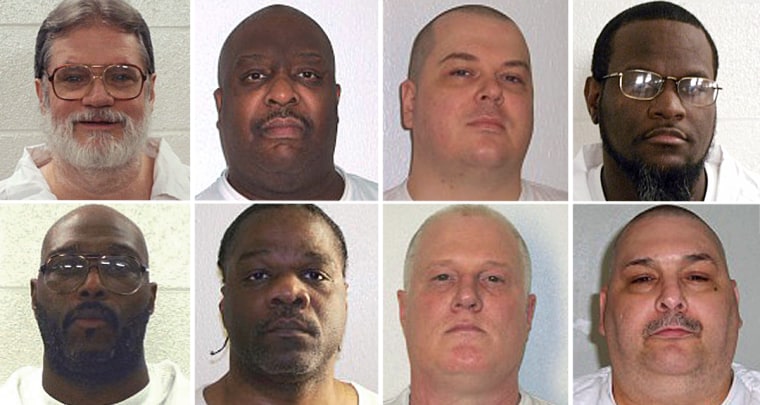 Harvard's report found that two men slated for execution this month are severely mentally ill — one believes that death row is a test from God "to prepare him for a special mission as an evangelist" and the other hallucinates "bugs, ants and spiders in particular, that he believed were going to get him." A third man is intellectually disabled and suffered significant head injuries that might have caused brain trauma, and a fourth was first represented by a drunk lawyer and then a mentally ill lawyer — both attorneys later lost their licenses.
Related: Speedy Execution Pace Is Unconstitutional, Arkansas Inmates Claim in New Suit
"A lot of those guys are mentally ill and there's no need to execute them," Crane said about the inmates. "We got them locked up and they're not going anywhere."
Crane does not believe the death penalty is necessary, and that it dehumanizes everyone involved, one of the reasons he now works as a postal worker in his home state of Kansas.
"You can't be a person of character and know what I know and still be for the death penalty," Crane said.
"I'm a Catholic and while I'm not particularly good at being religious," he added, "I know I'm going to have to account for myself, for what I did and what I saw."
Echols agrees, and that's why he feels obligated to return to Arkansas — a place that, to him, feels as though it is full of enemies and terror. While it is not fun to relive his time in prison, or the thoughts he had while waiting for his execution to be scheduled, he wants people to consider his story and imagine what might have happened if no one had paid attention to his case.
"The thing I always try to keep in mind," he said, "is every single person, every single person that hears my story is a potential jury member on someone else's case in the future and can make sure the same thing doesn't happen to someone else."