A federal judge on Thursday blocked the execution of one of eight inmates that Arkansas scheduled for death in a 10-day period — as the state said it plans to proceed with the rest despite criticism that it's setting the stage for errors.
"The victims' families have waited far too long to see justice for their loved ones, and today's decision from Judge Marshall allows all but one of the scheduled executions to move forward," a spokesman for Attorney General Leslie Rutledge said in a statement.
The prisoners and their lawyers have argued that the "frantic" pace of the lethal injections stopped the state Parole Board from complying with its own rules and regulations for handling clemency applications.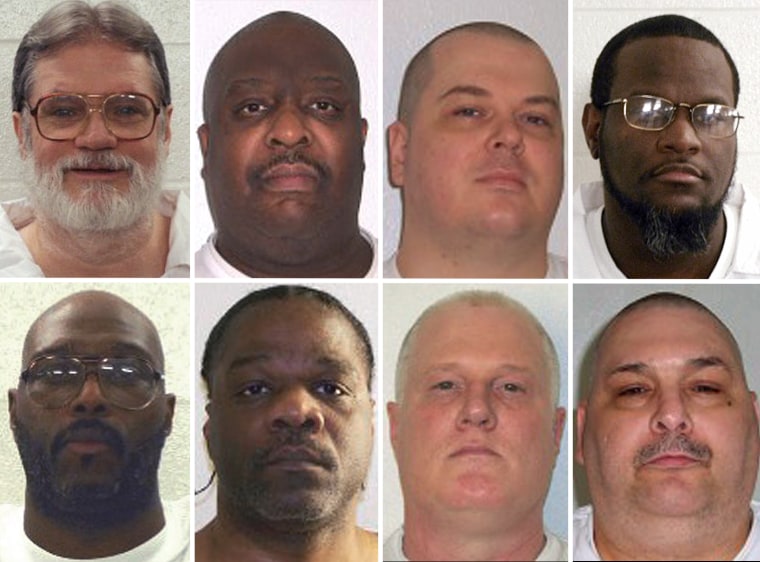 The judge on Thursday agreed to issue a stay of execution for the only inmate to receive a recommendation of clemency from the board — Jason McGehee, 40, who was sentenced to death for the 1996 torture murder of a teenager.
"We're pleased the court gave Jason McGehee relief," federal public defender John Williams said.
"In his ruling, Judge Marshall was clearly troubled by the State's clemency process. Judge Marshall found the State has violated its own statutes and regulations. He was emphatic that the clemency process has been shoddy and arbitrary in many respects. And he made clear that this case will continue.
"Though the State succeeded in defending most of the plaintiffs' current execution dates, there is little for the State to be proud of in that success."
Arkansas is cramming so many executions into such a short time frame because its supply of one of the lethal injection drugs is about to expire. Like many states, it's struggling to find new supplies because manufacturers have been pressured into not selling them to prisons for executions.
Critics have said the packed schedule could lead to errors during the executions and have pointed to a botched 2014 lethal injection in Oklahoma, where officials later said that scheduling two deaths back-to-back had raised stress levels among staff.
Legal challenges to the executions — scheduled between April 17 and April 27 — are likely to wind their way through the courts over the next week and a half.
"Attorney General Rutledge will respond to any and all challenges that might occur between now and the executions as the prisoners continue to use all available means to delay their lawful sentences," the AG's office said.