LITTLE ROCK — After one man's life was saved by a late-night U.S. Supreme Court decision and two other death row inmates received temporary reprieves, Arkansas now plans to execute five men over eight days.
If this slate of executions proceeds as planned, it would be a grisly record, one that only Texas can currently claim. Eight men were originally scheduled for execution over 10 days, because the state's store of a controversial lethal injection drug is about to expire.
Ever since Arkansas Governor Asa Hutchinson announced the historic execution schedule in February, the state's plan has gained national attention from activists and media organizations — leading to death penalty protests in Little Rock and a response from faith leaders across the state. Whether or not the remaining five death sentences are fulfilled will likely depend on pending and soon-to-be filed litigation on behalf of the inmates.
Here's what's next for the remaining Arkansas executions.
Who are the five inmates still scheduled to die?
The state plans to put Stacey Johnson and Ledell Lee to death on Thursday. Jack Jones and Marcell Williams are scheduled to follow on April 24 and Kenneth Williams' death warrant is signed for April 27.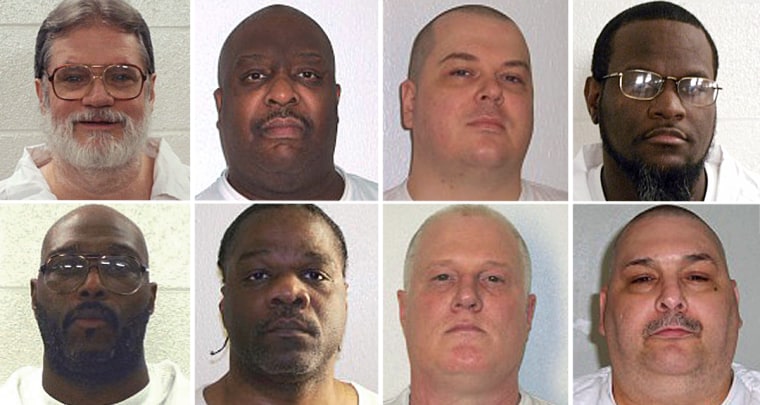 Four of the men scheduled for death are black. One is white.
Bruce Ward, Don Davis and Jason McGehee — all white — are no longer scheduled for execution.
Are the remaining executions likely to happen?
Legal roadblocks have come down at the last minute in many individual death penalty cases — much like Davis' case Monday night. But there's still the possibility of a blanket injunction that would stop all of the executions, which was originally provided by District Judge Kristine Baker on Saturday.
That ruling was overturned Monday afternoon by the U.S. Court of Appeals for the 8th Circuit, just hours before Davis and Ward were scheduled to be executed. However, lawyers for the defense are expected to appeal that decision to the U.S. Supreme Court, though no appeal had been filed as of Tuesday afternoon.
Meanwhile, McKesson Medical-Surgical — a pharmaceutical company — has claimed that the Arkansas Department of Corrections duped them into providing one of the key drugs used for executions, believing they were providing the drug for medicinal reasons.
Though it had previously earned a temporary restraining order against the state, the company moved to dismiss its case because Judge Baker had ordered a temporary injunction over the weekend. With her ruling overturned, the organization filed a new complaint on Tuesday to stop the Department of Corrections from using its drugs — which would effectively stay all five executions.
Are there any other legal challenges that might result in delays?
Each inmate's lawyers have plans for their client based on the individual case. As of Tuesday, Ledell Lee seemed to have the most compelling potential appeal. The American Civil Liberties Union took over his case and petitioned the Pulaski County Court to reconsider Lee's sentence based on possibly new DNA evidence.
"Through this new DNA analysis that was not available at the time of Mr. Lee's trial, it can be conclusively determined whether the hair found at the scene belonged to Mr. Lee," the court filing states.
Their second claim is that he suffers from an intellectual disability that stems from fetal alcohol syndrome. Lee's lawyers argue that there was never an investigation into his mental competency, that it was "never noticed let alone brought to the court or the jury's attention" and that he suffered from "horrible legal counsel."
Lee, 51, has maintained his innocence since his arrest for the 1993 slaying of his neighbor, Debra Reese. She was beaten to death with a tire tool that her husband gave her for protection.
The court ultimately decided to deny the petition Tuesday evening.
Meanwhile, Marcell Williams' lawyers will appear before District Judge Kristine Baker next Monday to argue that his physical condition could lead to a "botched" execution, which could cause a "cruel and unusual" death. Williams is scheduled to die on April 24.
According to court filings, Williams gained 200 pounds while in solitary confinement and suffers from diabetes and hypertension.
"Mr. Williams's physical condition has continued to decline and an assessment of the risks of the lethal-injection protocol should be assessed at the time his execution is imminent," court filings state. "The risks associated with the lethal injection are based on his current medical condition."
Dr. Joel Zivot, a physician at Emory University School of Medicine who is testifying on behalf of the defense, said that the Department of Corrections team would likely struggle to find a vein because of Williams' condition, which could "cause brain damage if he survives or cause him to die in a painful way."
What happens to the inmates whose executions were blocked?
The entire death penalty procedure starts over for them. The governor will have to sign new death warrants, and they will be allowed to go through the clemency process — although both Bruce Ward and Don Davis declined clemency hearings this time around.
But Ward and Davis also won't likely be scheduled for the foreseeable future, as their executions were stayed so that the State Supreme Court could hear oral arguments about whether or not they were provided an independent mental health professional to evaluate their mental faculties.
Their future also hinges on a U.S. Supreme Court case — McWilliams v. Dunn — that begins arguments April 24.
Why is the state pursuing executions at this rate?
The state maintains that it has a duty to deliver justice on behalf of victims' families.
"Justice in these cases was provided by a jury 27, 28 years ago, who sentenced Ward and Davis to death, and yet again tonight justice has not been served," said the governor's spokesman, J.R. Davis, after the last minute Supreme Court decision on Monday night. "When you have to tell a mother and a husband tonight that justice isn't coming, that's a tough message to deliver."
But the quick pace was originally put in place because the first of the three drugs the state uses for lethal injections — the sedative midazolam — expires at the end of April. That drug has come under scrutiny over the past few years as it is not an anesthetic, and lawyers for the defense argue it would not render their clients fully unconscious.
If true, that would mean the inmates could experience a "cruel and unusual" death, as the second drug paralyzes them and stops their breathing — causing them to feel as though they're suffocating. The last drug, potassium chloride, stops the heart, and has been described as causing a feeling of fire in an inmate's veins.