LITTLE ROCK, Ark. — Arkansas Gov. Asa Hutchinson on Friday defended his setting of a controversial execution schedule that would have seen eight inmates put to death within 10 days, saying "I absolutely made the right decision."
After Arkansas Attorney General Leslie Rutledge provided him with eight death row inmates eligible for execution, Hutchinson scheduled dates for four double executions between April 17 and 27.
Four of the eight inmates' executions were later blocked by court order, but that left four men to meet their demise in an Arkansas Delta prison called the Cummins Unit — 75 miles south of Little Rock and the governor's mansion.
"The law has no meaning if you do not carry it out," Hutchison told NBC News inside his Arkansas State Capitol office, the day after the state completed its final scheduled execution. "And it has to be done in the right way with due process."
Hutchinson set the schedule in part because a key lethal injection drug would expire at the end of April.
But many criticized the decision. U.S. Supreme Court Justice Stephen Breyer called the schedule arbitrary.
"In my view, that factor, when considered as a determining factor separating those who live from those who die, is close to random," Breyer wrote in the dissenting opinion of the Supreme Court 5-4 decision that allowed Arkansas to execute Ledell Lee on April 20. Lee was the first prisoner to be executed by the state since since 2005.
"I have previously noted the arbitrariness with which executions are carried out in this country. The cases now before us reinforce that point," Breyer wrote.
Defense lawyers had also previously argued that the closely placed executions stripped inmates of their due process. During a Little Rock federal appeal earlier this month, the attorneys contended that placing these death warrants so close together would overtax them to the detriment of their clients.
Yale Law Professor Lawrence J. Fox testified as an expert witness at the hearing, and said death penalty cases are "the brain surgery" of litigation and the inmates' attorneys needed more time.
"They came down here thinking if there is one sigh, one movement of the head, we're going to call it a torturous execution."
Hutchinson, a former U.S. prosecutor and DEA administrator, however, doesn't buy that argument and pushed back against the criticism on Friday, after remaining largely silent while the fate of the eight men took shape. He said he was obligated carry out the law and had no choice but to move forward with the executions.
"I can tell you, as an attorney, I tried back-to-back jury trials," Hutchinson told NBC News when asked about the pressure the schedule put on the defense lawyers. "The judge and I both said, maybe we shouldn't do this again. It was hard work, but that's what was necessary at the time. Hopefully in the future there won't have to be that kind of compressed time frame, but it was necessary this time."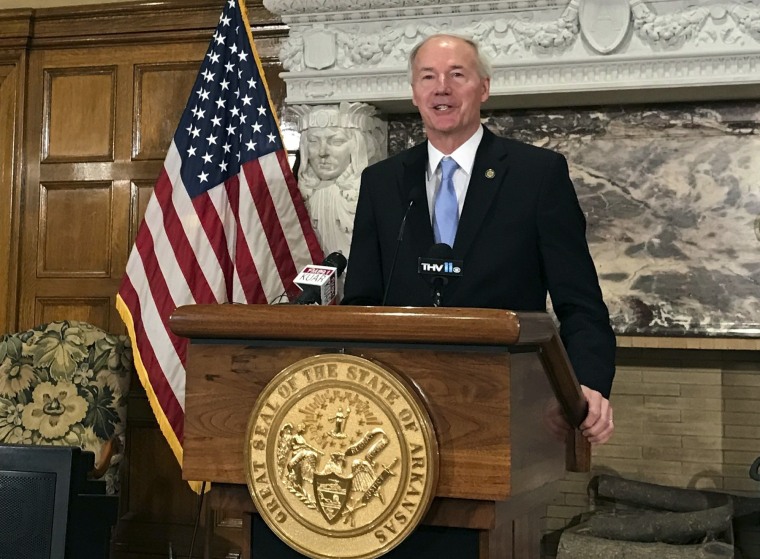 He is confident that he made the right call.
"I think I absolutely made the right decision," he said. "It was consistent, it was respect for the law and it moved the system forward and brought a conclusion to four of them."
Thursday's execution of Kenneth Williams does have some controversy. Lawyers for the convicted killer raised questions after Williams reportedly "lurched" after being given the sedative midazolam.
"Media witnesses say that Mr. Williams lurched forward as many as twenty times, was observed coughing, convulsing, lurching, jerking, with sound, and more during the execution, including making sounds that were audible in an adjacent room, even after his microphone was turned off — none of this should have happened," said Arkansas federal public defender Scott Braden.
Braden and other attorneys who represent death row inmates called for an independent investigation into Thursday night's lethal injection procedure.
"Mr. Williams lurched forward as many as twenty times, was observed coughing, convulsing, lurching, jerking ... none of this should have happened."
Hutchinson rejected the need for an independent probe. He said the typical verbal review between the governor and the Department of Correction that takes place after an execution would be enough. A district court judge disagreed later on Friday and ordered the state to preserve any evidence from the execution, essentially forcing Arkansas to conduct a full autopsy of Kenneth Williams and save blood and tissue samples.
"There are some that had their narrative written before they ever came to Arkansas: the death penalty opponents, the advocacy groups and some of the media," Hutchinson said in the interview.
"They came down here thinking if there is one sigh, one movement of the head, we're going to call it a torturous execution," Hutchinson said.
An investigation would only fuel speculation that something went awry, he said. When it was suggested that such a probe could dismiss those "narratives," Hutchinson demurred further.
"Well, they wouldn't accept it," he said. "They wouldn't accept it. They would complain about the independence of it, so that's not the path you want to go down."
Nevertheless, Hutchinson wasn't totally opposed to reexamining the lethal injection protocol to allow more transparency.
Some media outlets and defense lawyers have criticized Arkansas for being overly protective of the information surrounding the procedures, which are safeguarded by secrecy statutes that aim to hide the identity of any persons involved in the process.
Critics pointed to the Department of Correction policy to cut audio after the inmate's final statement and the ambiguous timing of when drugs are administered as areas that could more transparent.
"I'd like to see what other states do and learn from them," Hutchinson said. "If there's a better practice, I'm open to looking at it."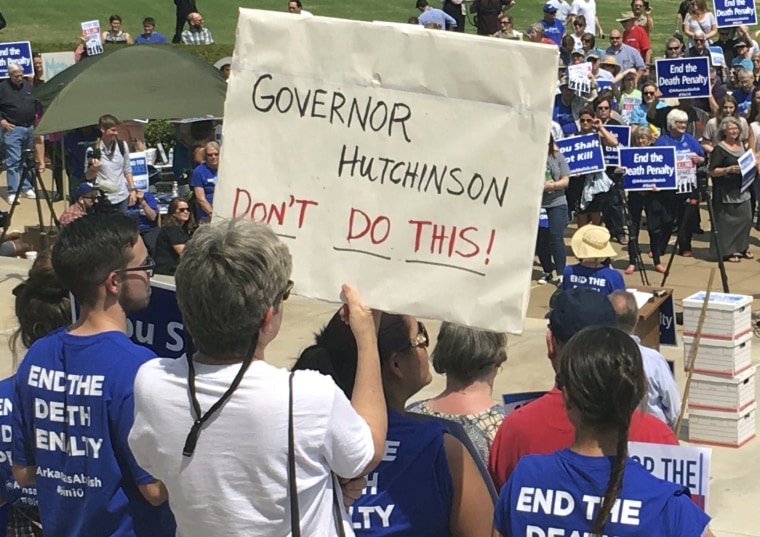 But he added that he may examine some of the laws surrounding clemency and might have to examine other execution procedures if they are unable to procure more lethal injection drugs. Many pharmaceutical companies avoid providing their products to states and Departments of Correction because they do not want to be affiliated with executions.
"If we absolutely can't get any other drugs, we might need to look at alternatives, but I don't think we're there yet," Hutchinson said, making it clear later that he flatly rejected the firing squad as an option. "In terms of some of the processes, the technical things and the law in relation to executions and clemency, do need to be looked at."
Related: An Arkansas Family Prepares to Witness the Execution of their Father's Murderer
Hutchinson most wants to tackle the law that causes an automatic 30-day clemency review if a death warrant expires. His potential plan is to do away with that, which would allow the governor greater flexibility to provide a days-long reprieve in case of emergency and then quickly reschedule an execution.
Because to Hutchinson and many Arkansans — who strongly support the death penalty, according to a recent poll — there are too many roadblocks to carrying out death sentences. But for now, the governor hopes these executions would prove to Arkansans that the state would not waver in fulfilling its promises to victims' families.
"The justice system can work," he said. "It's not easy. It's hard, but it does work and it can be completed. I think it's not only important to understand that from a state perspective, but it's really important for the public to know and see that."
Though controversy still surrounds the executions, Hutchinson wants to move on to other issues facing the state. During a Friday press conference, while numerous questions from reporters focused on the executions, most of Hutchinson's prepared remarks discussed Arkansas' healthcare system and the economy — even announcing a $70 million cut to the state budget.
Further executions are far from his mind, he said.
"I don't even want to consider it," he said. "If the attorney general sends names over, we'll have to take another look at it. But I don't know any that is ripe to be sent over."