An Arkansas judge will be barred from ruling on death penalty cases and could be disciplined after he attended two death penalty protests on Friday — the same day that he blocked a spate of executions scheduled by the state.
On Monday, the Arkansas Supreme Court reassigned all of the death penalty cases that Pulaski County Circuit Court Judge Wendell Griffen would have overseen — following reports and photos of him strapping himself to a cot in front of the governor's mansion on Good Friday in a protest of the state's lethal injection policy.
"Judge Wendell Griffen is referred to the Judicial Discipline and Disability Commission to consider whether he has violated the Code of Judicial Conduct," the order states.
But it wasn't immediately clear how the could affect Griffen's Friday decision to place a temporary restraining order on one of the key drugs in the state's lethal injection protocol, although the plaintiff in the case had sought a dismissal.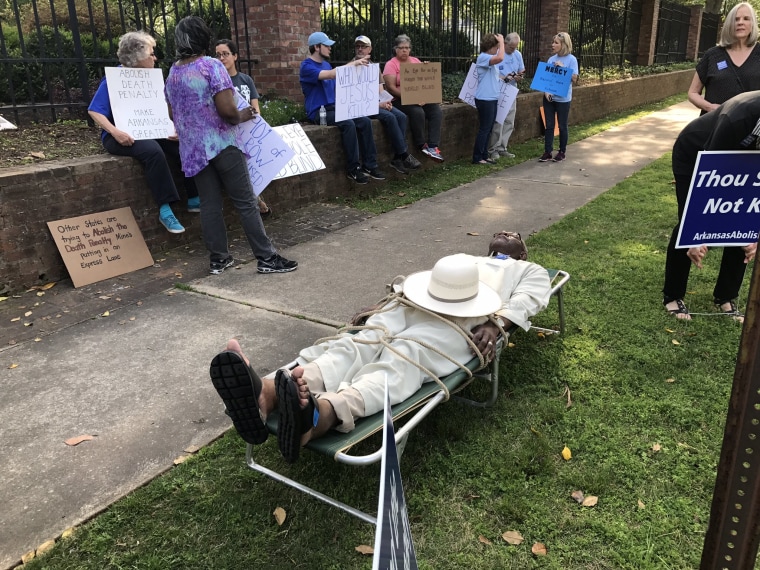 "This court instructs the Sixth Judicial District to submit a new administrative plan to this court for approval by close of business on Tuesday, April 18, 2017 that reflects the permanent reassignment of all cases referenced above, future cases involving this subject matter, and any other changes in case assignment to ensure all litigants in this district receive a fair and impartial tribunal,"
Arkansas Attorney General Leslie Rutledge filed a 17-page emergency petition on Saturday that challenged Griffen's order based upon his activism, noting his attendance at two anti-death penalty rallies.
"Within an hour of granting the [temporary restraining order], Judge Griffen was photographed at a second anti-death penalty rally — this one at the Governor's Mansion, where Judge Griffen lay strapped down on a cot to simulate the experience of a condemned prisoner on a gurney," the petition said.
They also noted a few entries on the judge's personal blog that discussed the case and showed his strong disapproval for capital punishment.