LITTLE ROCK — The Department of Corrections in Arkansas is gearing up to put at least one man to death on Monday night despite a number of legal hurdles that stand in the way of the state's planned executions.
Bruce Ward and Don Davis's executions were scheduled to begin Monday at 7 p.m. and 8:15 p.m. respectively, but that plan has been put into question as the Arkansas Attorney General's office fights multiple legal challenges.
The state was delivered an early blow shortly before noon on Monday when the Arkansas Supreme Court upheld a judge's decision to stay Ward's execution after his lawyer said he was not mentally competent to face capital punishment. Ward is believed to suffer from schizophrenia.
Nevertheless, the state's Department of Corrections said they moved Davis to its Cummins Unit, where the state's death chamber is housed, over the past few days. Davis had filed his own legal challenges about his mental competencies — his lawyer said Davis has an IQ of 70 — but a federal judge rejected his stay request on Easter Sunday.
The pressure is on as one key drug for the state's lethal injection protocol — the controversial sedative midazolam, which has failed in past executions and caused inmates to suffer before dying — is set to expire at the end of the month. The state has no means of replacing the drug in the foreseeable future, essentially stalling executions for an unknown period of time.
Gov. Asa Hutchinson had originally scheduled eight men to die over 10 days, but District Judge Kristine Baker placed a temporary injunction on all of the executions. In a 101-page opinion, she wrote that the midazolam could be unconstitutional, as it might allow for cruel and unusual punishment.
"The threat of irreparable harm to the plaintiffs is significant," she wrote, "if midazolam does not adequately anesthetize plaintiffs, or if their executions are 'botched,' they will suffer severe pain before they die."
In response, the state attorney general's office filed a 27-page motion to quickly vacate the injunction on Saturday to the 8th Circuit Court of Appeals, leaving the court to decide over Easter Sunday and Monday.
Related: Damien Echols, Ex-Death Row Inmate, Speaks for the Condemned
The defense answered Monday morning with a new brief, urging the St. Louis-based 8th Circuit to take its time in considering its opinion. Baker, they said, had heard from 17 witnesses and a case that included 1,300 pages of transcripts and 90 exhibits of more than 2,000 pages of documents before she came to a decision.
"Plaintiffs ask the Court to reject the State's request for a rushed analysis of this complex record and instead give calm consideration to these grave issues after full briefing and argument," the brief stated.
Arkansas Attorney General Leslie Rutledge's office responded Monday morning with their own brief that said the inmates' lawyers were taking advantage of the legal system.
"In reality — like this entire proceeding — Appellees' request is nothing more than an attempt to manipulate the judicial process and make it impossible for Arkansas to carry out Appellees' just and lawful sentences," Rutledge's office wrote.
But Baker's decision isn't the only legal roadblock that the state faces as it looks to execute its first inmate since 2005.
Pulaski County Circuit Judge Wendell Griffen placed a temporary restraining order on the state's ability to use the second drug in its lethal injection protocol — vecuronium bromide.
Pharmaceutical company McKesson Medical-Surgical claimed the Department of Corrections essentially duped them in acquiring the drug, stating that they sold the vecuronium bromide under the pretense that it would be used for health reasons — not an execution.
The state's director of the department of corrections, Wendy Kelly, disputed the charge in testimony on Thursday.
But it was the judge in the pharmaceutical company's case who developed intrigue Friday evening. Soon after Griffen scheduled a hearing for Tuesday morning, he joined a protest of the executions outside the governor's mansion. To depict the inmate's experience on the Arkansas death house gurney, he strapped himself to a cot on the sidewalk outside Hutchinson's home.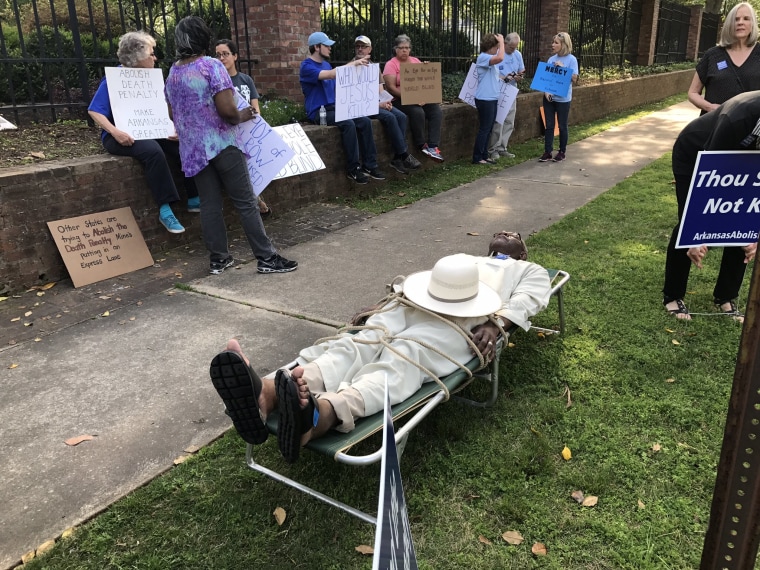 The state attorney general's office is now seeking to have him removed from the case and Republican lawmakers want him to leave the bench altogether, stating that he did not act impartially.
"As a public opponent of capital punishment, Judge Griffen should have recused himself from this case," said the state attorney general's spokesman, Judd Deere.
But for now, that case floats in a new state of legal limbo.
McKesson, the pharmaceutical company, is seeking to drop its lawsuit and vacate the temporary restraining order against its drug after Baker's temporary injunction, but it plans to bring its lawsuit up again if the 8th Circuit dismissed the stay.