Judges and juries imposed fewer death sentences in 2016 than at any other time since the modern era of capital punishment began more than four decades ago.
In a further sign of the ultimate punishment's decline, the number of executions dropped to the lowest level in 25 years.
"America is in the midst of a major climate change concerning capital punishment," said Robert Dunham of the Death Penalty Information Center, which compiled the data.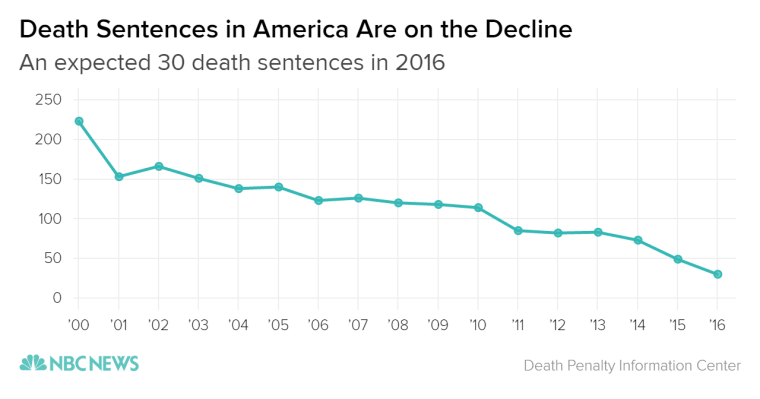 Thirty-one death sentences are expected this year compared to 49 in 2015. The 20 executions in 2016 represented a decline from 28 last year.
The number of death sentences imposed was down more than 90 percent from 1996, when the figure peaked at 315.
Only five states carried out executions in 2016. Georgia had the most, with nine, followed by Texas with seven, Alabama with two, and Missouri and Florida with one each.
Courts and voters wrestled with the issue during the year, producing mixed results.
Related: Alabama Inmate Coughs, Heaves During Execution, Spotlighting Sedative
Delaware's supreme court declared the state's capital punishment law unconstitutional, leaving 31 states with the death penalty still on the books. Nebraska voters, by contrast, overturned that state legislature's repeal and brought back the penalty.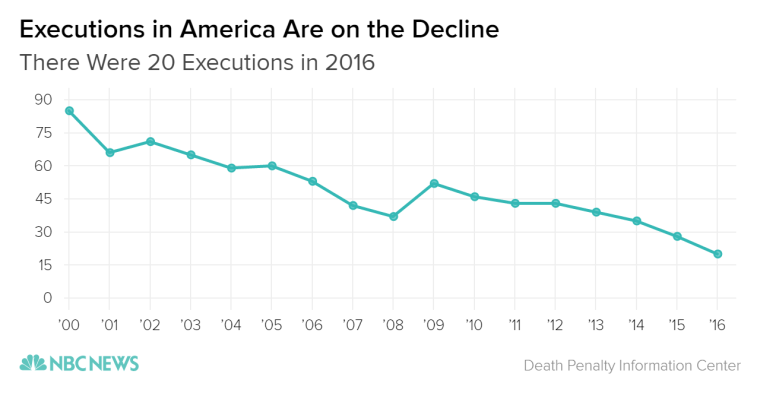 In California, voters rejected a proposal to abolish capital punishment. They also supported a measure to expedite legal appeals in death cases, but it was put on hold by a state Supreme Court challenge.
And Oklahoma voters strengthened capital punishment by amending the state constitution.
"While there may be fits and starts and occasional steps backward, the long-term trend remains clear," Dunham said.
Death penalty states struggled again this year with finding drugs to carry out lethal injections, given a refusal by pharmaceutical companies to allow their products to be used for executions.
The year also brought strong criticism of capital punishment from U.S. Supreme Court Justice Stephen Breyer, even though the majority of the court found no basis for declaring it unconstitutional.
Changes in how the punishment is carried out, Breyer said, led him to believe that the death penalty "now likely constitutes a legally prohibited cruel and unusual punishment." He cited cases in which he said innocent people were executed or in which the death sentences was wrongly imposed on people later determined to be innocent.
And Breyer said inmates in many states endure "unconscionably long delays that undermine the death penalty's penological purpose."