The family of the Ohio man executed with a new lethal mixture of drugs on Thursday is pursuing a lawsuit to assure that other death row inmates do not experience the same unusual execution circumstances he did, the family and their attorney said Friday.
"I can't think of any other way to describe it than torture," said Amber McGuire, the adult daughter of Dennis McGuire, who was put to death on Thursday by use of a combination of drugs that had never been used for capital punishment before.
McGuire, 53, made loud snorting noises during one of the longest executions since Ohio resumed capital punishment in 1999. Nearly 25 minutes passed between the time the lethal drugs began flowing and McGuire was pronounced dead at 10:53 a.m.
McGuire was sentenced to death for the 1989 rape and murder of a 22-year-old pregnant newlywed, Joy Stewart.
"I can't think of any other way to describe it than torture."
McGuire's family plans to file a lawsuit against the Ohio Department of Rehabilitation and Corrections "to make sure that this procedure is not utilized on anyone else ever," the family's lawyer, Jon Paul Rion told NBC News.
Before the execution, McGuire's lawyers tried to delay his death penalty by arguing that the new drug method could lead to a medical phenomenon known as "air hunger" and could cause him to suffer "agony and terror."
Assistant Attorney General Thomas Madden had argued that while the U.S. Constitution bans cruel and unusual punishment, "you're not entitled to a pain-free execution."
While the court acknowledged the execution would be an "experiment," U.S. District Judge Gregory Frost sided with the state.
But Rion said the procedure violated the Eighth Amendment because "the facts would demonstrate that it was cruel and very unusual." Rion said McGuire's son and daughter "watched their father gasping for over 19 minutes."
Rion said McGuire "spoke to his son and made his son promise that if things don't go right — because everyone feared that it wouldn't — he would pursue this to make sure that it wouldn't happen to anyone else."
The family is not looking for money but will file a suit against the Ohio Department of Rehabilitation and Corrections and possibly the drug companies, Rion said.
Prison officials gave deathly doses of two drugs, the sedative midazolam and the painkiller hydromorphone. The drug the state previously used for executions is unavailable because the manufacturers will not allow for it to be used for executions.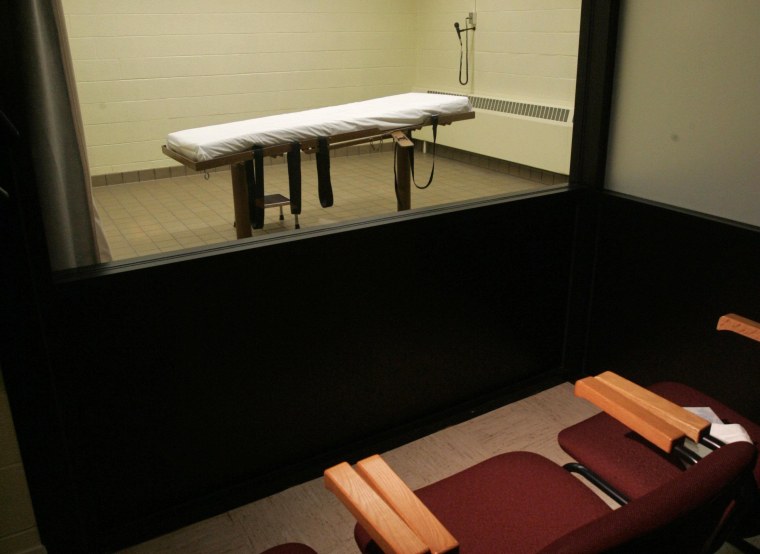 Officials at the Ohio Department of Corrections did not respond to requests for comments, but Ohio prisons spokeswoman JoEllen Smith said Thursday that a review would be conducted, as is the case in all executions.
Before the execution, McGuire's attorney called on Republican Gov. John Kasich to halt any future executions in the state if Ohio could not secure a humane method. The next execution pending in Ohio is that of a condemned Cleveland-area killer in March.
"Are we really using humans as experiments?"
Kasich's office did not reply to calls for comment, and the Ohio Attorney General's office declined to comment, since the case is ongoing.
"This doesn't sound like it was a complete disaster, but they don't want anything that even has the appearance of someone suffering or a delay in death being carried out," said Richard Dieter, executive director of the Death Penalty Information Center, which opposes capital punishment.
Dieter said the execution in Ohio will force other states that allow capital punishment to reevaluate their methods. "States will now have more of a burden to show that they are using a well thought out best practice," he said.
Rion said he hopes McGuire's case will at least change practices in Ohio.
"Are we really using humans as experiments?" he asked.
NBC News' Tracy Connor and The Associated Press contributed to this report.