A federal judge has temporarily halted next week's execution of Missouri double-murderer John Winfield, saying there's evidence state officials intimidated a prison employee who planned to support his clemency bid.
Terry Cole, the laundry director at the Potosi Correctional Center, told a defense lawyer that he would sign a declaration calling Winfield a model prisoner who had been rehabilitated and did not deserve a lethal injection, court papers say.
But Cole reneged on the agreement after prison officials launched an investigation into whether he was "over-familiar" with Winfield — which the judge said was evidence the state was interfering in its own clemency process.
Sign up for breaking news alerts from NBC News
"This 20-year corrections staff member was made to fear for his job when he wanted to tell the truth about Mr. Winfield's remarkable rehabilitation and the positive good he will continue to do if his life is spared," Winfield's lawyer, Joseph Luby, said in a statement Thursday.
The Missouri attorney general's office quickly appealed Federal Judge Catherine Perry's decision, arguing that Winfield had not shown the laundry director's feelings were concealed from the governor.
The brother of one of Winfield's victims expressed frustration at the potential delay.
"This has been going on for years," said Adam Murphy, 34, expressing respect for the legal process but "disgust" with portrayals of Winfield as "a sweetheart.'
Winfield killed his sister, Shawnee Murphy, and a second woman, Arthea Sanders, during a jealousy-fueled rampage against his ex-girlfriend, Carmelita Donald, who was shot three times in the head and blinded.
"That was 1996. It's been 18 years," Adam Murphy said. "My sister's youngest son is going to be graduating high school next year.
"He shot my sister in front of her kids," he added. "He did something very destructive that ruined a lot of lives."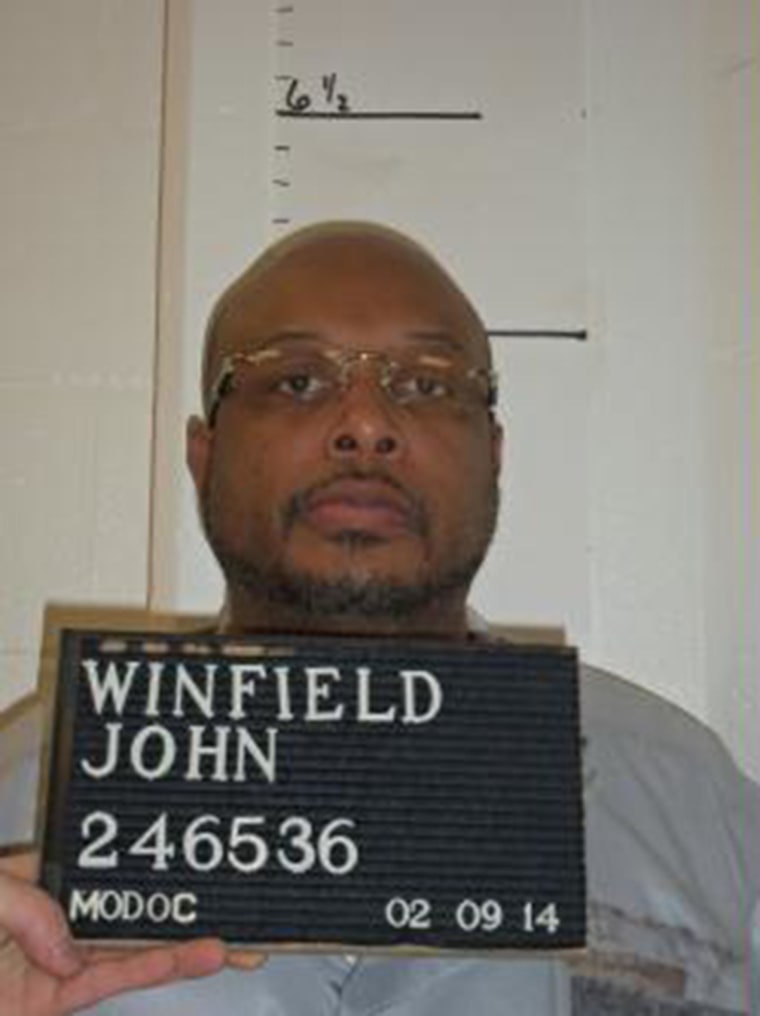 Donald has also been waiting for Winfield's appeals to run out, although the daughter she had with the condemned man is pushing for clemency.
"I love him unconditionally and would be devastated if he were executed," Symone Winfield said in a sworn statement.
The defense is also fighting execution on other grounds, including a sworn statement from one of the jurors who convicted him, who now says she was pressured to vote for death.
Winfield's lawyers are also challenging Missouri's refusal to say where it obtained the execution drugs and late Thursday filed an appeal based on that matter with the U.S. Supreme Court.
If Winfield is executed as originally scheduled, he would be one of the first prisoners put to death since the April 29 botched lethal injection of Clayton Lockett in Oklahoma, which prompted a high-level federal review of execution protocols.