For the first time in 19 months, Florida has executed a prisoner — a white man accused of racially motivated murder — using an untested lethal injection formula.
Authorities say 53-year-old Mark James Asay, the first white man executed in Florida for killing a black man, was pronounced dead at 6:22 p.m. Thursday at the state prison in Starke. His death followed a three-drug injection that began with the anesthetic, etomidate.
Courts had turned down appeals by Asay, although one dissenting judge said the state had "jeopardized Asay's fundamental constitutional rights and treated him as the proverbial guinea pig" by rushing to use an experimental cocktail.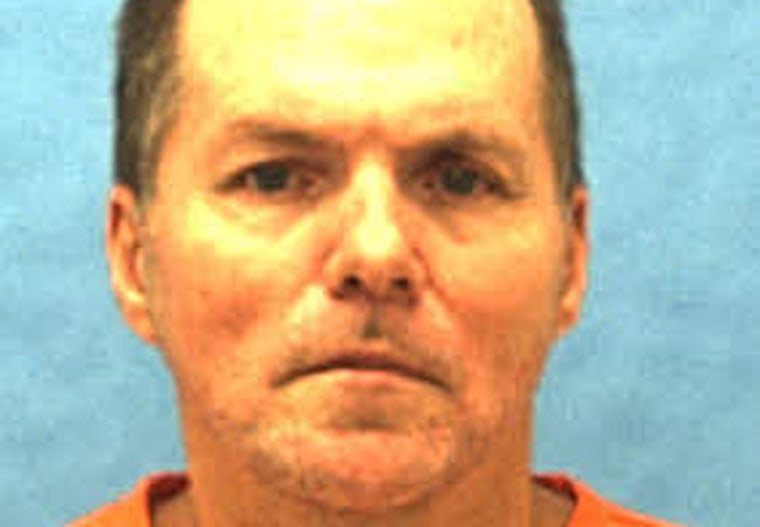 Florida, like many other death penalty states, has struggled to find execution chemicals because capital punishment opponents have pressured pharmaceutical companies to stop selling the drugs the states relied on in the past.
Asay was put to death with three drugs — the first of which, the short-acting sedative etomidate, had never been used for that purpose in the United States.
It was followed by a paralytic and then a form of a heart-stopping drug that has been used in an execution only by mistake.
Asay's lawyers argued that he would experience severe pain during the execution, violating the constitutional protection against cruel and unusual punishment, but Florida's highest court said he failed to show that was likely.
"It is concerning that the Florida courts are allowing this execution to go forward without requiring the Department of Corrections to produce key information about the safety and efficacy of state's new lethal injection protocol and drugs — information that was provided after previous protocol changes," said Jen Moreno, an expert on lethal injection at UC Berkeley Law.
"Florida insists on paralyzing the prisoner during the execution process so any problems with the drug may never be known."
Asay, 53, who had white supremacist tattoos, was sentenced to death in 1988 for murdering a black man, Robert Lee Booker, and Robert McDowell, a cross-dresser who was white and Hispanic. Prosecutors said the killings were racially motivated, but Asay denies that.
In a recent jailhouse interview with a local TV station, he claimed he shot McDowell without premeditation during a drunken "meltdown" and insisted he didn't kill Booker.
"I want out of prison, through the front door or the back."
He also said he covered himself in white supremacist tattoos as a form of protection while in prison as a young man.
"I've removed every racial tattoo I had, except for the ones that I can't reach," he said.
Related: Death Sentences Drop to 40-Year Low
A database maintained by the Death Penalty Information Center, a non-profit opposed to the death penalty, shows that Asay would be the first white man executed for killing a black victim in Florida since capital punishment was reinstated in the 1970s.
In his last-ditch appeal to the U.S. Supreme Court, which was denied two hours before the execution, Asay argued he deserves a reprieve because an appeals panel in 1991 erroneously stated that victim McDowell was black.
Asay earlier pressed appeals on several other fronts, arguing evidence was withheld from the defense and that he should be exempt from execution under a Supreme Court ruling that held juries, and not judges, should make the key findings that underpin a death sentence.
But in the TV interview, Asay also said he is more afraid of spending the rest of his life locked up than of dying.
"I'm 100 percent confident that if I'm going to get relief here, it's because of the truth," he said. "And if I'm not going to get relief here, it's because the Lord knows that my life here on earth will not be productive. Because I pray, and I say, 'I've had all of the prison I want.' So I want out of prison, through the front door or the back."