A federal district judge in Arkansas declined two inmates' plea on Friday night to block the use of a controversial lethal injection drug, which is set to expire at the end of the month.
Jack Jones and Marcel Williams are scheduled to be put to death on Monday night and they asked the courts to stop the Arkansas Department of Correction from using midazolam because they believe it would cause them unnecessary harm due to their obesity and other health reasons.
District Court Judge Kristine Baker wrote that the two inmates' argument "falls short of demonstrating a significant possibility ... that the Arkansas protocol is 'sure or very likely' to cause severe pain and needless suffering."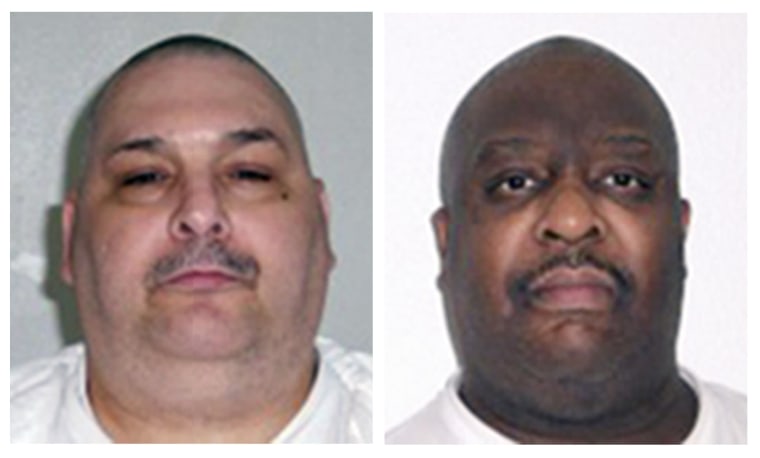 Jones and Williams are the next two death row inmates scheduled to be put to death in a unprecedented schedule set by Arkansas Gov. Asa Hutchinson. The state originally planned to put eight men to death at the very end of the month because the midazolam was expiring.
Midazolam is the first drug in a three-drug lethal injection cocktail that is meant to render the inmate unconscious. It is followed by a paralytic to stop movement and breathing and then potassium chloride, which stops the heart. Midazolam has not worked in some instances, and inmates have woken up during the procedure in pain while the other two drugs work through their systems.
Related: Arkansas Executions: Damien Echols, Ex-Death Row Inmate, Will Speak for Condemned
Jones and Williams suffer from diabetes, sleep apnea and hypertension, which they argued could lead to "botched" executions.
According to Dr. Joel Zivot, an Emory University Hospital physician, Jones and Williams gained an incredible amount of weight in prison, leading to their diabetes. Jones has even had an amputation because of his poor circulation related to the condition.
Because of their poor circulation, these lethal injection drugs would not work properly and they would die a painful death, the two men's lawyers claimed.
Jones also takes the pain reliever methadone and gabapentin, an anticonvulsant, regularly. Zivot said the regular use of those two drugs would decrease Jones' sensitivity to midazolam.
But Baker, the district judge, was not convinced.
She wrote that Jones and Williams failed to prove that this method of execution would be unnecessarily cruel and painful and that they did not provide a viable execution substitute. The two death row inmates had the burden of fulfilling a two-prong test established by U.S. Supreme Court decisions Baze v. Rees and Glossip v. Gross.
"Plaintiffs have the burden of proving that 'the State's lethal injection protocol creates a demonstrated risk of severe pain' and 'the risk is substantial when compared to the known and available alternatives,'" she said in the decision.
In a separate case filed jointly by the eight inmates, their lawyers argued that the firing squad would be more humane than the midazolam lethal injection protocol.
Department of Correction publishes execution records
The Arkansas Department of Correction released a few records on Saturday about Thursday's execution of death row inmate Ledell Lee — the state's first use of capital punishment in nearly 12 years.
The log, made for internal affairs, details Lee's final day and when he did basic actions like taking a shower or eating his last meal.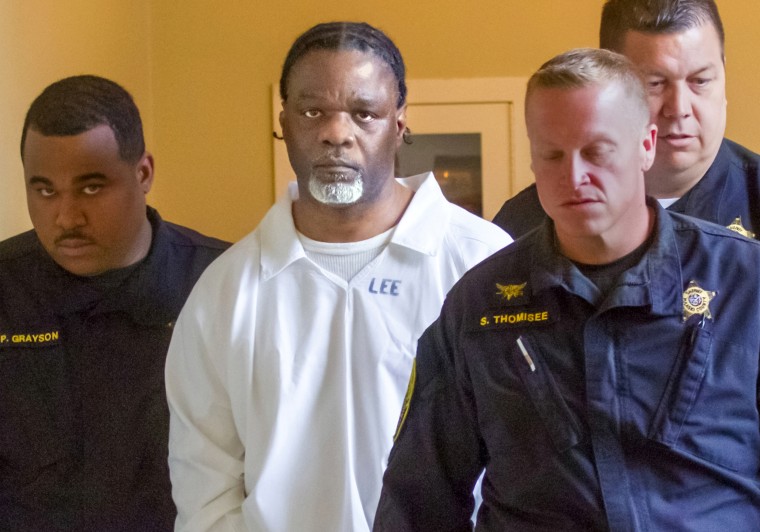 Lee took the sacrament of Communion as his official last meal, though the report notes that he ate a "regular tray" of prison food as well, which consisted of fruit punch, four slices of bread, two cinnamon rolls, stewed tomatoes, sweet rice, pinto beans, two pieces of fried chicken and corn.
The report states that he ate all that food and the communion wafer between 2:44 p.m. and 2:48 p.m. CT on Thursday.
Lee dressed in "clean whites" at 6:18 p.m. in a cell close to the gurney he would die on, but he did not arrive to the death chamber until more than five hours later because his case was delayed by an appeals court and the U.S. Supreme Court.
The Arkansas Department of Correction coroner pronounced Lee dead at 11:56 p.m. His body was taken from the room less than 15 minutes later.
The Department of Correction also provided a list of the witnesses who watched the execution happen, which is required by Arkansas law. Lee's death was watched by 12 citizen witnesses, six victim witnesses and three media witnesses.