A Missouri man who kidnapped, raped and murdered a 15-year-old girl near Kansas City 25 years ago was executed early Wednesday after the U.S. Supreme Court denied a last-minute stay.
The state Department of Public Safety said Michael Taylor, 47, died from a lethal injection at 12:10 a.m. (1:10 a.m. ET), shortly after the high court joined the 8th Circuit U.S. Court of Appeals in rejecting pleas from his attorneys, who argued that the state's makeshift execution protocol was cruel and unusual punishment.
Missouri Gov. Jay Nixon also rejected a clemency request, turning aside Taylor's pleas based on the state's use of using a secret compounding pharmacy for the lethal dose of pentobarbital and for executing previous inmates while they still had appeals pending.
Taylor offered no final statement, The Associated Press reported, adding that he took two deep breaths before closing his eyes for the last time.
Anti-death penalty advocates held a vigil Tuesday opposing Taylor's execution in Springfield, where 10-year-old Hailey Owens was similarly brutally murdered last week.
"Crime deserves punishment," Bishop Van Johnston of the Roman Catholic Diocese of Springfield-Cape Girardeau told NBC station KYTV of Springfield, Mo. "We're here to say, basically, that killing someone when you can punish them in another way is not the solution."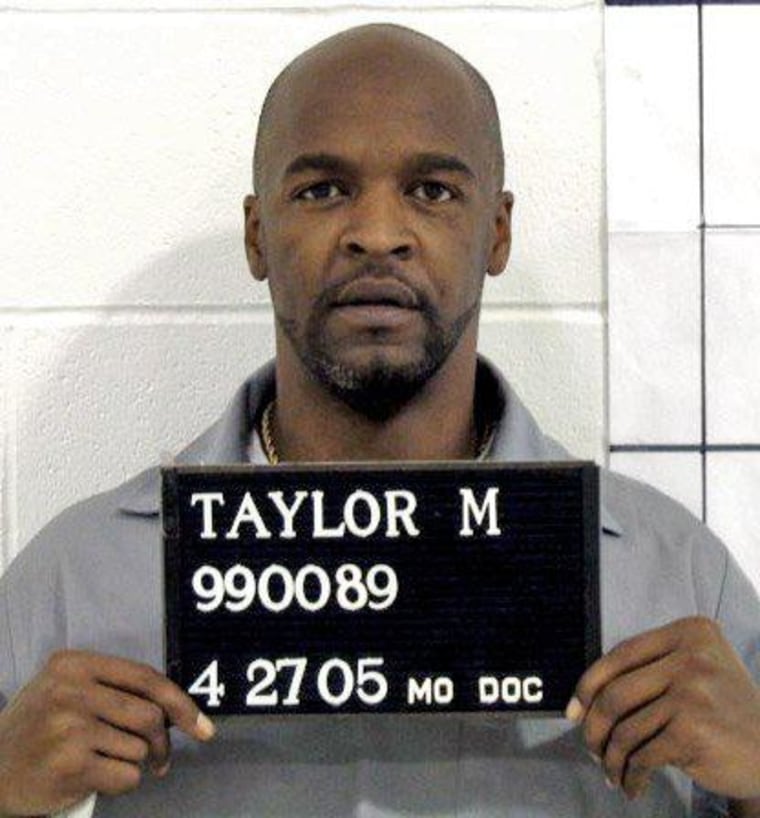 Dissenters on the 8th Circuit court said Taylor should have been allowed to investigate the pharmacy and whether the chemicals the state planned to use would cause an excruciating death.
"One must wonder at the skills of the compounding pharmacist," Judge Kermit Bye wrote. "In fact, from the absolute dearth of information Missouri has disclosed to this court, the 'pharmacy' on which Missouri relies could be nothing more than a high school chemistry class."
Taylor escaped execution in 2006 when a court gave him a reprieve after revelations that a prison doctor was dyslexic and admitted he could make mistakes in mixing doses.
Earlier this month, Taylor's legal team got the Apothecary Shoppe, an Oklahoma pharmacy, to agree not to supply drugs for his execution by suing it.
The state, however, said it had found another source for the pentobarbital.
Death-penalty states have increasingly turned to less-regulated compounding pharmacies because drug manufacturers refuse to sell to prisons for executions.