The daughter of a double murderer on death row is asking Missouri's governor to grant clemency, saying her father "is a good man and he does not deserve to be executed."
"My dad has been there for me at every step of my life, giving me encouragement, love, and support," Symone Winfield wrote in a sworn declaration distributed Wednesday by lawyers for her father, John Winfield.
"I love him unconditionally and would be devastated if he were executed."
The 22-year-old woman's mother has a much different view of the execution, which was scheduled for June 18 before a judge issued a temporary stay on Thursday.
Sign up for breaking news alerts from NBC News
Carmelita Donald, who was blinded in the 1996 jealousy-fueled shooting that left two of her friends dead, said she firmly believes her ex-boyfriend should die for the crime.
"I want to be there," the 42-year-old Gary, Indiana, woman said of the June 18 execution.
Asked whether she had spoken with Symone about it, she said, "She knows why I want to go."
"No child should have to grapple with these questions."
In her declaration, the daughter said she knows the "gravity of this tragedy."
"I love my mother dearly and have a relationship with her as well," she said. "I know how this has affected her and I am not excusing what happened."
But, she added, the death sentence her father received for the murders of Shawnee Murphy and Arthea Sanders has haunted her for years.
"Since I was a kid, I have thought about what would happen to my life and my grandma's life if my dad were executed," she wrote. "I have thought about how, if the execution takes place, people will watch if my dad is killed.
"I have questioned whether I could emotionally and mentally survive if I decided to go to the execution to sit on my dad's side and be there for him as he is killed," she added. "No child should have to grapple with these questions."
Her mother and maternal grandmother, Olivia Donald, said they understand her opposition and are not upset she is trying to win a reprieve for a man they would like to see dead.
But the grandmother, who bristles with anger whenever she talks about John Winfield, did express some frustration with his daughter.
"To me it's a little selfish. But I'm going to let her get over this," she said. "You're talking to a blind woman and the woman who took care of her."
In a phone interview with NBC News and other reporters, Symone Winfield said she had tried not to let the issue come between her and her parents.
"At the end of the day, they are still my mom. And my dad," she said. "I have an open relationship with my mom. She's entitled to her own opinion."
After the 1996 shooting, Symone lived with her mother and maternal grandparents but she went to live with her father's mother when she was in junior high school, the family said.
She now has two children of her own and says she has no idea how she would explain his execution to them.
"If my dad were executed, I would be devastated," she wrote. "I don't know how to even begin the pain that I would feel."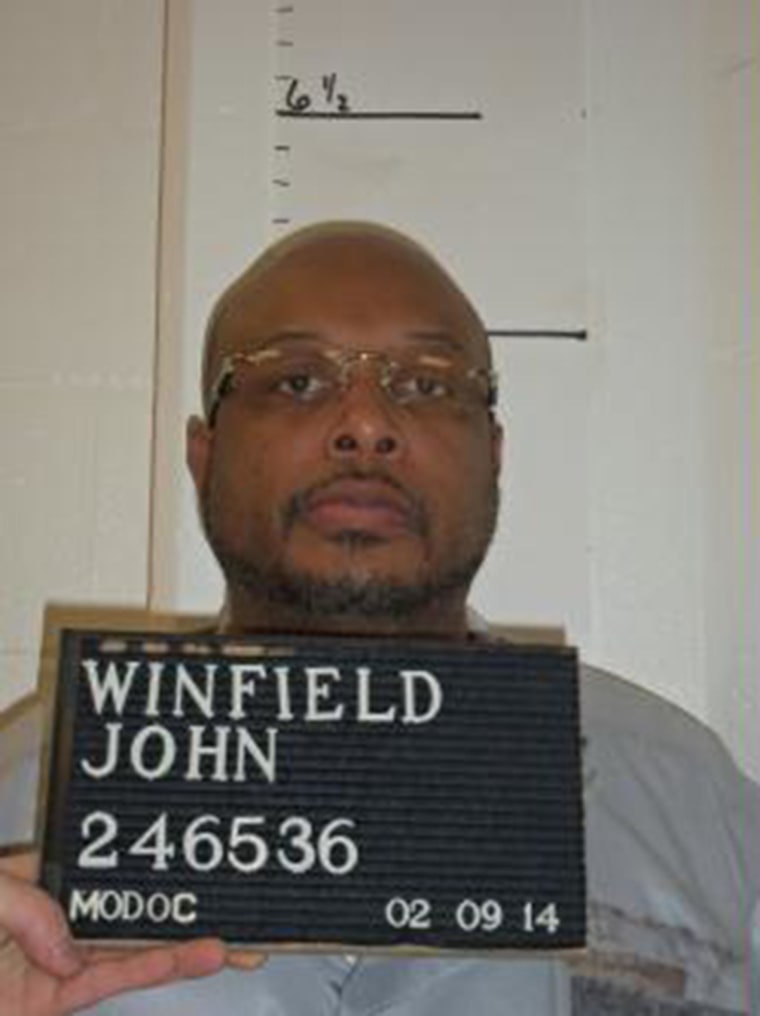 Also included in the clemency petition were an appeal from the Missouri chapter of the NAACP, which described him as a model inmate.
A statement from one of the trial jurors, Kimberly Turner, said prosecutors played on racial biases and fellow jurors pressured her to vote for a death sentence.
"When I discovered that Mr. Winfield had been given an execution date, I was sick to my stomach," she said.
Defense lawyers have been fighting the planned execution on a number of fronts, chiefly with the argument that Missouri's refusal to say where it obtained its execution drugs is unconstitutional.
A judge put the lethal injection on hold after finding there was evidence state officials intimidated a prison employee who wanted to support Winfield's execution bid. The state could appeal.
Winfield was slated to be one of the first people put to death since the April 29 botched lethal injection of Clayton Lockett in Oklahoma — a debacle that was condemned by the White House.
If that comes to pass, Winfield's daughter said she will let her father decide if she joins her mother in the execution room.
"I'm a strong supporter of my dad," she said. "If he wants me there, I will be there."