Convicted child killer Ronald Phillips was moved to the so-called "death house" on Tuesday as Ohio prepared to resume executions three years after another inmate, gasping and heaving, took more than 25 minutes to die.
The U.S. Supreme Court denied last-ditch appeals filed by Phillips, 43. Barring an unexpected development, he will be strapped to a gurney at the state prison in Lucasville on Wednesday morning and given an injection of three chemicals — one of which has been used in several executions that did not go as planned.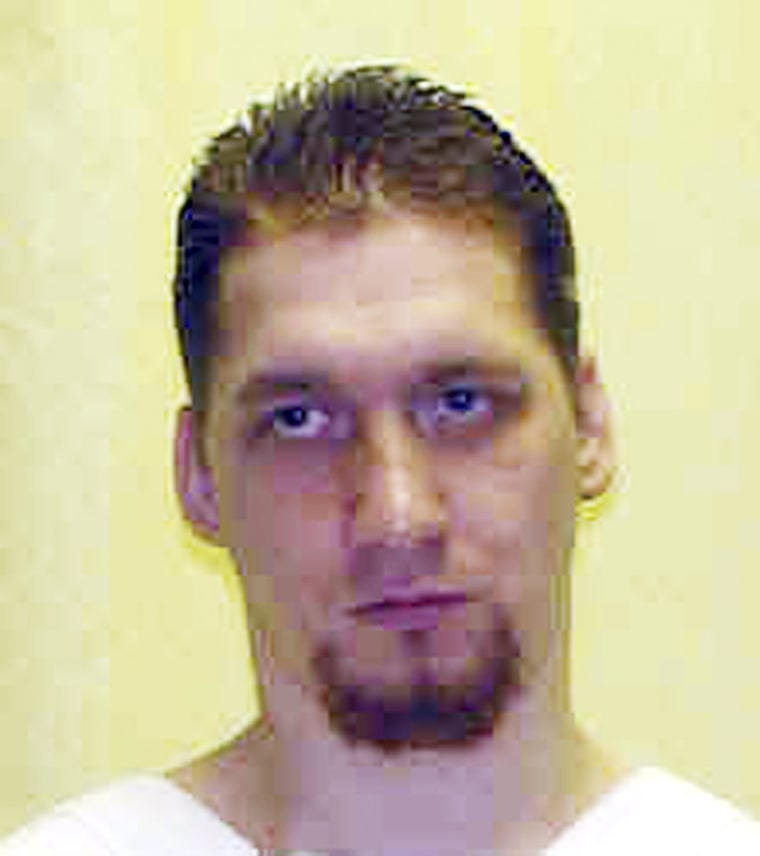 The impending execution brought back disturbing memories for Father Lawrence Hummer, who witnessed Ohio's last lethal injection in 2014. Dennis McGuire, sentenced to death for raping and murdering a pregnant woman, was a regular at Hummer's prison Masses and asked the priest to be in the viewing chamber.
Hummer had been told it would take about five minutes for the chemicals to kill McGuire. About that much time had passed when the procedure took a ghastly turn.
"He started struggling for breath," Hummer recalled.
"I was trying to calm his children down when all of a sudden I heard audible gagging. I thought it was another witness, but when I looked back to [McGuire], he was the one gagging," he added.
"Your instinct is to help or stop it, but of course nobody could do a thing."
According to multiple witnesses, McGuire gulped and snorted for up to 15 minutes before he was finally pronounced dead, ending the state's longest execution — and its first using an untested two-drug cocktail.
The state plans to use a different three-drug injection to kill Phillips, although both started with midazolam, a sedative that critics say is inadequate for executions.
Phillips, 44, was convicted of raping and beating to death his girlfriend's daughter, Sheila Marie Evans, in 1993. The Ohio parole board said it was "clearly among the worst of the worst capital crimes."
"Its depravity is self-evident," the panel said in denying clemency. "Words cannot convey the barbarity of the crime. It is simply unconscionable."
Phillips was originally scheduled to die in 2013, but Ohio ran out of the drug it used, the barbituate pentobarbital, and was unable to buy more because opponents of capital punishment convinced pharmaceutical companies to stop selling it to executioners.
The state adopted a new protocol: midazolam to render the inmate unconscious, followed by a killer dose of the opioid hydromorphone. Phillips would have been the first to receive it, but he won a delay with a request to donate his organs to relatives.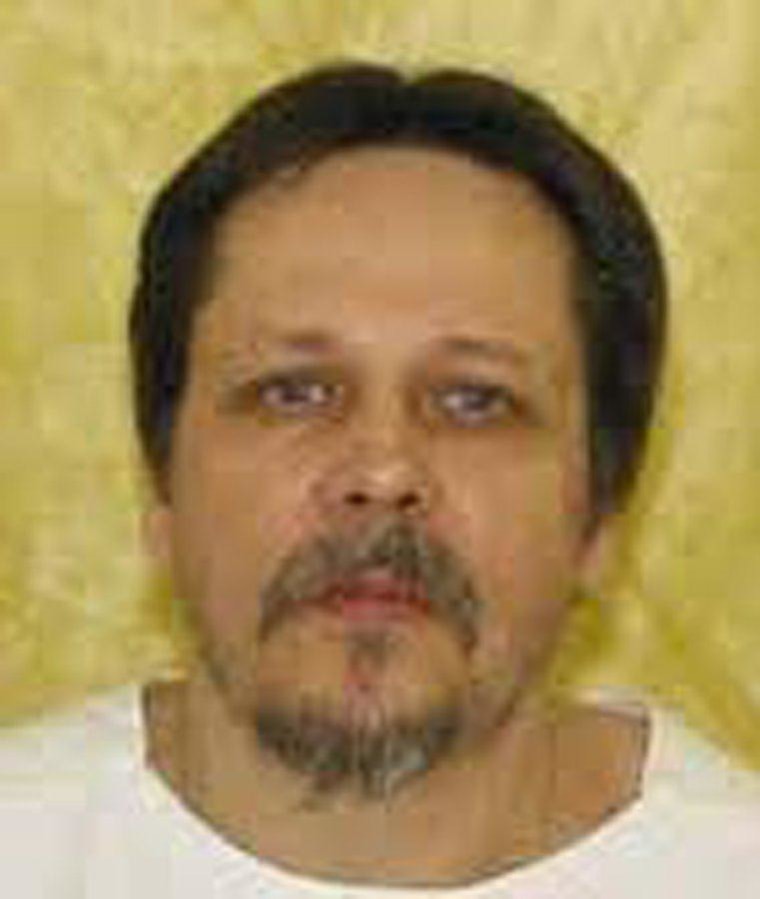 The state eventually rejected the donation idea, but it bought Phillips some time. The result was that in the meantime, McGuire became the first and only Ohio inmate executed with the experimental combination.
A review by prison officials concluded that McGuire — who raped and fatally stabbed a woman who was eight months pregnant — did not suffer any distress. But after McGuire's family sued and midazolam came under fire for botched executions elsewhere, Ohio abandoned the two-drug injection.
Its plan was to instead use a drug it relied on for more than a dozen years, sodium thiopental. But that drug is no longer made in the United States, and the Food and Drug Administration warned the state to drop plans to import it from overseas.
Switching gears, Ohio then adopted the three-drug injection that several other states have been using: midazolam, following by a paralytic and the heart-stopping potassium chloride.
Despite its newfound popularity — Arkansas used it to kill four prisoners in eight days — the formula is controversial. Critics say midazolam doesn't protect inmates against the pain of the other two drugs and thus violates the constitutional protection against cruel and unusual punishment.
A challenge out of Oklahoma was taken up by the U.S. Supreme Court, which declined to ban midazolam. But in January, a federal magistrate judge halted Ohio's plans to restart executions, finding the use of the sedative created "a substantial risk of serious harm."
An appeals panel upheld that ruling, but was then reversed in a decision by the full court, which gave Ohio the green light to move ahead with Phillips' execution. The U.S. Supreme Court declined to stop the execution in a decision issued late Tuesday, with two justices dissenting.
Ohio's attorney general had argued in legal briefs that the state's latest formula has a reliable track record.
"Ohio, a late adopter of the midazolam three-drug protocol, chose it only after it was adopted by several States, used in over a dozen prior executions, authorized by many courts, and upheld by this Court," the state wrote in its brief.
Related: Arkansas Gov. Says Four Executions Were 'Right Decision'
Not all the executions have been problem-free, however, as 15 pharmacologists pointed out in a brief filed Monday. Last year, witnesses in Alabama reported that Ronald Bert Smith coughed and heaved for 13 minutes. Arizona swore off midazolam after Joseph Wood took two hours to die after getting the same kind of injection used on McGuire.
The coalition Ohioans to Stop Execution says it's just too risky for Ohio to restart its execution machinery with midazolam in the mix. It delivered petitions signed by 100,000 state residents to Gov. John Kasich's office on Monday.
Last week, the group released a statement from a retired judge who headed a court-appointed task force on the death penalty in Ohio and who complained that most of the panel's major recommendations have not been implemented — although none of those centered on execution drugs.
The state is saying little beyond its legal papers. Kasich's office referred inquiries to the Department of Rehabilitation and Correction, which issued a brief statement: "Ohio intends to fulfill its statutory obligation of carrying out court-ordered executions in a lawful, humane and dignified manner."
Phillips was moved from death row to the facility where executions are carried out shortly after 10 a.m. on Tuesday. He submitted his request for a last meal: a large pizza with peppers and mushrooms, two liters of Pepsi, strawberry cheesecake, grape juice and a piece of unleavened bread.
It wasn't clear if Phillips ordered the bread for religious reasons, but he has expressed his faith in past. After a prison medical team examining him before his 2013 execution date had trouble identifying a good spot for the injection, Phillips told a judge: "I guess the Lord hid my veins from them."
Whatever happens Wednesday could have implications for the future of executions in Ohio. If there's a glitch or worse, prison officials will be under pressure to once again retool the protocol. If it unfolds as planned, the state will have momentum to move forward with more executions.
That's a prospect Hummer, the Catholic priest who witnessed McGuire's execution, dreads. He said he is still haunted by what he witnessed in the death house three years ago.
"It was a horrendous experience," he said. "It's something that never goes away."
He may be called upon to do it again.
"I have two guys who come to mass every week who are due to be executed next year, and I told them, 'I'll be there for you if you wish,'" Hummer said. "I can't abandon the guys I've been with. I mean, how can I not do it?"