Oklahoma prison officials halted the execution of an inmate after botching the delivery of a new three-drug lethal injection cocktail — but the man died anyway.
The state postponed the execution of a second prisoner scheduled to die Tuesday night as defense lawyers called for an independent investigation and the dead man's family demanded answers.
"Why? Why? Why?" Clayton Lockett's stepmom, Ladonna Hollins, wailed in a phone interview with NBC News as witness accounts of the execution began trickling out.
Robert Patton, the director of the Oklahoma Department of Corrections, said the intravenous line into Lockett's arm blew out.
"It was a horrible thing to witness. This was totally botched," Lockett's attorney David Autry said.
Lockett, on death row for shooting 19-year-old Stephanie Nieman with a sawed-off shotgun and watching as two accomplices buried her alive in 1999, suffered a heart attack and died at 7:06 p.m. CT, officials said.
Media witnesses reported that soon after the execution began — with a combination of drugs that has been used in other states but not by Oklahoma — it became apparent there was a problem.
Lockett, 38, was declared unconscious 10 minutes after the first drug was administered, but three minutes later he began breathing heavily, writhed on the gurney, clenched his teeth and strained to lift his head, The Associated Press reported.
Lockett tried to talk and appeared to say the word, "Man," before prison officials lowered the blinds, blocking the view of those in the gallery, according to a reporter from NBC station KFOR in Oklahoma City, who was a witness.
Hollins, who did not attend the execution, said she was horrified by the details.
"When they opened up the curtain, he was still alive. He was alive after they injected him! It did not do the job. They screwed it up," she said. "If they cannot effectively execute a person, then don't do it. What is wrong with this system?"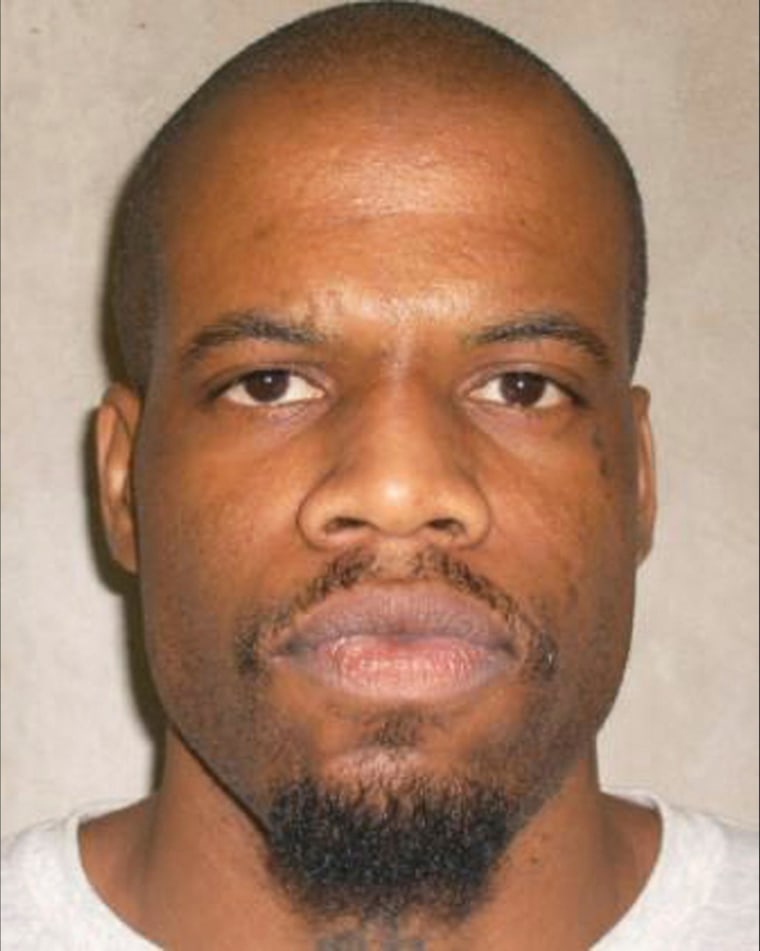 The complications are sure to figure heavily in the growing debate over lethal injections, from the drugs that states use to kill prisoners to the secrecy surrounding the pharmacies that supply them.
Lockett and fellow death-row inmate Charles Warner won a delay in their executions when Oklahoma revealed it could not obtain the pentobarbital it had been using and scrambled to put in place a new protocol: the sedative midazolam, the paralytic pancuronium bromide and heart-stopping potassium chloride.
The two men tried and failed to force the state to reveal where it got the new drugs, arguing they needed the information to ensure the chemicals would be untainted and effective.
Hollins, who expressed sympathy for his victim's family, said her son had made his peace with the idea that he would be executed but feared a painful end.
"I thank God he doesn't have to go through it anymore," she said. "He did a bad thing and he died a bad way. Nobody else should have to die like that."
Deanna Parker, Lockett's aunt, said what happened in the death chamber "was exactly what he feared."
"That is why he was fighting. He wasn't just fighting for him, he was fighting for the men after him, too," she said.
She faulted Gov. Mary Fallin for pushing ahead with the execution amid clashing legal opinions about whether the state should proceed without revealing the source of its drugs.
"I would like to say to her, 'She is not God.'"
Fallin said Tuesday evening that she has ordered a review of the execution process, but appeared to have a somewhat different explanation to what happened, saying the lethal injection was "ineffective."
"I have asked the Department of Corrections to conduct a full review of Oklahoma's execution procedures to determine what happened and why during this evening's execution of Clayton Derrell Lockett," Fallin said in a statement.
Fallin said Lockett's execution was halted when it "appeared the lethal injection administered to him was ineffective."
The execution of Warner, who was convicted of raping and killing his roommate's 11-month-old child in 1997, was postponed for 14 days.
Madeline Cohen, Warner's attorney, called for a moratorium on executions in Oklahoma.
"This botched execution should give Oklahoma serious pause. No other executions should take place until there has been an opportunity for a full investigation," she said.
She said the probe should include an autopsy by independent pathologist, full transparency as well as information about the source, preparation and administration of the drugs.
She disputed the prison's contention that he blew a vein.
"That's garbage. That's dissembling." Lockett "did not have a vein issue," she said. "He was not an IV drug user. He was healthy. He had bulging veins."
Before Lockett's execution, his victim's family issued a brief written statement in which they recalled that she loved children and had worked at Bible school.
"She was the joy of our life," they said. "We are thankful this day has finally arrived and justice will finally be served."
Jeff Black and The Associated Press contributed to this report.