After a three-year break, Ohio resumed executions on Wednesday by giving a lethal injection to Ronald Phillips, who was convicted of raping and beating to death his girlfriend's 3-year-old daughter.
Phillips, 43, whose execution had been postponed six times, was killed with a three-drug formula that has become popular with states struggling to obtain execution chemicals.
It includes a sedative that has been featured in several other executions that did not go as planned, though there were no reports of complications in Phillips' case. Media witnesses said it was far different than Ohio's last execution, in which the inmate gasped and heaved and took 26 minutes to die.
"It was too easy," Renee Mundell, half-sister of victim Sheila Marie Evans, told reporters after Phillips was pronounced dead at 10:43 a.m.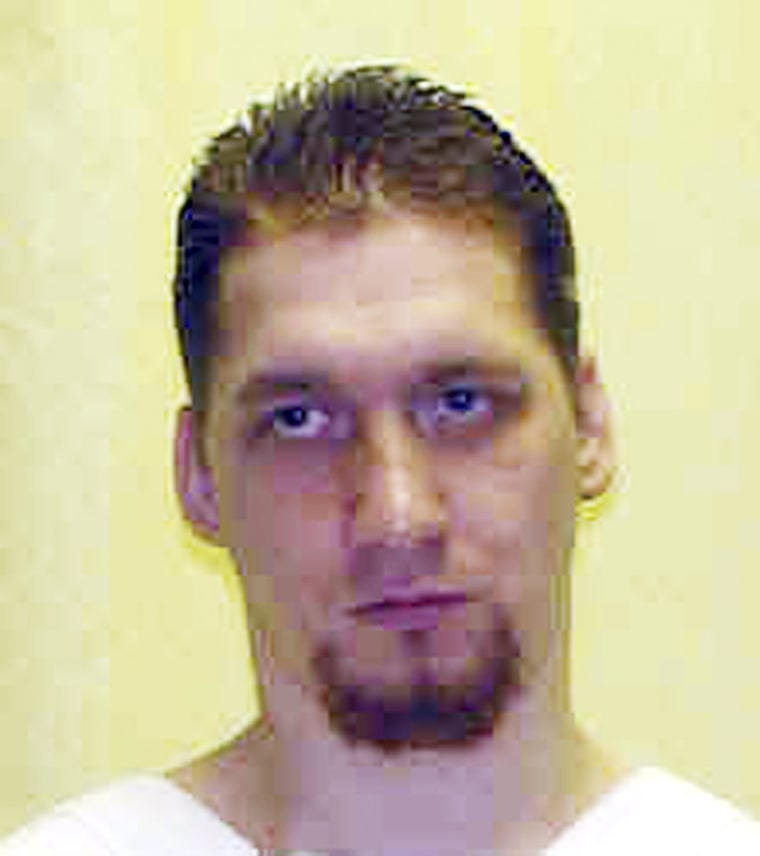 Phillips apologized to Sheila Marie's family for his "evil actions," according to NBC affiliate WKYC, which had a reporter in the witness room.
"All those years, I prayed you'd forgive me and find it in your heart to forgive and have mercy on me. Sheila Marie did not deserve what I did to her. I know she is with the Lord and she suffers no more," he said.
Phillips' attorneys said in a statement that while he committed an "unspeakable crime" in 1993, at the time of his death he "did not in any way resemble that troubled and broken teen."
"He had grown to be a good man, who was thoughtful, caring, compassionate, remorseful, and reflective. He tried every day to atone for his shameful role in Sheila's death. In the past years, Ron has studied for and earned his certification to be a minister, and was preparing his first sermon.
"Ron's case suggests we should thoughtfully reconsider our laws that permit the harshest punishment for those who committed their crimes as teenagers, especially the irrevocable punishment of death."
Phillips spent the night before the execution in prayer, officials said. He saved unleavened bread from his last meal of pizza and cheesecake and used it as communion shortly before the execution.
The execution was witnessed by Sheila Marie's half-sister and two other relatives. The little girl's mother, Fae Evans, was sentenced to 13 years in prison for involuntary manslaughter and died of cancer in 2008. Phillips' brother was also present, and the execution was briefly delayed so they could meet.
Ohio's last execution was in January 2014 when murderer Dennis McGuire appeared to struggle for breath and took far longer to die than usual after being given an untested combination of drugs.
After his family sued, the state abandoned that protocol. It switched to the three-drug injection last year, but Phillips' execution was held up when a federal judge ruled that one of the components, the sedative midazolam, might contribute to a cruelly painful death.
An appeals court overturned that decision, and the U.S. Supreme Court turned down Phillips' request for a stay of execution late Tuesday, paving the way for his lethal injection hours later.
Phillips would have been executed in 2014 but Gov. John Kasich granted him a temporary reprieve to consider whether he should be allowed to donate his organs to relatives. Instead, the state executed McGuire next.
Ohio has planned executions for 26 inmates, stretching all the way to 2020, though some of those are sure to be postponed. The next one to face the needle is Gary Otte, scheduled to die Sept. 13.
Executions hit a historic low last year, according to the Death Penalty Information Center, which opposes capital punishment. Phillips was the 15th prisoner executed this year.