The U.S. Supreme Court on Friday agreed to hear a challenge to Oklahoma's lethal-injection system filed by three death-row prisoners. Here's a look at some of the issues involved:
If it's just three prisoners in one state, why is this a big deal?
The Supreme Court has not accepted a challenge to the drugs used for lethal injections since 2008, when it upheld the combination that was being used by virtually all death-penalty states at that time: sodium thiopental, which induced unconsciousness; pancuronium bromide, a paralytic that arrests breathing; and potassium chloride, which stops the heart. Six years ago, the justices ruled that even if there was a risk of some pain from the procedure, it would not violate the constitutional protection against cruel and unusual punishment. The new ruling will give lower courts further guidance when considering appeals by death-row inmates.
If the court has already ruled on lethal injections, why is it still an issue?
The U.S. manufacturer of sodium thiopental stopped making the drug, and the European Union banned export of the drug to stop it from being used in executions. That meant states had to scramble for substitutes. The result was a patchwork of drug combos being used across the country. Oklahoma substituted midazolam for sodium thiopental.
What's wrong with midazolam?
Corrections officials say nothing is wrong with it. But challengers say it's not appropriate for executions because it's not a surgical-grade anesthetic and won't put inmates into a coma-like state before the other drugs — which cause more discomfort — are administered. They say an excruciating death in which the prisoner feels like they are being suffocated and experiences severe pain could result.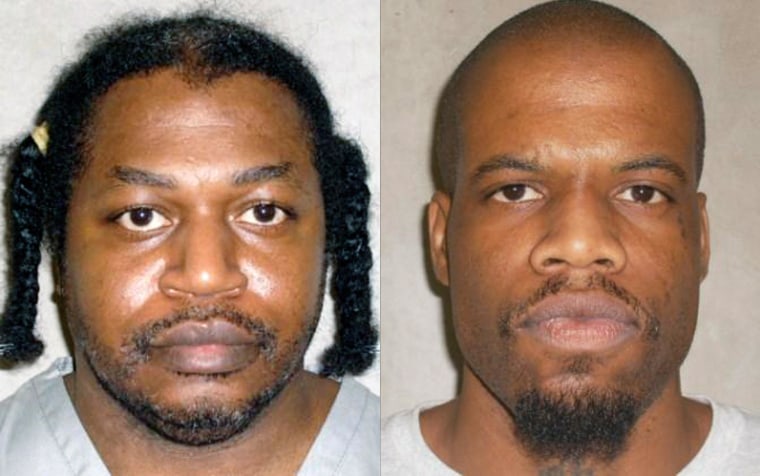 Has midazolam caused any problems in executions?
That depends on whom you ask. The January 2014 execution of Dennis McGuire in Ohio took about 25 minutes, during which witnesses saw him gasping. In July, Joseph Wood stayed alive, gasping, for two hours. In both cases, state officials insist the executions were humane.
The most troubling execution was the lethal injection of Clayton Lockett in April in Oklahoma. He regained consciousness and writhed in pain in the middle of the execution, which was called off — but not in time to revive him. The debacle prompted the White House to order a federal review of execution protocols nationwide.
A state review of Lockett's death found a misplaced IV — not the midazolam itself — caused the botch. But death-row lawyers maintain that even if the sedative were properly administered, Lockett still would have been exposed to pain and suffering.
Oklahoma didn't execute anyone for nine months, until last week, when it put to death Charles Warner. Witnesses said they did not see any indications Warner was suffering. His lawyers say the paralytic he got makes it impossible to know how much pain he experienced.
What happens until the Supreme Court issues a ruling?
The three death-row inmates who are part of the challenge will ask for stays of execution, and it's likely they will get them. Prisoners in other states will seek the same. In 2008, the Supreme Court granted stays for any executions scheduled after it agreed to hear the challenge but before the ruling was issued.
Why was Oklahoma allowed to execute Warner?
Warner was a party to the challenge the Supremes have agreed to hear, and he asked the justices for a stay of execution. Four voted to give him one; but he needed five votes to get a delay. But, it only takes four votes to grant certiorari — a fancy word for review — of a case.
Who are the three inmates?
Richard Glossip was convicted of recruiting someone to beat his boss to death. John Grant stabbed a correction worker to death. Benjamin Cole was sentenced to death for killing his infant daughter.
Is midazolam the only target of execution challenges?
Hardly. Because drug manufacturers have stopped selling the most reliable chemicals — sodium thiopental and the closely-related pentobarbital — states have turned to compounding pharmacies to make their injections from scratch. To protect those pharmacies from public scrutiny and protest, states have created secrecy rules and laws shielding them in anonymity, which has spawned a separate set of legal challenges.
There are also challenges to the methods some states use to determine if a condemned inmate is mentally disabled and to new laws that would bring back older forms of execution, such as the electric chair or firing squad, if approved drugs cannot be obtained.