LONDON — At first, some onlookers assumed it was a drunk driver.
It was just before 10 p.m. when a white van drove onto London Bridge and clipped the sidewalk for just a moment.
The city was buzzing with crowds who had enjoyed a warm June Saturday in the British capital.
But in the space of just 18 minutes, the trio inside the vehicle transformed a trendy area packed with gourmet food stalls by day and stylish restaurants by night into a scene of carnage and fear.
One eyewitness estimated the van was barreling along at 50 mph — more than twice the 20 mph speed limit. It traveled south, crossing the River Thames from London's financial district, known as "the Square Mile" or simply "the City," and toward Borough Market.
The vehicle was nondescript, carrying the markings of Hertz as well as hardware store B&Q, which together offer a popular rental service in the U.K.
It entered the bridge at 9:58 p.m. (4:58 p.m. ET) and it was quickly clear something was wrong.
After briefly clipping the sidewalk, the van swerved back and into crowds of unsuspecting pedestrians.
For some, including BBC journalist Holly Jones, who happened to be on the bridge, they immediately feared a repeat of another incident that played out just 10 weeks ago. That day, two miles up river, a man plowed his car through pedestrians on Westminster Bridge before stabbing a police officer to death outside the Houses of Parliament.
"The van was zigzagging along the [sidewalk] and it looked like it was aiming, in my opinion, for groups of people," Jones told the BBC after this Saturday's event.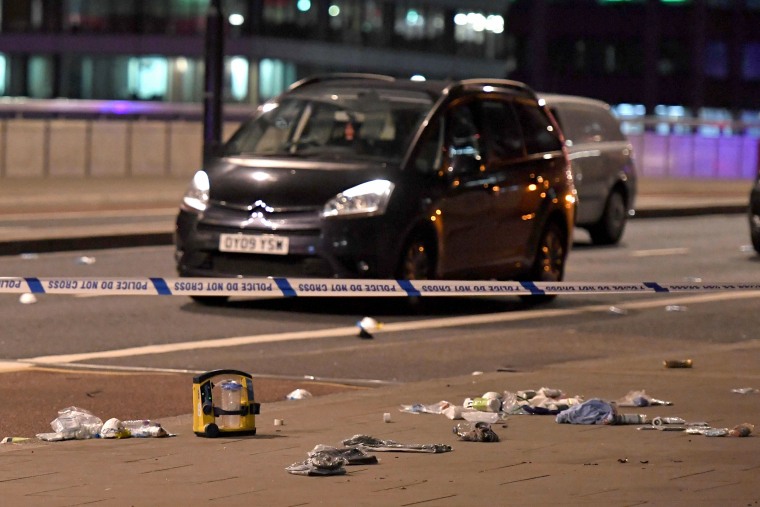 She found herself in the path of the vehicle as it careered across the sidewalk. "He hit two people in front of me that were about five meters [16 feet] in front — definitely intentional," she added. "He didn't look scared, he just looked focused."
Jones managed to get out of the way — "I don't know how I did it or what I did" — and looked back just in time to see the couple behind her get hit.
The scene on the bridge was already chaotic. Dashcam footage showed several people lying on the ground with others clustered around them attempting to provide medical and emotional support. Others stood in the middle of the road and waved down vehicles to alert them to the danger ahead.
"Suddenly I noticed on the [sidewalk] to the left of the road there was someone prostrate on the ground," said Will Heaven, a journalist with British political magazine The Spectator. "They had four or five people, who looked very concerned, around them."
He and his wife were traveling across the bridge in an Uber.
"They had a woman on the floor and they were stabbing her, all three, constantly"
"I noticed someone further down the road on the right — in the road, not on the [sidewalk] — who looked very badly injured as well," Heaven added. "Our taxi drew to a standstill, and the driver noticed that there was another person in the road as well, a little further on. It was clear that this was definitely not a road traffic accident."
The London Ambulance Service began to receive calls at 10:07 p.m. (5:07 p.m. ET), nine minutes after the van entered the bridge. The first call to the Metropolitan Police, the force that governs most of the city, came one minute after that.
Officers seemed to be at the scene almost immediately and the first ambulances that would eventually ferry some 80 medics arrived within six minutes. An air ambulance trauma unit would also join the army of emergency services personnel.
Traffic began to pile up behind the unfolding events. Some cars mounted the central curb dividing the north and southbound lanes to turn around — an illegal move in normal circumstances.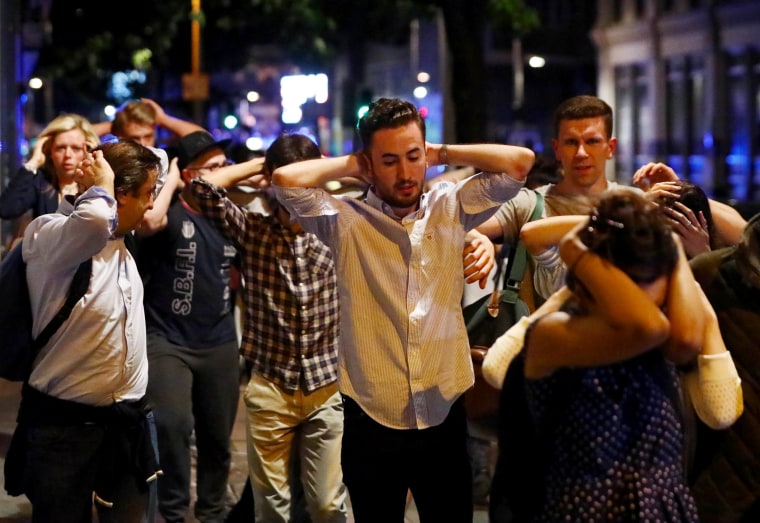 By this point, the van had reached the southern end of London Bridge and crashed into railings outside the Barrowboy and Banker pub.
The three attackers got out of the vehicle, its hood crumpled in the collision and its back and side doors flung open. Carrying large knives and wearing what appeared to suicide vests, they headed toward Borough Market, a site that has existed in some form or another for 1,000 years.
The bomb belts later turned out to be fake, but the terrified bystanders didn't know that.
The market is a warren-like complex of stone railway arches and modern glass-fronted structures, all tucked between narrow walkways, single-lane roads, and several elevated train tracks.
Now situated the shadow of the Shard, Western Europe's tallest building, it existed while Viking invaders toppled Saxon kings, and was damaged by bombs falling from the sky during the Nazi blitz of World War II.
But it had never been the scene of anything quite like this.
Related: London Suffers New Terror Attack
On Saturday night it was bustling, with drinkers spilling out of pubs and into the partially-pedestrianized streets.
Diners ate at the glut of acclaimed restaurants, whose open-fronted doors were taking advantage of the balmy evening air.
The attackers tore into this bubble of conviviality. They walked through the market, slashing and stabbing people on the street, entering several of the nightspots to inflict their butchery on those sat inside.
Most if not all of the spree happened down Stoney Street, a narrow, single-lane road that's lined with more than a dozen restaurants and pubs.
At least one eyewitness, Gerard Vowls, said the men shouted "This is for Allah!" but others recalled they went about their killings with a chilling poise.
One eyewitness video showed two of the trio walking calmly past the Market Porter pub.
"They had a woman on the floor and they were stabbing her, all three, constantly," Vowls told ITV News. "I think there was a guy there, they stabbed him. I tried to pick up a chair to throw at them to get them away from her, then one chased me."
Richard Angell, 33, who is the director of the British think tank Progress, was having dinner in Arabica Bar and Kitchen, a Middle Eastern restaurant at the top of the street.
"You saw food fly, people turning over tables to get behind them, ducking, getting under things ... something bad was happening and we were in the middle of a terrorist incident," he told NBC News.
"A few moments later somebody leaves the neighboring restaurant, which is literally right next door, and they're covered in blood and they're covering their neck or their chest and it was obvious something terrible had obviously happened," he added.
Many people ran but some stood their ground and put up a fight, throwing things at the attackers to try to halt or at least slow their pitiless rampage.
"People were throwing bottles at them, pint glasses, whatever they could pick up obviously," Vowls said. "I went, 'Oi, oi, cowards!' I remember shouting something like that to them. And then I started picking up bottles, I threw a chair at them a stool, glasses, anything I could get my hands on."
All of this was happening in the space of just a few minutes.
By this point, the surrounding area was being flooded by gun-toting police — who make up a small fraction of London's largely unarmed force. Specialist officers equipped with helmets, body armor and large rifles were seen filling into the Borough Market area and shouting at anyone still around to run away as fast as they could.
Perhaps believing that the attackers were potentially strapped with explosives, eight different police officers unleashed a hail of 46 bullets. This is in a British policing culture where even firing one round is a big deal, and arrests rarely involve the use of lethal force.
Those caught up in the melee didn't know whether this gunfire was coming from the officers or the attackers themselves.
"I saw loads of people running towards me and I heard gunfire," railway worker Mark Cooper told NBC News.
Rhiannon Owen, a 19-year-old nurse, was told to flee by a passing taxi driver.
"The taxi driver just swerved towards me and screamed at me, 'Run, you have to run. They've got a knife.' And his face was just like … something was just so wrong, so I just started running as fast as I could," she said.
Owen hid in what she described as a "storeroom" with 30 to 40 other people. Others barricaded themselves in restaurants, apartments, and anywhere else they could find.
"There were gunshots, so many gunshots," she said. "We were just lying on the floor. Everyone was introducing ourselves and trying to keep each other calm and giving each other water."
Simon Thompson, 24, hid in the basement of a restaurant. "We ran for like a hundred meters [yards] and then saw loads of police cars turn up and there was a period of quite intense gunfire," he said. He was barricaded in for "about an hour" — long after the incident finished, not that police or civilians necessarily knew it at the time.
Just around the corner, drinkers in the cavernous Katzenjammers German beer hall huddled under benches after being told to "get down" by police who entered the basement venue.
Back outside, the shootout reached its denouement in front of the Wheatsheaf pub, near the bottom of Stoney Street. Italian photographer Gabriele Sciotto was close by and captured the moment on video.
One eyewitness told Peter Yeung, a reporter with The Times' of London, that officers had taken cover behind a black BMW X5 before telling people to, "Get back!" and firing three shots up the road.
Fabio Lamas was working at the pub at the time.
The 20-year-old said he "got people to come in to the bar and to go into toilets, hide under tables and hide in our cellar where we keep all our stock." In the chaos and confusion, a bystander was struck in the head by a stray bullet, Lamas said. Authorities have not identified the civilian but said he is expected to survive.
Even after the attackers were killed, the incident was far from over.
People flooded out of the area with their hands on their heads. Reports — later debunked — suggested that three more attackers were still on the loose, and there were fears that another incident in the city's Vauxhall district was related. It wasn't.
From the first call to police to the attackers being shot, just eight minutes had passed.
Twelve minutes after the terrorists died, at 10:28 p.m. local time, the Metropolitan Police sent its first tweet acknowledging the incident.