LONDON — An American bystander was struck in the head by a stray bullet fired as police killed the London Bridge terrorists, an eyewitness told NBC News.
Authorities said the wounded civilian was expected to survive. Police have not revealed any details about the individual who was accidentally hit in the hail of 50 bullets that ended Saturday night's van-and-knife rampage.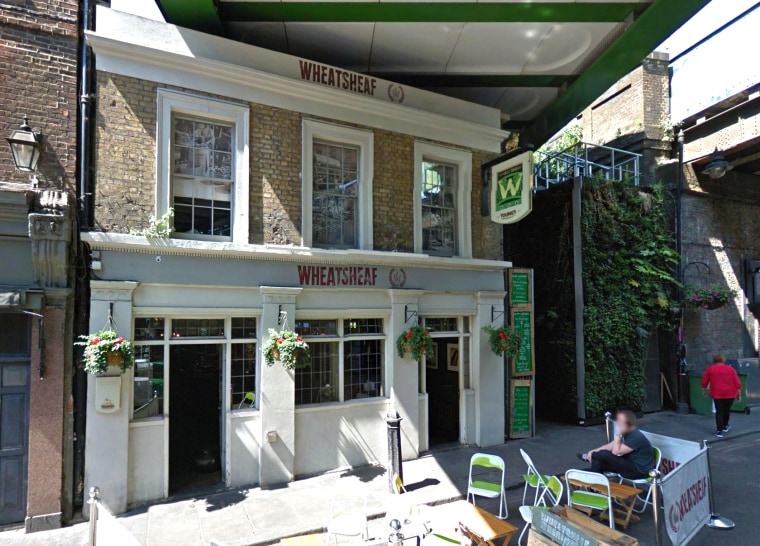 Fabio Lamas, who works at a pub in Borough Market, described seeing "three guys who were carrying knives and ... wearing body armor" before officers arrived at the scene.
"I got people to start evacuating inside from our little garden that we have ... and got people to come into the bar and to go into toilets, hide under tables and hide in our cellar where we keep all our stock," the 20-year-old recalled. "Then I heard shooting and I saw an American guy get shot in the head."
Lamas said the man hit by the bullet was standing near a window inside the Wheatsheaf pub. At least one of the attackers was fatally shot outside of the venue.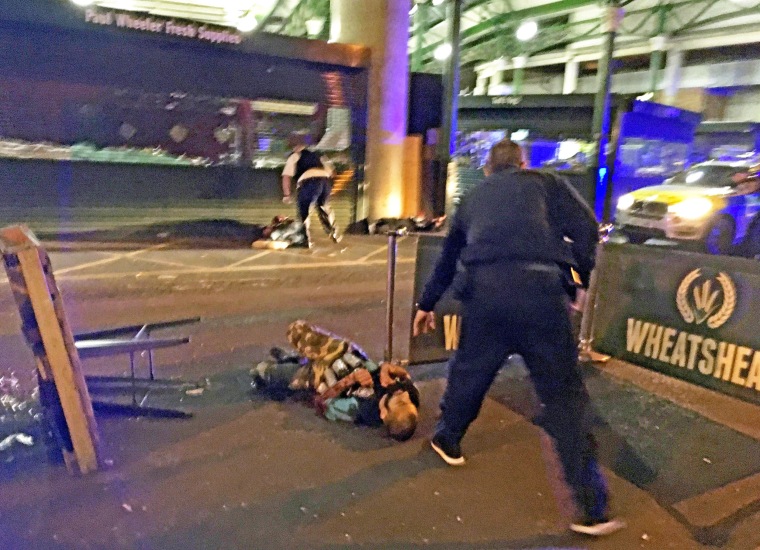 According to Lamas, the victim was with two friends who said they were American doctors living in London.
He said they told him they were from either New Jersey or New York. The U.S. Embassy would not comment on whether an American had been shot.
The victim was conscious but his friends were in shock, the bar workers said.
"He was bleeding through his eye," Lamas recalled. "I went to get the first-aid kit and I started speaking to his friends and to try and calm them down."
Before the shots were fired, he heard someone shout "knives, knives, knives." A beer barrel was used to block the door from the inside, and staff locked the doors and gates.
Seven people died and nearly 50 were injured when a van barreled into pedestrians on London Bridge and then three attackers embarked on a stabbing spree in nearby Borough Market. At least 21 people injured in the attack remain in critical condition.
Metropolitan Police Assistant Commissioner Mark Rowley confirmed Sunday that "as the officers confronted the terrorists ... a member of the public also suffered gunshot wounds."
The first London Bridge attack victim to be identified was Canadian national Christine Archibald, 30, who had moved to London to be with her fiance.
"Please honor her by making your community a better place," a spokesperson for her family said. "Volunteer your time and labor or donate to a homeless shelter. Tell them Chrissy sent you."