LONDON — Neighbors of one of the perpetrators of the London Bridge terror attack have described reporting him to authorities on at least two occasions after, they say, he attempted to convert their children to radical Islam in a local park.
Seven people were killed and 48 wounded in the attack on Saturday night, with three attackers killed by police. Police on Tuesday identified the final terrorist as 22-year-old Youssef Zaghba from east London, having previously named Khuram Butt and Rachid Redouane, both from the east London suburb of Barking.
Zaghba was not a person of interest to police or British Intelligence agency MI5. Detectives believe he is an Italian national of Moroccan descent.
NBC security analyst Duncan Gardham said Butt, 27, was part of a radical group that supports ISIS and had already attracted concern from friends and neighbors. Police said Butt also used the name Rachid Elkhdar.
The group was the subject of a documentary filmed by British broadcaster Channel 4, in which they were shown in a London park praying to a black flag associated with Islamist groups.
It was as a result of these activities in the park that neighbors Jibril Palomba and Erica Gasparri reported Butt to the police, they told Reuters.
Related: 18 Minutes of Chaos in London
Gasparri said she confronted him two years ago after he tried to indoctrinate her children at a local park.
"The gathering, it didn't look normal. They were talking to the kids about the religion. Kind of like they were imposing themselves. And giving them sweets ... and playing football with them," she told the news agency. "The main talk was about religion, how good it's to be Muslim, to the [point] that my kids came home and said 'Mummy, can we become Muslim, there is a gentleman telling us, teaching us.'"

She told Reuters she photographed the men and took the images to local police.
"'These four people I took a picture, they don't look right to me. They look like they are radicalizing the kids. I don't like it,'" Gasparri said the told authorities. "The police said to me 'You've done a very good thing to come, because this picture, they don't look right. And yes, Mrs. Gasparri, you are right.'"
According to Gasparri, local authorities said they had contacted London's Metropolitan Police Service and would be in touch with her to follow up, but she didn't heard from the authorities again.
Palomba said his wife reported Butt to authorities after being concerned about what he said his children were being told by him at the local park.
Related: American Hit in Head by Police Bullet, Witness Says
"He was always speaking about Muhammad and religion, Muslim in general, this kind of stuff. And if you are not Muslim, you do not follow in the religion of Muslim you're basically going to hell," he told Reuters.
Gardham said even though the suspect may have been reported to authorities, it can be tough for security services to prioritize who to investigate with the greatest urgency.
"The point is they talk about shooting the crocodiles nearest the boat and that's the image that comes up again and again," he said. "They have to deal with the big plots with the guys they know are planning things right now and that means they can't always be watching the guys that are perhaps floating around on the edges of these things."
Another neighbor, Asim Uddin, told NBC News that "most neighbors kept a distance" from Butt.
"He didn't look very approachable," Uddin said. "He wasn't very active — didn't entertain many gatherings or have a lot of people over. He did play football with the local kids, once in a while."
On Friday, Butt was kicked out of a mosque after getting in an argument with the imam about politics , Uddin said.
"Once, I got into an argument with him about a parking permit," Uddin told NBC News. "He wasn't using one. I asked him to get a permit and follow the law. He told me, 'I don't follow the system,' and walked off."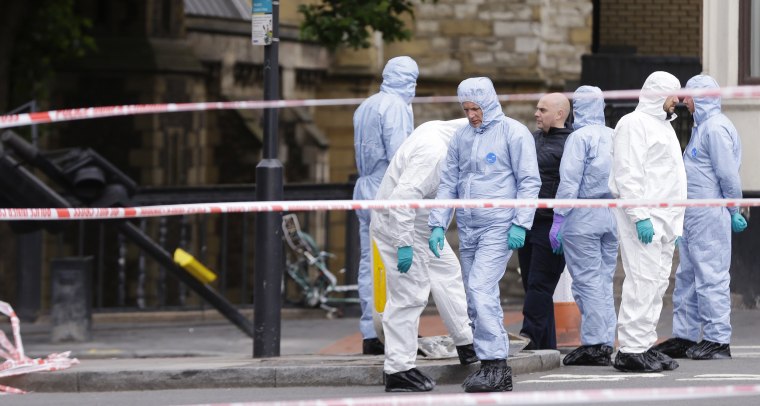 Metropolitan Police Commissioner Cressida Dick said she was confident there were only three perpetrators.
"We believe there were just three attackers, and we need to work out whether anybody else knew anything or helped at all — and that is what we are doing as we speak," Dick said. "So I don't want to compromise the investigation, I don't want to predict what it will find. But these were the attackers."
Neighbor Ikenna Chigbo said he recognized Butt from images on television, which showed him on the ground in the aftermath of the attack wearing the same clothes he'd seen him in earlier in the day.
"God, I couldn't believe it ... He was wearing the same top yesterday," Chigbo told NBC News' British partner ITV News on Sunday. "He had the same shaved head and beard. I really could not believe it."