LONDON — British Prime Minister Theresa May vowed that "things need to change" Sunday after seven people died in a car-and-knife rampage in the heart of the British capital.
A short while later, police said 12 people had been arrested in Barking, East London, as officers continued to search a number of addresses in the area.
"We cannot and must not pretend that things can continue as they are," May said in a strongly worded statement to reporters outside her official residence in London on Sunday. "There is — to be frank — far too much tolerance of extremism in our country."
U.S. President Donald Trump, attending the annual fundraising gala for Ford's Theatre in Washington, D.C., said Sunday night that he had spoken with May and had promised the United States' "unwavering support."
"This bloodshed must end," Trump said. "This bloodshed will end."
Those arrested were identified by police late Sunday as a 38-year-old woman, a 28-year-old man, a 52-year-old man, 55-year-old man, 27-year-old man, a 55-year-old man who has since been released without charge, 49-year-old woman, 60-year-old woman, a 19-year-old woman, a 27-year-old woman, a 24-year-old woman and a 53-year-old woman. All of the arrests took place in Barking, police said.
ISIS-affiliated Amaq Media said late Sunday that the terrorist group was claiming responsibility for the attacks late Saturday. NBC News has not independently verified ISIS' claim of responsibility.
Seven people died and nearly 50 were injured when a van barreled into pedestrians on London Bridge, and then three attackers embarked on a stabbing spree at nearby Borough Market. It was the third terrorist attack on British soil within as many months.
Christine Archibald, a woman from British Columbia, Canada, was among those killed.
"She had room in her heart for everyone and believed strongly that every person was to be valued and respected," Archibald's grieving family said in a statement Sunday. "She would have had no understanding of the callous cruelty that caused her death."
Canadian Prime Minister Justin Trudeau said his nation grieved, wishing "all those injured a speedy and full recovery."
Also on Sunday, the French embassy in the UK said on Twitter that it was "very sad to report" the death of a French citizen in the attacks. Seven others French nationals were injured, including four very badly, and one person was missing, the embassy said.
The National Health Service in England told NBC News that 21 people injured in the attack were in critical condition.
The prime minister said Britain was seeing a "new trend" in the threat the country faces. "Terrorism breeds terrorism" she said, adding that recent attacks were connected by the "evil ideology of Islamist extremism."
She addressed the nation after chairing an emergency meeting of her Cabinet. "Enough is enough," she said as she announced a raft of initiatives to tackle the terrorist threat.
May said police and intelligence services had foiled five "credible" plots since the attack on Parliament that left three dead in March.
Saturday's incident was reported at 10:08 p.m. (5:08 p.m. ET). Within eight minutes, all of the suspects had been fatally shot by officers, according to authorities.
Metropolitan Police Assistant Commissioner Mark Rowley said at a press conference Sunday that investigators were making "significant progress" in identifying the three attackers and confirming if they were the only ones involved.
He added that eight officers fired 50 bullets while trying to stop the attackers.
It was a "matter of life or death," as the assailants appeared to be wearing suicide belts, he said.
One member of the public was shot during the exchange but did not sustain life-threatening l injuries, Rowley said.
Police said earlier Sunday that among those injured in the attack were a British Transport police officer and an off-duty Metropolitan police officer.
A man who lived next to the raided apartment in East London said he believed his neighbor was one of the suspects and thought he had seen him on TV.
Ikenna Chigbo said one of the suspects appeared to be wearing the same clothes as his neighbor had been wearing earlier in the day Saturday.
"He was wearing the same top yesterday," Chigbo told NBC News' British partner ITV News. "He had the same shaved head and beard. I really could not believe it."
Chigbo, who had recently rented a van to move, said his neighbor had asked him Saturday how he could get hold of a similar vehicle.
"He was saying to me, oh, where can I get a van from — just asking me all the details — how much was it, and just like asking where he could get a van basically."
Chigbo said he also recognized the other suspects and had seen them going "in and out of the apartment from time to time."
He added he "was a genuinely nice guy" who was "well-spoken." Another neighbor agreed, telling ITV News that the man had a London accent and could often be found playing table tennis in the lobby of the apartment block.
"He was just a normal bloke," he said.
Britain needed to defeat "Islamist ideology," May said, describing it as "the greatest challenge of our time."
Britain also needed to reach international agreements to regulate cyberspace which allows the ideology a "safe space it needs to breed."
"We need to stay ahead of the threat. We need to ask where it's going next"
Britain's counter-terrorism strategy needed to keep up with the changing threat, she added, which may mean increasing the length of jail sentences.
In the wake of the attacks, the country's main political parties suspended campaigning ahead of Thursday's general election.
"Violence can never be allowed to disrupt the democratic process, so those campaigns will resume in full tomorrow and the general election will go ahead as planned on Thursday," May said.
Brian Dillon, former head of armed police at London's Metropolitan police, said the changes May outlined sounded like the "right thing to do."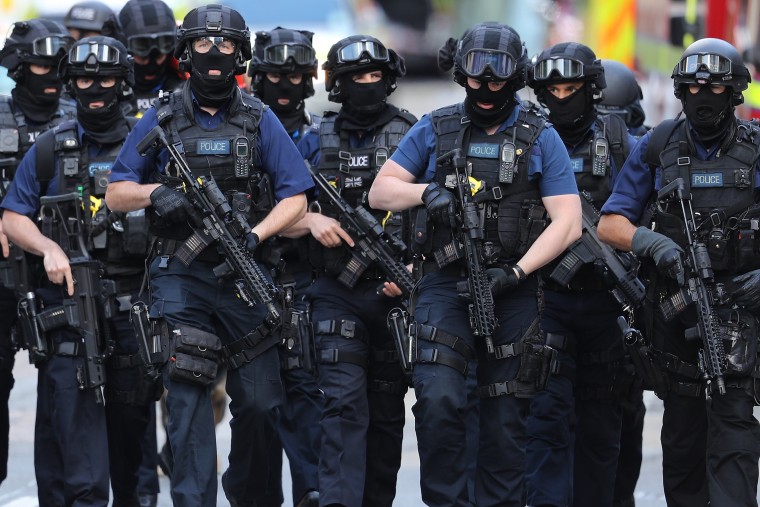 "There was a clear recognition of the evolving terrorism threat, that terrorism activity is being fueled by some degree of copycat activity."
The focus on cybersecurity was critical, he said.
"Terrorism is not new, but the means of communication has changed out of recognition. It allows for the sick glorification and encouragement of these acts," he told NBC News.
Dillon also said that terrorism needed to be tackled at its roots and society had to look at the attackers' motivation. He added that the response to Saturday's attack was very fast but that quick reaction required investment, commitment and training.
"We need to stay ahead of the threat. We need to ask where it's going next," he said.