LONDON — Seven people died and nearly 50 were injured when a terrorist attack unfolded in the heart of the British capital on Saturday night.
Officials said a vehicle barreled into pedestrians on London Bridge, and then three attackers embarked on a stabbing rampage at nearby Borough Market.
The National Health Service in England told NBC News that 21 people injured in the attack were in critical condition.
In the wake of the attack, British Prime Minister Theresa May said "things must change" when it comes to counter-terrorism policies.
"We cannot and must not pretend that things can continue as they are," she told reporters outside her official residence on Sunday. "There is — to be frank — far too much tolerance of extremism in our country."
London's Metropolitan Police said Sunday that they had arrested 12 people in the neighborhood of Barking and were still searching properties in the area.
Those arrested were identified by police as a 38-year-old woman, a 28-year-old man, a 52-year-old man, 55-year-old man, 27-year-old man, a 55-year-old man who has since been released without charge, 49-year-old woman, 60-year-old woman, a 19-year-old woman, a 27-year-old woman, a 24-year-old woman and a 53-year-old woman.
The incident was reported at 10:08 p.m. (5:08 p.m. ET) on Saturday. Within eight minutes, all of the suspects had been fatally shot by officers, according to authorities.
Metropolitan Police Assistant Commissioner Mark Rowley said the three men were wearing what appeared to be explosive vests but they turned out to be fake.
He added that all of the attackers were believed to have been killed but added that it was early in the investigation.
Rowley said at a press conference later Sunday that investigators were making "significant progress" in identifying the three attackers and confirming if they were the only ones involved.
He added that eight officers fired 50 bullets while trying to stop the attackers, an "unprecedented number of rounds."
It was a "matter of life or death," as the assailants appeared to be wearing suicide belts, he said.
One member of the public was shot during the exchange but did not sustain life-threatening injuries, Rowley said.
He added that the public should expect to see additional police presence across the capital.
One of the those stabbed was a British Transport Police officer, who suffered serious but non-life threatening wounds. Forty-eight people were taken to hospitals in London, the ambulance service said.
Related: 90 Percent of London Police Don't Carry Guns
Few details about the victims have been released, but on Sunday evening the French embassy in the UK said on Twitter that a French citizen was among those killed. Earlier, Canadian leader Justin Trudeau said one of its citizens was killed in the attack.
London Mayor Sadiq Khan described the incident as a "horrific terrorist attack," adding: "My message to Londoners ... is to be calm and vigilant today."
When asked whether elections planned for Thursday should be postponed, Khan said "I'm not an advocate of postponing the election."
"One of the things these terrorists hate is voting," he said Sunday morning. "They hate democracy, they hate elections and the public choosing who should be our leaders."
The ruling Conservative and the Labour opposition parties both announced they were suspending campaigning in the wake of the incident.
Gerard Vowls, 47, described witnessing people being stabbed, seeing blood, and realizing it wasn't a "joke."
He said: "I was going, 'Everybody, run — they're terrorists! terrorists! they're killing everybody!' and they're going, 'This is for Allah,' and they're just running around."
The attacks on London Bridge and at the market come two months after a driver plowed into pedestrians on Westminster Bridge in what authorities have called a terror attack, and almost two weeks after a deadly suicide bombing outside an Ariana Grande concert in Manchester.
Fabio Lamas was working at the Wheatsheaf Pub in Borough Market when he said he heard someone shout "knives, knives, knives" and he saw three people holding knives who appeared to be wearing body armor outside. A man moved to block the door, and people inside heard shooting outside, Lamas said.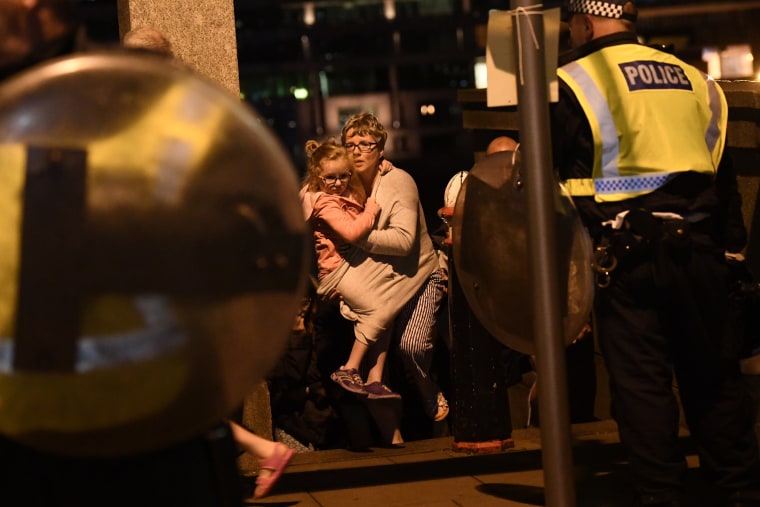 Witnesses at another Borough Market restaurant said an attacker entered and stabbed a woman, and its manager and others threw bottles at the men and staff pushed them out outside using a bar stool.
Video posted on social media showed diners at one restaurant hiding in a cellar.
"I hear maybe six to eight gunshots and screams unlike I've ever heard before. People running — I've never ran so fast in my life," Joe Dillon, an American grad student at Kings College, told MSNBC. "I ran and I hid."
Railway worker Matt Cooper said he was going out for a coffee near Borough Market and "I saw loads of people running towards me and I heard gunfire." He said he heard about 12 shots. Police told everyone to run.
Two nearby hospitals were locked down to protect patients and staff.
President Donald Trump said on Twitter: "Whatever the United States can do to help out in London and the U. K., we will be there."
The State Department condemned the "cowardly attacks targeting innocent civilians" and said the U.S. stood ready to "provide any assistance authorities in the United Kingdom may request."
The statement added: "Our hearts are with the families and loved ones of the victims. We wish a full and quick recovery to those injured in the attacks. All Americans stand in solidarity with the people of the United Kingdom."
The State Department also encouraged Americans in the United Kingdom to contact family members. Police initially said a third incident was reported in Vauxhall, but later said it was an unrelated stabbing.
BBC reporter Holly Jones was on London Bridge at the time of the incident and said the van was driven by a man who appeared traveling around 50 miles per hour.
"He swerved right round me and then hit about five or six people. He hit about two people in front of me and then three behind," Jones said, the BBC reported. Jones confirmed the account in an interview with MSNBC.
Video on social media showed people being evacuated from the area. Witness Peter Joshuas told NBC News he was just exiting the bridge when he heard screams and people shouting and running in confusion.
Faith Buscemi, a security officer near London Bridge said, "I saw people running, screaming — somebody was injured. I see people with blood. It was the worst 30 minutes of my life, honestly."
NBC News producer Mo Abbas was at a restaurant near the south entrance to London Bridge, when the incident happened. He said a panicked store manager told diners to abandon their meals and shelter in the back of the restaurant while police conducted a search of the area.
After about 10 minutes, Abbas said diners were escorted single-file out of the restaurant and led away from the area by armed police wearing body armor.
Police said the incident is still under investigation, and asked anyone with video or images of the attack to share them with authorities.
Saphora Smith, Chloe Hubbard, Fiona Day, Jason Cumming and Mo Abbas reported from London. Phil Helsel reported from Los Angeles. Daniella Silva reported from New York.