LONDON — Donald Trump's planned state visit to Britain should be canceled, London's mayor said Tuesday after the president repeatedly criticized him following the latest terrorist attack.
Sadiq Khan said Trump was "wrong" about "many things" and should not be welcomed to the United Kingdom.
The president is expected to make an official visit in October following an invitation from Prime Minister Theresa May.
However, Trump has been widely condemned for his tweets in the aftermath of the London Bridge atrocity in which at least 7 people were killed and nearly 50 others injured.
He described Khan as "pathetic" for saying Londoners had "no reason to be alarmed" by the visible increase in armed police officers in response to the attack — apparently misinterpreting the mayor's words as a comment on Islamic extremism.
PHOTOS: London Honors Victims of Attack
"I don't think we should roll out the red carpet to the president of the USA in the circumstances where his policies go against everything we stand for," Khan told U.K. broadcaster Channel 4 on Monday.
"When you have a special relationship it is no different from when you have got a close mate. You stand with them in times of adversity but you call them out when they are wrong. There are many things about which Donald Trump is wrong."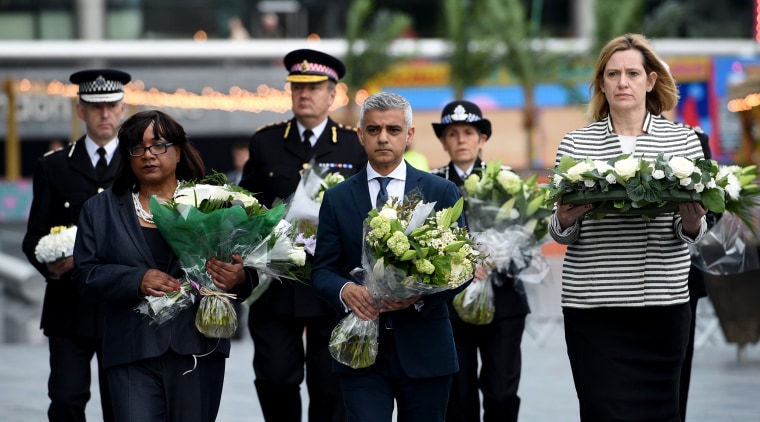 Khan repeated his comment early Tuesday, telling the BBC: "When Theresa May first invited him on a state visit to our country at a time when he was proposing a travel ban on Muslims and changing the American policy on refugees, I said it was inappropriate to be rolling out the red carpet for Donald Trump … nothing has changed my mind."
Trump has previously clashed with Khan, who is one of the West's most prominent Muslim politicians. He challenged Khan to an intelligence test during the U.S election campaign, and in 2015 he said certain areas of London were no-go zones.
His latest comments caused widespread anger in Britain, where prominent figures and lawmakers from across the political spectrum rallied to Khan's defense.
PM May told reporters: "I think Sadiq Khan is doing a good job and it's wrong to say anything else."
The acting U.S. ambassador to the UK, Lewis Lukens, pointedly singled out Khan for praise. "I commend the strong leadership of the @MayorofLondon as he leads the city forward after this heinous attack," he said in an official tweet.
"Harry Potter" author J.K. Rowling said Trump's comments were "vile."
However, British Foreign Secretary Boris Johnson said he saw no reason to cancel the trip.
"The invitation has been issued and accepted and I see no reason to change that," he said in a BBC interview Tuesday, adding that Khan was "entirely right."
"I don't wish to enter into a row between … individuals who are I think are probably perfectly able to stick up for themselves," he said of Trump and Khan.
Trump made no criticism of Manchester's mayor Andy Burnham in the wake of last month's Ariana Grande concert bombing, even though both mayors represent the same party and share the same views on law enforcement and terrorism.
The White House was asked by reporters late Monday if Trump was targeting Khan because he is Muslim.
"Not at all," said spokeswoman Sarah Huckabee Sanders. "And I think to suggest something like that is utterly ridiculous."