LONDON — ISIS claimed responsibility for the attack in London this week, likely hoping to project the image of a powerful extremist organization capable of hitting the heart of Western cities.
In reality, ISIS is suffering big losses at home and hemorrhaging territory in Iraq and Syria in the face of a U.S.-backed assault.
In the face of these setbacks, the group is trying to stay relevant by urging supporters in the West to carry out acts of low-tech terrorism — and taking the credit when they happen, according to analysts.
Very few ISIS-linked attacks were actually directed or carried out by the group's operatives, the rare examples coming in Paris, Brussels, and Tunisia.
Some attackers pledged alliance to ISIS beforehand, such as San Bernardino shooter Tashfeen Malik and Paris grocery-store attacker Amedy Coulibaly.
But, there is no evidence — yet — that 52-year-old Khalid Masood acted in the name of ISIS when he drove a car down a London bridge and stabbed a police officer to death.
ISIS described him as a "soldier" of the caliphate who "carried out the operation in response to calls to target the people of coalition nations." But it hasn't offered any evidence that it even knew the incident was coming, according to Charlie Winter, a senior research fellow at the International Centre for the Study of Radicalisation and Political Violence, known as ICSR, a London-based think tank
"ISIS is trying to capitalize on the incident but the claim of responsibility itself gives no details about the act," he told NBC News. "That suggests ISIS knows nothing more about it than we do."
Of course this could change. Following previous incidents, videos have emerged showing the attacker pledging allegiance to ISIS. But nothing like this has happened following this week's events in London.
"The degree to which [the ISIS claim of responsibility] reveals a substantial connection or not has yet to be uncovered," added Raffaello Pantucci, Director of International Security Studies at the Royal United Services Institute, known as RUSI.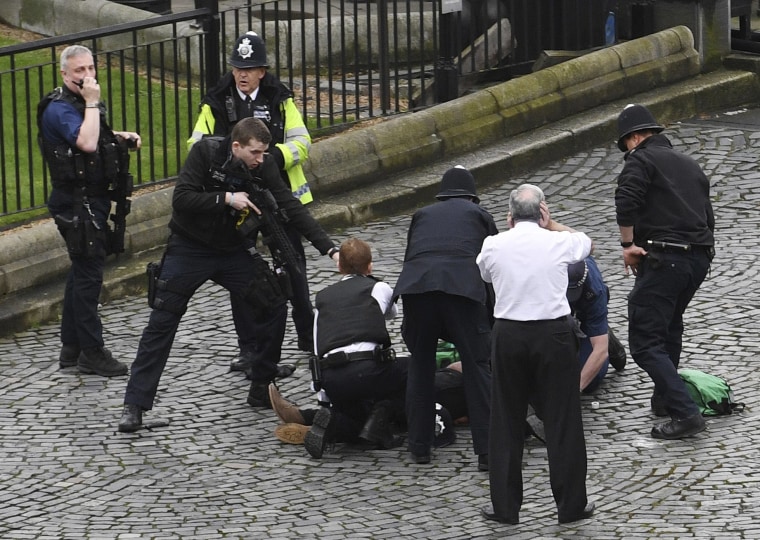 Before the London attack happened, ICSR analyst Winter had been analyzing ISIS' recent propaganda output.
He found that its narrative focus had shifted from attempting to portray its so-called caliphate as a utopia, to material characterized by warfare and violence. The amount of propaganda had also decreased by 36 percent over the past year.
This came at the same time as when ISIS was suffering defeats on the battlefield as an Iraqi-led, American-backed coalition fights it on several fronts.
The group has been pegged back into one area of Mosul, the city it once controlled in Iraq, and U.S.-backed forces appear poised to launch an assault on Raqqa, its de facto capital. In all, ISIS has lost 62 percent of the territory it once controlled in Iraq and 30 percent in Syria, according to U.S. officials.
That's not to say ISIS claims every attack. When a gunman under the influence of drugs and alcohol attacked a soldier at Paris Orly Airport earlier this month, the group stayed silent.
And despite diminishing on the battlefield and online, ISIS is still capable of hurting the West.
Winter said that its propaganda should be viewed as a "weapon," and even if the London attacker was not directly inspired by the group, it gained propaganda points by associating with him.
"As the aftermath of this week's attack demonstrated, even when suffering internally, [ISIS] can derive copious amounts of notoriety by inspiring violence far away," Winter said.