LONDON — Britain's MI5 domestic intelligence agency had warned that a terrorist attack was "highly likely" in the country since 2014, with the U.K. on "severe" alert.
The terror threat level had been raised from the previous status of "substantial" which indicated a " strong possibility" of an attack in October 2012.
There is only one level above "severe" in Britain — "critical," which is only used when the agency has confirmed intelligence of an imminent attack.
In October, MI5 Director General Andrew Parker said that British spies had foiled 12 attempted terrorist attacks on the U.K. since June 2013, according to NBC News' partner ITV News.
He said that terrorism — particularly from ISIS — posed the most visible security threat to Britain today.
"MI5 and the intelligence agencies have good defenses because of the investment made in our capabilities," Parker said at the time. "We will find and stop most attempts to attack us, but not all."
There have only been two attacks carried out in the U.K. since 2005.
A coordinated attack on London's transport system killed 52 people on July 7, 2005. The leader of the so-called 7/7 group, Mohammad Sidique Khan, had undergone terrorist training in the tribal areas of Pakistan.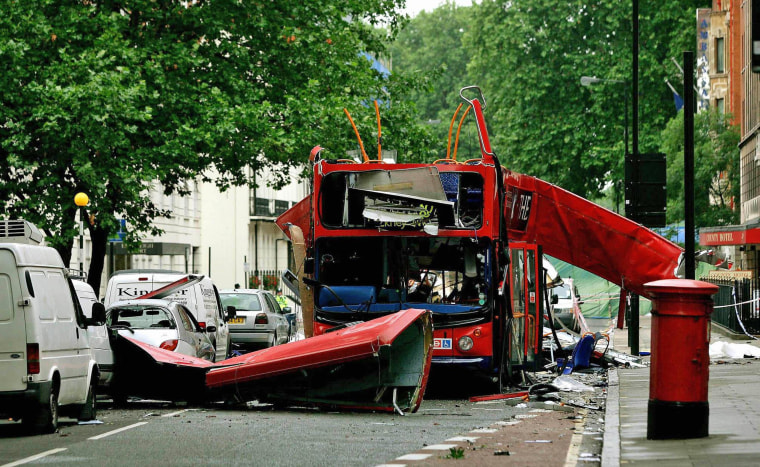 According to MI5, "the individuals in these plots were all supported and directed by al Qaeda and more specifically by British national Rashid Rauf, who was head of al Qaeda's external operations at the time."
In May 2013, Michael Adebolajo and Michael Adebowale attacked and killed off-duty soldier Fusilier Drummer Lee Rigby near the Royal Artillery Barracks in the Woolwich area of London
The men ran over Rigby with their car before murdering him using machetes.
According to MI5, "Adebolajo was known to have a history of involvement with Islamist extremism and was arrested in Kenya in 2010 under suspicion of trying to reach an al-Shabaab terrorist training camp."