Wednesday's terror attack in London lasted just 82 seconds from the time a driver plowed through crowds of pedestrians on Westminster Bridge to when he was fatally shot by police near Parliament, London's Metropolitan Police Service said Saturday.
Four people, including a police officer, were killed in the vehicle and knife attack that began at 2:40 p.m. Police believe the suspect, Khalid Masood, acted alone but said investigators do not yet have a motive.
"We must all accept that there is a possibility we will never understand why he did this," Deputy Assistant Commissioner Neil Basu said in a statement. "That understanding may have died with him."
"Whilst the attack lasted only 82 seconds it will remain in the memories of many forever," Basu said.
Related: London Attacker Khalid Masood's 'Profile Is Highly Unusual'
The terror group ISIS — which has encouraged terror plots involving vehicle attacks — claimed responsibility for the rampage, but there is no evidence Mansoor, 52, who was born in Britain, acted in the name of the terror group.
But ISIS is suffering big losses at home and is losing territory in Iraq and Syria, and the group could be trying to capitalize on the attack by claiming credit for it, analysts have told NBC News.
Also Saturday, the family of slain police Constable Keith Palmer said they are grateful for the well wishes and support they've received, and thanked emergency responders who tried to save his life. Mansoor stabbed Palmer after getting out of the crashed vehicle and running towards Parliament.
"We would also like to express our gratitude to the people who were with Keith in his last moments and who were working that day. There was nothing more you could have done," Palmer's family said in a statement.
"You did your best and we are just grateful he was not alone," the family said. "We care about him being remembered for his selfless bravery and loving nature. We miss him so much, but we are also incredibly proud of Keith."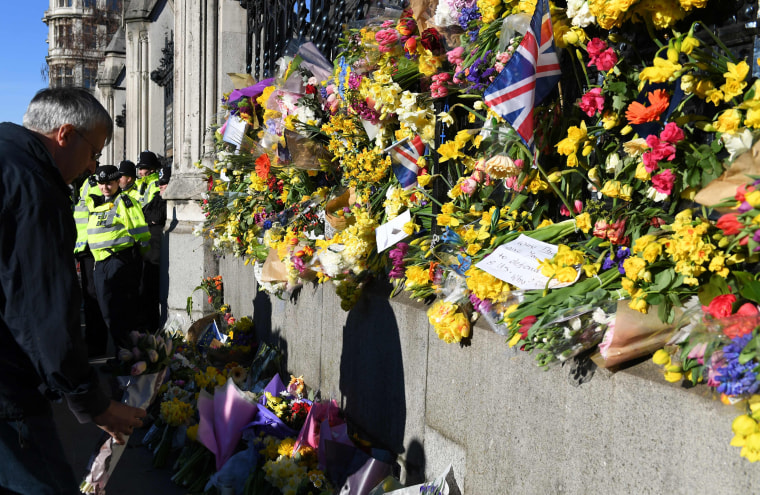 Police made several arrests following the terror attack, but most have been released with no further action. A 58-year-old man arrested in Birmingham was still in custody Saturday, police said.
"We are determined to understand if Masood was a lone actor inspired by terrorist propaganda or if others have encouraged, supported or directed him. If the latter proves to be the case, they will face justice," Basu said in a statement.