LONDON — The unarmed officer who was fatally stabbed outside the U.K. Parliament was a father who had served in the military before spending 15 years on London's police force, according to friends.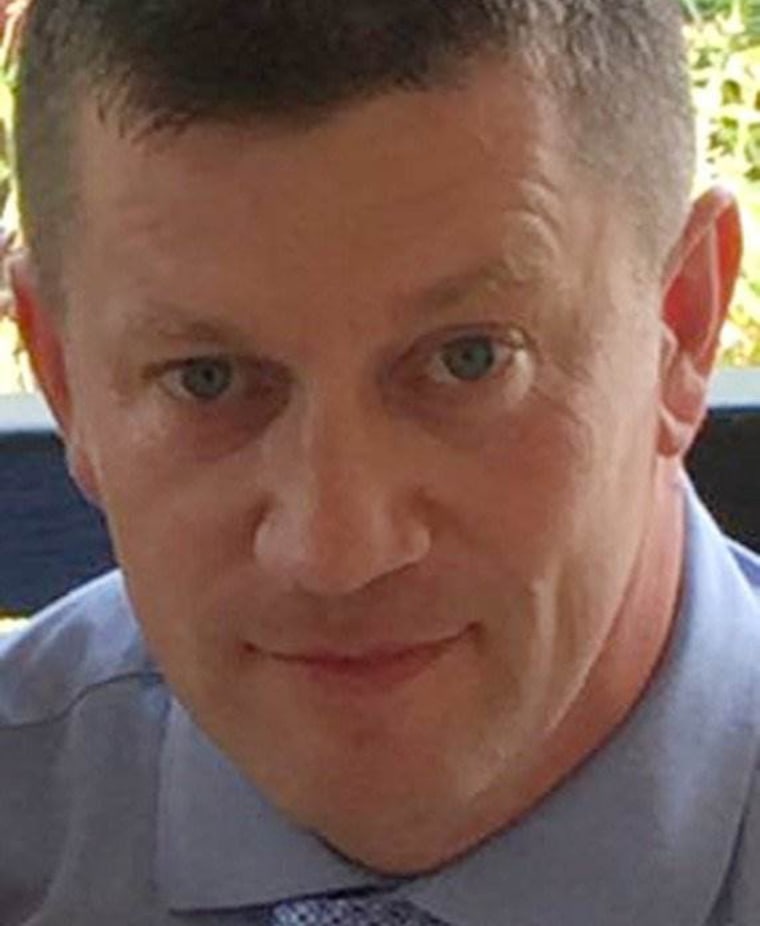 Constable Keith Palmer, 48, was killed by British-born terrorist Khalid Masood, 52, in Wednesday's attack, police said. Masood slammed his 4x4 vehicle into pedestrians walking on Westminster Bridge, before crashing it into a railing outside the House of Commons and fatally stabbing Palmer, police said.
An American man from Utah celebrating his 25th wedding anniversary and a mother-of-two who was hit by a bus while trying to flee were also killed.
Police said on Thursday that five of he 29 people injured remained in critical condition, with two sustaining life-threatening injuries.
Metropolitan Police Acting Deputy Commissioner Mark Rowley said Palmer was a member of the Parliamentary and Diplomatic Protection Command, which protects the complex and other government buildings.
Rowley described Palmer as a "husband and a father," adding: "He was someone who left for work [Wednesday] expecting to return home at the end of his shift and he had every right to expect that would happen."
Palmer's family said they were "shocked and devastated by his loss" and described the constable as "dedicated to his job and proud to be a police officer."
"He will be deeply missed," Palmer's family said in a statement released through police on Thursday. "We love him so much."
The family said Palmer was married and left behind a 5-year-old daughter.
Constable James Aitkenhead, who worked alongside Palmer, said in statement that, "Keith was a genuinely nice person; nobody had a bad word to say about him. When I heard what had happened I knew it would be him because that's just the sort of guy he was, to step straight in when others might step back."
Aitkenhead also said Palmer was huge fan of the Charlton Athletic Football Club and had a season ticket.
The FC said in a post on Twitter earlier Thursday that as an "immediate tribute" to Palmer, they had placed a red and white scarf on the seat he occupied for many years.
And as a mark of respect for their fallen officer, the Metropolitan Police said on Twitter that Palmer's shoulder number — 4157U — would be retired and not reissued to any other officer in the future.
Conservative lawmaker James Cleverly, who spent time in the British Army alongside the slain officer, described Palmer as a "brave man."
In a Twitter post, Cleverly wrote: "I've known Keith for 25 years. We served together in the Royal Artillery before he became a copper. A lovely man, a friend. I'm heartbroken."
In an emotional address to the House of Commons on Thursday, Cleverly also asked Prime Minister Theresa May to recognize Palmer posthumously.
She said that would be "considered in due course."
Speaking to radio station LBC, one woman said that Palmer saved her life in a car accident when she worked as a police officer in 2007. NBC News could not independently confirm her account.
The woman, who was identified only as Nina, said: "I owe him everything. He was a wonderful dad, a wonderful husband to his wife and everything. He didn't just do his job to go and get paid. He actually cared about the people. He really did, he was a lovely man, absolutely lovely man, and everyone's going to really miss him."
Brendan Cox, the widower of murdered British politician Jo Cox, also took to Twitter to say he didn't "care about the name of the attacker" adding that Palmer's is the "name I will remember."