LONDON — Three people, including a police officer, were killed Wednesday in a terrorist attack at Britain's Parliament that sent crowds running for their lives before police shot and killed the attacker.
Acting Deputy Metropolitan Police Commissioner Mark Rowley said Wednesday night that a fourth victim had died — but revised the toll to three early Thursday.
The victims included London Metropolitan Police Constable Keith Palmer, 48, a 15-year veteran who was a husband and a father, Rowley said.
Palmer was stabbed at the House of Commons and died despite the efforts of doctors and a passing government minister to save him.
What we know
An attacker struck pedestrians on London's Westminster Bridge and then crashed near Parliament.
The man, armed with a knife, tried to enter Parliament. He stabbed and killed a police officer before he was shot and killed by police.
About 40 people were treated for injuries, some of them serious. At least two officers were seriously wounded.
Police said the attack, which came on the first anniversary of the Brussels terrorist attacks, was terrorism.
The prime minister and London's mayor vowed that Britons would not be intimidated.
President Donald Trump promised full assistance to Britain.
Counterterrorism police sent to British offices and institutions in New York City.
About 40 people were injured, some of them seriously, Rowley said. He said at least two police officers were among those who were seriously wounded.
The incident began when a 4x4 vehicle plowed into people walking on nearby Westminster Bridge. Some of the pedestrians suffered "catastrophic" injuries, doctors said. A woman was pulled alive from the River Thames below the bridge with serious injuries.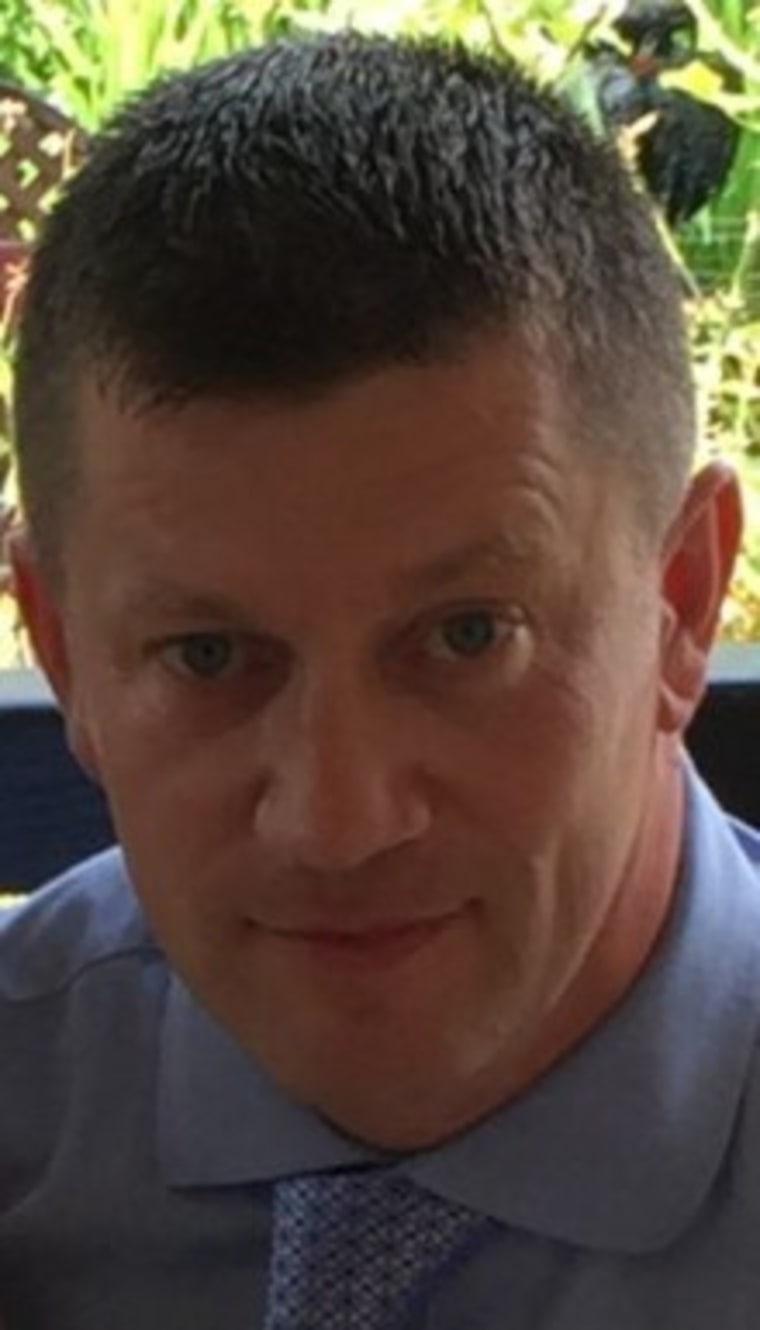 The assailant, who is thought to have been acting alone, was brought to the ground by a gunshot and also died. Rowley said they believed they knew who he was but were withholding his name while they searched for possible associates.
The assault came on the first anniversary of terrorist attacks in Brussels, Belgium, that killed 32 people, and police said Wednesday's incident was also terrorism.
Prime Minister Theresa May called the attacker a "sick and depraved terrorist" and said, "The location of this attack was no accident."
"The terrorist chose to strike at the heart of our national capital," May said in a nationally televised address outside 10 Downing Street.
May announced that Parliament would meet as scheduled on Thursday and said Londoners refused to allow "the voices of hate and evil to drive us apart."
"Let me make it clear today," she vowed. "Any attempt to defeat those values through violence and terror is doomed to failure."
Like May, London Mayor Sadiq Khan praised emergency responders for their "tremendous courage in exceptionally difficult circumstances."
"London is the greatest city in the world," Khan said in a video message. "Londoners will never be cowed by terrorism."
Related: Terrorist Attack Leaves Londoners With Feeling of 'Shock and Horror'
President Donald Trump said he spoke with May and promised full U.S. cooperation in "bringing those responsible to justice."
New York police told NBC News that they were closely monitoring events in London and were sending counterterrorism teams to numerous locations across the city, including Britain's U.N. and consular offices.
Lawmakers were kept on lockdown inside the House of Commons while police secured the scene, and tourists were trapped on the nearby London Eye Ferris wheel.
Journalists based at Parliament reported hearing gunshots shortly after 2:30 p.m. (10:30 a.m. ET) and were told to stay in their offices.
From August 2016: Cops Without Guns Protect London Amid Terrorism Fears
Grant Shapps, a member of Parliament and former government minister, said police ordered lawmakers to crawl for cover as the incident unfolded. Some tweeted from inside the House of Commons' debating chamber, where they were held while police secured the scene.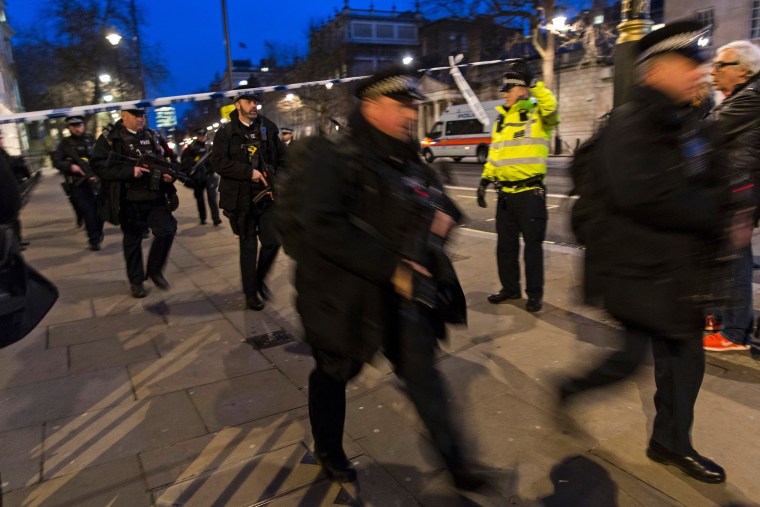 George Nuth, 21, told NBC News that he was walking toward nearby Westminster Abbey at the time of the attack.
"We saw loads of people ducking down," he said. "It must've been a tour group, around 20 or 30 people, and police or security were telling people to run. A policeman said to us: 'Stop dawdling if you don't want to get shot.'"
Streets around nearby 10 Downing Street, which serves as both the home and office of May, were evacuated.
French Prime Minister Bernard Cazeneuve said high school students from his country were among the injured. In a tweet Wednesday, he offered support to the British as well as to "the French students wounded, their families and their schoolmates."
Lawmaker Barry Sheerman tweeted a picture from inside the House of Commons during the lockdown.
Bill Kearns, 58, of New York, was visiting a nephew who works in Parliament.
"We were walking up Embankment heading towards Parliament, and then there were lots of people starting to run towards us," he told NBC News. "We tried to get a hold of our nephew straight away. We were worried about him, texting him ... and he said: 'Get away from Parliament as fast as you can.'"