Pop star Ariana Grande will return to Manchester to hold a charity concert less than two weeks after a bombing following her performance killed 22 people, according to a statement released on Tuesday.
A host of stars are slated to join Grande, including Justin Bieber, Coldplay, Katy Perry, Miley Cyrus, Pharrell Williams, Usher, Take That, and Niall Horan.
The statement said the charity concert would take place on Sunday at the Emirates Old Trafford Cricket Ground.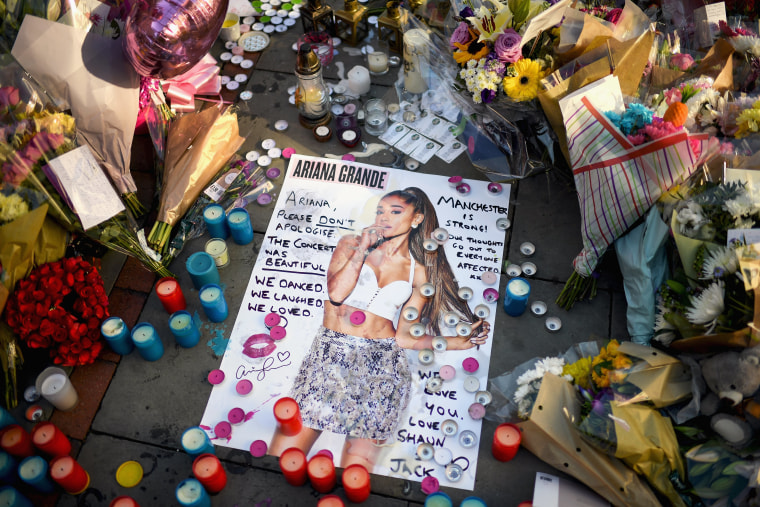 Proceeds from the show, called "One Love Manchester," will go toward the "We Love Manchester Emergency Fund" launched by Manchester City Council and the British Red Cross.
"The Fund will support people who have been injured or bereaved by the attack," the press release says. It adds that donations are intended to "alleviate suffering and ensure that victims and their families do not face short-term financial difficulties."
Related: Ariana Grande Says She'll Hold Benefit Concert for Manchester Victims
Those in most urgent need will receive funds first, and the money will be distributed by the Manchester City Council.
Fans who attended her show on May 22 will be offered free tickets, according to the release.
On May 24, just two days after the suspected bomber Salman Abedi allegedly detonated an explosive that injured 59 people and killed nearly two dozen, Grande announced she was suspending her "Dangerous Woman" world tour.
Her management said the tour was suspended "until we can further assess the situation and pay our proper respects to those lost."
Among those killed in the bombing were several children, the youngest just 8 years old.
Grande's management said her shows through June 5 would be cancelled, and it is unclear when the tour will resume. A search for tickets on Ticketmaster yielded a notice saying no tickets for the "Dangerous Woman" tour are on sale.
Following the attack, Prime Minister Theresa May raised the terror threat level to "critical," but after a series of raids, which resulted in the arrests of several suspects, May reduce the threat level to "severe" on Saturday.
Grande has seemed determined to return to Manchester to honor those affected by the bombing, and first announced plans for a benefit concert in a statement tweeted out on Friday.
In her statement on Friday, Grande thanked her fans for their love and support.
"We will not quit or operate in fear," she said. "We won't let this divide us. We won't let hate win… Our response to this violence must be to come closer together, to help each other, to love more, to sing louder and to live more kindly and generously than we did before."
Tickets for the show will go on sale on June 1.